Well, it looks like Black Clover is finally getting an anime film in the form of Black Clover: Sword of the Wizard King. Perhaps this means the anime and manga might turn into a big franchise after all? How do I know this? Why, because of the official teaser trailer from Netflix for this anime film that they just dropped. You can check it out for yourself below:
The Rise of the Wizard King (to Theaters) at Long Last?
Netflix Anime just posted this official teaser trailer for Black Clover: Sword of the Wizard King on YouTube. However, the teaser is quite short. When you cut out the portions of the teaser that has actual content in it, it's just under 30 seconds long. However, those 30 seconds are enough to tell you what this anime film is about. From the looks of it, this anime film is a compilation of the anime series. It seems to start at the very beginning and go all the way to the Elf War arc, but it's a bit hard to tell. In any case, it seems to have more than enough fantasy action to satisfy any shonen anime fans looking for another Fairy Tail, Bleach, or One Piece.
Even better, this teaser trailer gives us a release date for when we'll get to see this anime film. Apparently, Black Clover: Sword of the Wizard King will premiere on March 31, 2023. Unfortunately, because Netflix is the one showing this teaser, that means this anime film is a Netflix exclusive. Thus, you will only be able to watch this anime film on Netflix with a paid subscription. If you're a fan of Black Clover though, then this might be worth it for you.
Black Clover: Sword of the Wizard King ~ Details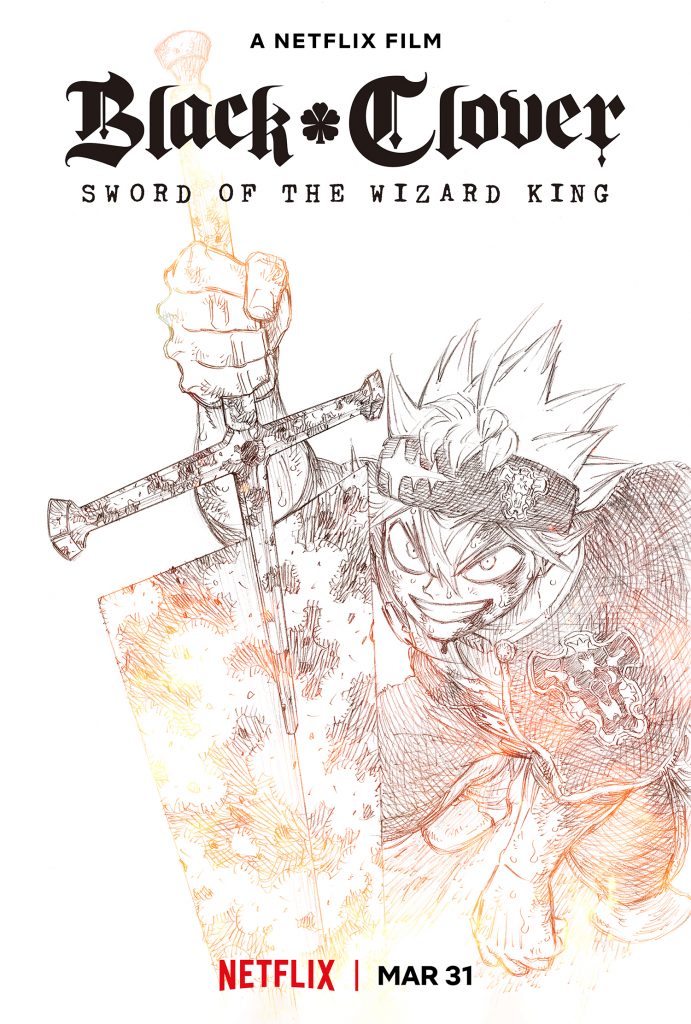 Black Clover: Sword of the Wizard King is the first anime film of the Black Clover anime series, which is itself the anime adaptation of the fantasy adventure manga series of the same name by Yūki Tabata. Pierrot (Naruto, Bleach, Yu Yu Hakusho) is the animation studio behind this anime film and the anime series. Ayataka Tanemura is the director of both the anime and anime films, with Johnny Otoda and Ai Orii writing the screenplay. Minako Seki composed the music for the anime film. Lastly, Netflix licensed the anime film for its NA streaming.
As for what Black Clover: Sword of the Wizard King is about? While we don't have an official synopsis for it yet, we do have one for the anime series courtesy of Crunchyroll. Check it out below:
"In a world where magic is everything, Asta and Yuno are both found abandoned at a church on the same day. While Yuno is gifted with exceptional magical powers, Asta is the only one in this world without any. At the age of fifteen, both receive grimoires, magic books that amplify their holder's magic. Asta's is a rare Grimoire of Anti-Magic that negates and repels his opponent's spells. Being opposite but good rivals, Yuno and Asta are ready for the hardest of challenges to achieve their common dream: to be the Wizard King. Giving up is never an option!"
You can catch up on the Black Clover anime not on Netflix, hilariously enough. Instead, you can watch it entirely for free with ads on Crunchyroll.
Source: Netflix Anime YouTube
KEEP READING