Now at last, we have our final trailer for The Super Mario Bros. Movie before its impending release. Don't believe me? Then why don't you check out that trailer below?
The Last Trailer Before Mario's Big Screen Debut
Nintendo and Illumination are proud to debut their final trailer for The Super Mario Bros. Movie on YouTube. This final trailer not only gives us new footage from Mario's first feature-length animated film, but it even finally lets us hear the voice of one of the major characters: Donkey Kong. Admittedly, he doesn't get many lines in this trailer. But what we do get sounds as enthusiastic and energetic as we'd expect our tie-wearing gorilla hero to sound like.
Even better: Nintendo also has a new official synopsis for The Super Mario Bros. Movie that reveals just that little bit more about it before its big debut. It even gives us some more details about the voice cast. You can check that out below:
While working underground to fix a water main, Brooklyn plumbers Mario (Chris Pratt; Jurassic World and The LEGO Movie franchises) and brother Luigi (Charlie Day; It's Always Sunny in Philadelphia) are transported down a mysterious pipe and wander into a magical new world. But when the brothers are separated, Mario embarks on an epic quest to find Luigi.

With the assistance of a Mushroom Kingdom resident Toad (Keegan-Michael Key; The Lion King) and some training from the strong-willed ruler of the Mushroom Kingdom, Princess Peach (Anya Taylor-Joy;The Queen's Gambit), Mario taps into his own power.

The Super Mario Bros. Movie features an extraordinary comedic cast, including Jack Black (Jumanji films) as Bowser, Seth Rogen (Neighbors franchise) as Donkey Kong, Fred Armisen (Portlandia, Saturday Night Live) as Cranky Kong, Kevin Michael Richardson (American Dad!, Family Guy) as Kamek and Sebastian Maniscalco (Green Book) as Spike, plus a special voice appearance by Charles Martinet, who has voiced the characters of Mario and Luigi in the Super Mario games for more than 30 years.
The Super Mario Bros. Movie: Ticket Details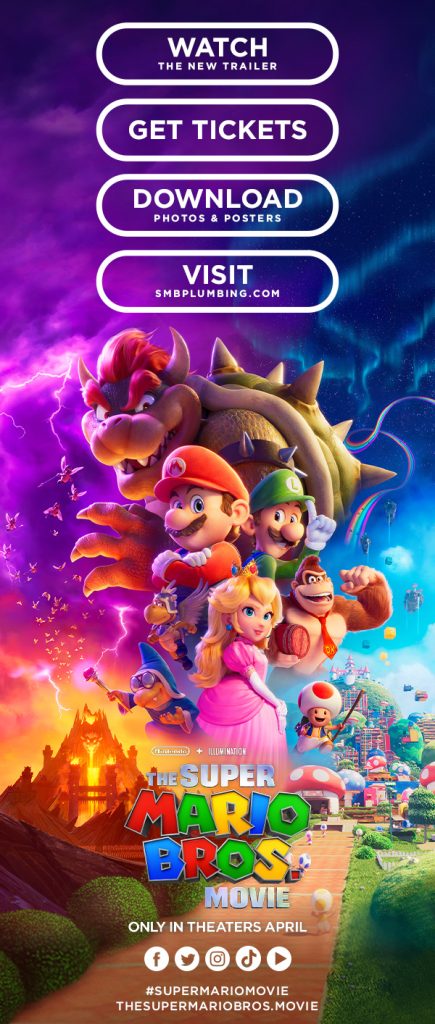 You wouldn't expect Nintendo and Illumination to release that final trailer for The Super Mario Bros. Movie without also including ticket details. Fortunately, you'd be right. You can purchase tickets to it right now at the film's official website. You won't even have long to wait to use those tickets, since the film premieres on April 5, 2023. With less than a month to go as of this writing, it won't be long until you can see if the English voice actors and actresses actually do a good job…or not.