Welp, it looks like Star Wars: Hunters is joining the list of games seeing delays. This time, all the way to next year.
A Postponement on the Hunting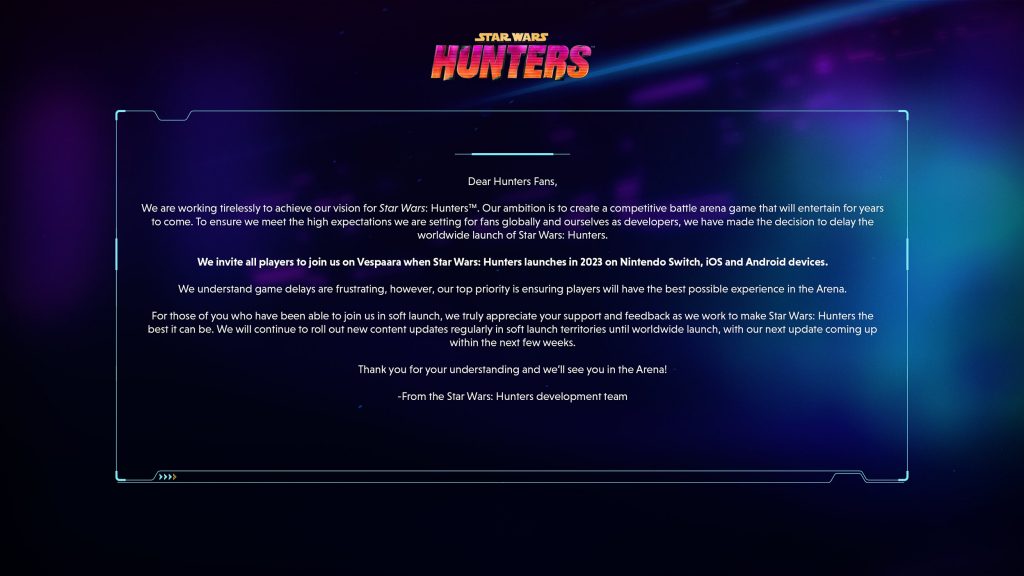 Zynga has just announced on Twitter that they will be delaying the launch of Star Wars: Hunters. Previously, this Star Wars-flavored Overwatch game was going to see a release sometime in 2022. As you can see above though, the game will now launch sometime in 2023 on the Nintendo Switch, iOS, and Android devices. Any territory in which Zynga had a soft launch for the game will continue to see "new content updates" until the official worldwide launch though. The next update in fact will be coming in a few weeks, so that's at least some good news for those of you living in those territories.
Zynga has given no reason as to why this delay for Star Wars: Hunters is happening. Other than a vague "our top priority is ensuring players will have the best possible experience in the Arena", that is. This is just speculation, but this delay could be the result of that new Omicron strain popping up. It could be that Zynga are busy using the time to have their employees switch to online work only…if they somehow haven't already done so because of COVID-19. That said, this is still just speculation until we hear anything official from Zynga. Take it with a grain of salt until then.
Star Wars: Hunters ~ Details
Star Wars: Hunters is an upcoming multiplayer arena combat game by mobile developers Zynga (Farmville, Zynga Poker, Words with Friends 2) and NaturalMotion. As you might expect, the game will be for the Nintendo Switch, iOS, and Android devices. Apparently, no console or PC release unless you count the Nintendo Switch.
As for what Star Wars: Hunters is about? Well, Zynga has a description of the gameplay in the video description of their gameplay trailer above. Check it out below:
"The teams are getting ready, the show is about to begin, screams of delight can be heard from the seats. Meet the combatants, discover their unique fighting style, and learn about their unique abilities in thrilling 4v4 team battles. Explore dynamic maps inspired by iconic Star Wars locales, unsheathe their best combat strategy, and be prepared to thrill the Arena and achieve glory."
You can find more information about Star Wars: Hunters and even pre-register for the game on their official website.
Source: Twitter