Are you looking for new releases in Film or Television to watch this weekend of June 24th!? Well, THS has you covered in our weekly series! So, make sure to come back each week as we compile all of our recommendations for you to check out on your days off.
However, I wanted to break down this list and make it a little more personal. Kind of like when you walk into a book store and see the wall of employee recommendations. So, I'll be breaking down this list as to what we at THS are watching, not necessarily every single thing releasing.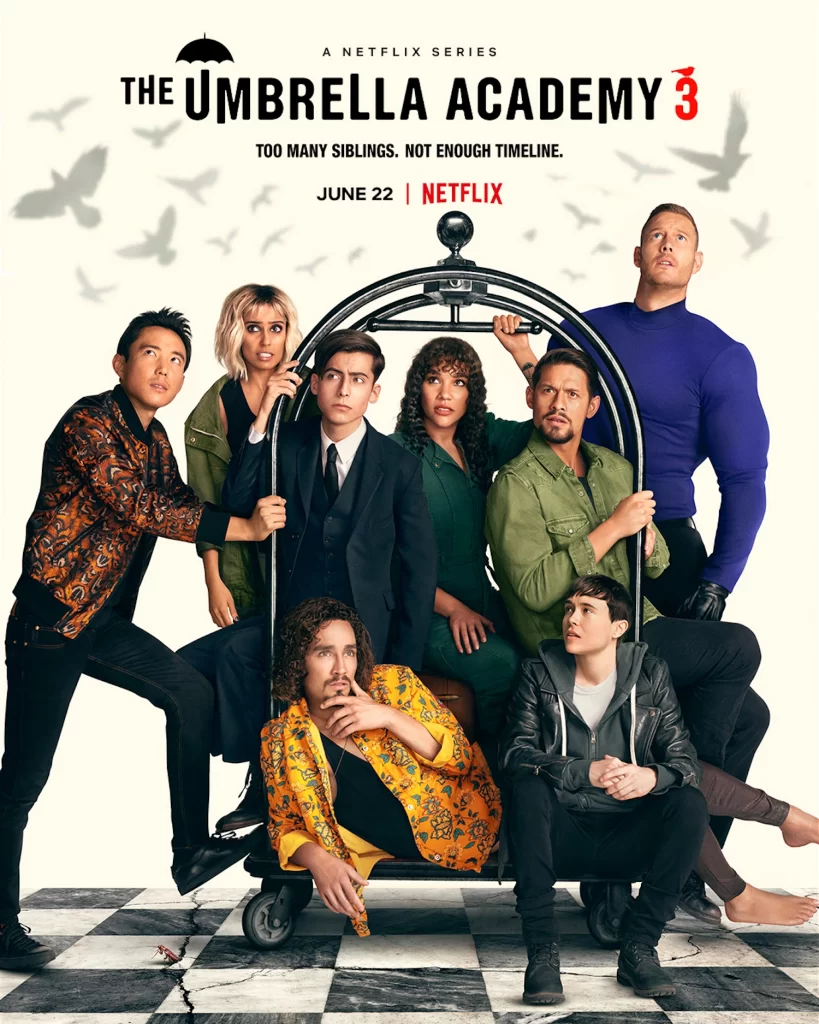 JESSICA'S WATCHING
I'm going to be watching the latest Ms. Marvel on Disney+. Then, The Black Phone in theaters!. Also, I finally got around to starting Neon Genesis Evangelion (I missed the boat in the 90s, okay?). It's streaming on Netflix.
SHAWN'S WATCHING
This weekend I'm going to be re-visiting the first couple of episodes of Apple TV+'s Loot, even though the show didn't fully impress me with its first season, it's still a lot of fun. Also, Netflix has the new Woody Harrelson-Kevin Hart action-comedy The Man From Toronto, which will be a good Friday night watch with friends. And finally, I will be attempting to find a movie theater playing Marcel the Shell With Shoes On as I've heard it's one of the best films of the year (an A24 clay-mation mockumentary film…!? I'm so in!)
SARAH'S WATCHING
I'm headed to theaters to watch The Black Phone and the new Elvis movie! Then, I'll be streaming Loot on AppleTV+, and Trevor: The Musical on Disney+.
LAURA'S WATCHING
I'm super excited for The Black Phone!! So, it looks like I'm headed to the theater.
TRAVIS IS WATCHING
This weekend I'll be streaming the latest episode of The Boys on Prime Video to see what new craziness always is. I'll also be watching the first few episodes of Netflix's Umbrella Academy season 3, or perhaps the entire season if I can't resist the urge to binge-watch.
TOM'S WATCHING
After blubbering at the end of Obi-Wan. I plan on watching Ms. Marvel on Disney+, The Orville on Hulu, Dragons: Race to the Edge on Netflix and topping it off with Umbrella Academy Season 3 also streaming on Netflix.
BRIAN'S WATCHING
It's Ms. Marvel on Disney+ time for me!
BENJY'S WATCHING
I'm watching more Thermae Romae Novae on Netflix. It's the most strangely interesting anime about Ancient Rome I've ever seen.
KAT'S WATCHING
I'm going to be watching the new Ms. Marvel on Disney+, as well as Motherland: Fort Salem on Freeform On Demand. The new season is premiering and I want to see how the ending of last season kicks off the start of this season!
JJ'S WATCHING
I'm diving into Umbrella Academy Season 3 on Netflix, as well as watching Multiverse of Madness on Disney+!
HUNTER'S WATCHING
I'm headed to theaters to watch The Black Phone. Then, back to my couch to watch the new season of The Boys on Prime Video, and The Thing (1982) on Peacock.
NEW RELEASES – WHAT ELSE YOU CAN WATCH THIS WEEKEND!
NEW IN THEATERS JUNE 24TH!
Elvis
The film explores the life and music of Elvis Presley (Butler), seen through the prism of his complicated relationship with his enigmatic manager, Colonel Tom Parker (Hanks). The story delves into the complex dynamic between Presley and Parker spanning over 20 years, from Presley's rise to fame to his unprecedented stardom, against the backdrop of the evolving cultural landscape and loss of innocence in America. Central to that journey is one of the most significant and influential people in Elvis's life, Priscilla Presley (Olivia DeJonge).
The Black Phone
Finney Shaw, a shy but clever 13-year-old boy, is abducted by a sadistic killer and trapped in a soundproof basement where screaming is of little use. When a disconnected phone on the wall begins to ring, Finney discovers that he can hear the voices of the killer's previous victims. And they are dead set on making sure that what happened to them doesn't happen to Finney.
Cryo
Sometimes the real nightmare is being awake. Five scientists awake from a cryogenic sleep and find themselves trapped in an underground facility. With no memory of who they are or how long they've been asleep, they begin to realize they may have been part of a scientific experiment gone wrong. After a series of strange events, the scientists find themselves being hunted. They do not know who is hunting them or for what reason, but the scientists begin to suspect that one of them may be the killer.
Murder at Yellowstone City
The once peaceful and booming Yellowstone City has fallen on hard times, but when a local prospector strikes gold, things seem to be turning around. Any hope is soon shattered when the prospector is found dead and the Sheriff quickly arrests a mysterious newcomer. But nothing is so simple in this sleepy western town, and more than a few of the locals have secrets to keep and reasons to kill. As the brutal murders continue, pitting neighbor against neighbor, Yellowstone City goes down a bloody path to a final showdown that not all will survive.
Marcel the Shell With Shoes On
Once part of a sprawling community of shells, they now live alone as the sole survivors of a mysterious tragedy. But when a documentary filmmaker discovers them amongst the clutter of his Airbnb, the short film he posts online brings Marcel millions of passionate fans, as well as unprecedented dangers and a new hope at finding his long-lost family.
NEW ON PARAMOUNT+ JUNE 24TH!!
Beavis and Butt-Head Do the Universe
A tale that technically spans two centuries, BEAVIS AND BUTT-HEAD DO THE UNIVERSE promises to sit atop all future lists of the Dumbest Science Fiction Movies Ever Made. The saga begins when Beavis and Butt-Head wind up at space camp through "creative sentencing" from a juvenile court judge in 1998. Mistaking a docking simulator for something else (huh huh), Beavis and Butt-Head excel at it and are asked to join the space shuttle mission in a PR move. After ruining the mission, they are left for dead in space and end up going through a black hole and reemerging back on Earth in 2022, only to discover a very different world – and find themselves considered Buttholes of Interest by the NSA, the governor of Texas, and a highly intelligent version of themselves from a parallel universe. Also, they almost lose their virginity but don't.
NEW ON HBOMAX JUNE 24TH!!
Westworld, Season 4
Maybe it's time you questioned the nature of your own reality.
BIRDGIRL Season 2
When Phil Ken Sebben is killed in an accident, he names Birdgirl as the successor of Sebben & Sebben Worldwide. With help from her friend Meredith the Mind Taker, Birdgirl was able to get Judy to be the new CEO of Sebben & Sebben while still fighting crime on the side.
CHERNOBYL: THE LOST TAPES – DOCUMENTARY
HBO Original, Chernobyl: The Lost Tapes, takes a deep dive behind the 1986 disaster of the Chornobyl nuclear power plant. Watch never before seen footage and get real-life accounts of the horrific accident.
MENUDO: FOREVER YOUNG – DOCUMENTARY
Menudo: Forever Young chronicles the rise and fall of the most iconic Latin American boy band in history. Fans get a closer look at the glitz and glamor of their favorite teen idols' '80s outfits, world tours, magazine covers, and screaming fangirls. But, through interviews with ex-Menudo members and others, they also see how this extravagant facade may have covered up a web of alleged abuse and exploitation.
NEW ON DISNEY+ JUNE 24TH!!
Harmonious Live!
Feel the transcendent power of classic Disney music reinterpreted by artists from around the world as we celebrate World Music Day together. Harmonious Live!, hosted by Idina Menzel, is streaming live at 6PM PT/9PM ET on June 21, only on #DisneyPlus in the US and Canada.
Doctor Strange In The Multiverse Of Madness
In Doctor Strange in the Multiverse of Madness, the MCU unlocks the Multiverse and pushes its boundaries further than ever before. Journey into the unknown with Doctor Strange, who, with the help of mystical allies both old and new, traverses the mind-bending and dangerous alternate realities of the Multiverse to confront a mysterious new adversary.
Trevor The Musical
A filmed version of the off-Broadway stage production, "Trevor: The Musical" follows a charming 13-year-old on a turbulent journey of self discovery. After an embarrassing incident at school, Trevor must summon the courage to forge his own path. The musical is based on the 1995 Academy Award-winning short film "Trevor" which ultimately inspired the nonprofit organization The Trevor Project.
Rise
Audiences have never seen a story like that of the Antetokounmpos. After emigrating from Nigeria to Greece, Charles and Vera Antetokounmpo (Dayo Okeniyi and Yetide Badaki, respectively) struggled to survive and provide for their five children, while living under the daily threat of deportation. With their oldest son still in Nigeria with relatives, the couple were desperate to obtain Greek citizenship but found themselves undermined by a system that blocked them at every turn.
When they weren't selling items to tourists on the streets of Athens with the rest of the family, the brothers – Giannis (Uche Agada) and Thanasis (Ral Agada) – would play basketball with a local youth team. Latecomers to the sport, they discovered their great abilities on the basketball court and worked hard to become world-class athletes, along with brother, Kostas (Jaden Osimuwa). With the help of an agent, Giannis entered the NBA Draft in 2013 in a long-shot prospect that would change not only his life but the life of his entire family. And last season, Giannis and Thanasis helped bring the Milwaukee Bucks their first championship ring in 50 years, while Kostas played for the previous season's champs, the Los Angeles Lakers.
NEW ON NETFLIX ON JUNE 24TH!!
Love & Gelato
Lina, an American high school graduate, would rather spend her summer preparing for her semester at MIT than fly to Rome to fulfill her mother's last wish. Once abroad, however, she is caught in a whirlwind of new experiences — searching for her long-lost father, learning how to make gelato, and maybe… falling in love?
The Umbrella Academy (Season 3)
The third season of The Umbrella Academy pits our favorite superhero siblings against members of the Sparrow Academy. Much like the Umbrellas, the Sparrows were adopted by Sir Reginald Hargreeves after 43 super-powered babies were born on October 1, 1989, all over the world.
Man Vs Bee (Season 1)
Man 🙋🏻‍♂️ Bee 🐝 Dog 🐶 = Disaster 🔥
Rowan Atkinson stars in Man Vs Bee, a comedy series that will get the whole family buzzing.
The Man From Toronto
A case of mistaken identity arises after a screw-up sales consultant and the world's deadliest assassin—known only as The Man from Toronto— run into each other at a holiday rental. Kevin Hart and Woody Harrelson star in this action packed comedy only on Netflix
NEW ON HULU ON JUNE 24TH!!
Motherland: Fort Salem, Final Season Premiere
It's time to answer the final call. The final season of Motherland: Fort Salem premieres June 21 on Freeform, stream on Hulu
NEW ON PEACOCK JUNE 24TH!!
Check back next week!
NEW ON APPLETV+ JUNE 24TH!!
LOOT
After divorcing her husband of 20 years, Molly Novak must figure out what to do with her $87 billion settlement. She decides to reengage with her charitable foundation and reconnect with the real world—finding herself along the way.
NEW ON PRIME VIDEO ON JUNE 24TH!!
CHECK BACK NEXT WEEK
KEEP READING