Power Rangers Universe #5 shows us that the Rangers will never die, especially in comic book form. All thanks to BOOM! Studios, of course.
The Power Rangers' Biggest Threat Yet?
BOOM! Studios, under license from Hasbro Inc., is proud to unveil Power Rangers Universe #5. As you might guess from the title, this is the 5th issue in the Power Rangers Universe comic book series, which delves into the "deepest origins of the Power Rangers". Nicole Andelfinger (Dragon Prince: Bloodmoon Huntress) continues to be the writer for this comic book, with Simone Ragazzoni (Odessa) continuing to be the artist, Mattia Iacono continuing to be the colorist, and Ed Dukeshire continuing to be the letterer. Dan Mora (Once & Future) is responsible for the main cover art, with Kath Lobo (Power Rangers), Goñi Montes (Mighty Morphin Power Rangers), Michal Ivan (Magic), and Audrey Mok (Silk) responsible for the variant cover arts.
As for what exactly Power Rangers Universe #5 is about? Well, as it so happens, BOOM! Studios have a synopsis for us. Check it out below:
"On the Masterforge, the Morphin Master Teens and the Morphinaut feel the aftershock of the smoking crater on Earth's surface. At the mysterious crash site, their new powers and skillsets are put to the test against a horde of Foot Soldiers! But what happens when their powers start to fail… and even begin to turn against them?"
Power Rangers Universe #5 will go on sale on April 27, 2022. You can preorder print copies at your local comic book shop or at the BOOM! Studios webstore. If you're fine with the digital version though, then you can preorder it on digital outlets like comiXology, iBooks, Google Play, and Kindle. Be aware though that none of these outlets currently have this issue listed as of this writing. Check back at them later to see when they have this.
Power Rangers Universe #5: Preview Pages
That's not all for today, folks. BOOM! Studios also have a couple of pages of Power Rangers Universe #5 for us as a preview. Enjoy: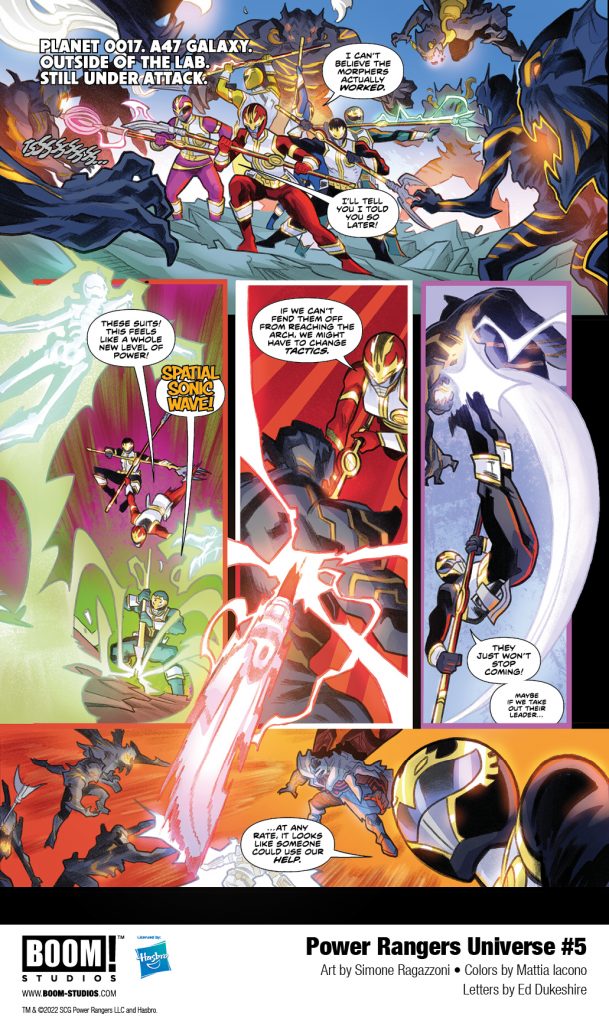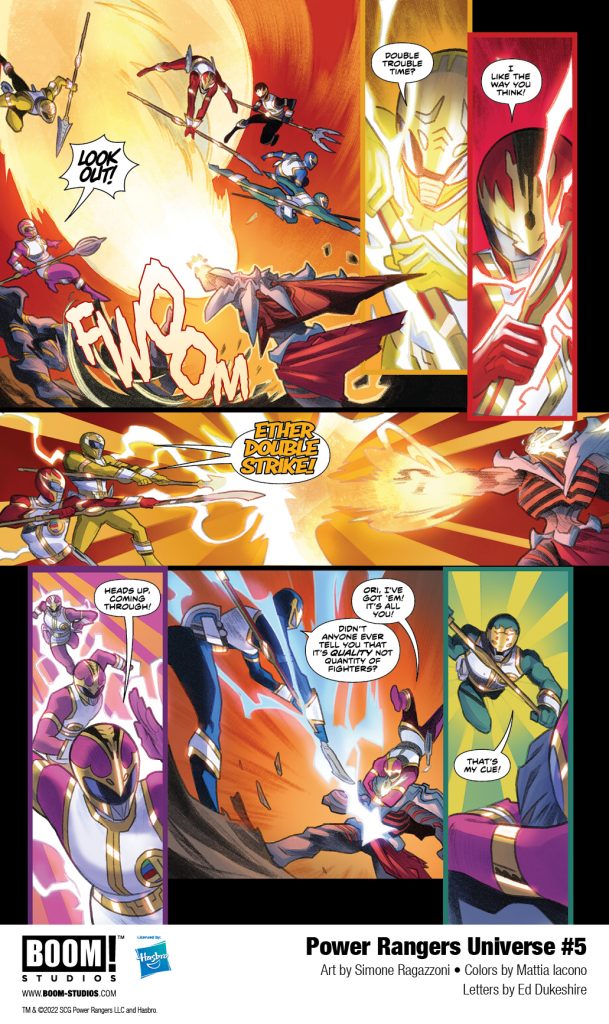 Source: BOOM! Studios