The first D&D Direct has happened and a lot of news has been announced. Now, we have the full breakdown for it.
Movie Title And Locations Revealed
That right! Dungeons & Dragons: Honor Among Thieves is releasing on March 3rd, 2023. And it is set in both The Sword Coast and The Forgotten Realms.
Product News
So a lot of products have officially been announced. Starting with Spelljammer: Adventures In Space.
Spelljammer: Adventures in Space presents the Astral Plane as a Dungeons & Dragons campaign setting unlike any other. Home of the stars and gateway to the heavens, the Astral Plane teems with excitement and possibility. With the help of magic, spelljammers can cross the oceans of Wildspace, ply the silvery void known as the Astral Sea, and hop between worlds of the D&D multiverse.

This set contains everything a Dungeon Master needs to run adventures and campaigns set in the starlit realms of Wildspace and the Astral Sea, as well as new options for players who want to create characters at home in this fantastic setting.
Included in this set is:
The Astral Adventurer's Guide, a 64-page hardcover book for players and Dungeon Masters that presents the Astral Plane as a campaign setting and includes space-based character options, spells, and magic items, deck plans and descriptions for spelljamming ships, and more
Boo's Astral Menagerie, a 64-page hardcover book for Dungeon Masters that presents game statistics and descriptions for over 60 creatures found in Wildspace and the Astral Sea, including astral elves, cosmic horrors, lunar and solar dragons, murder comets, and space clowns.
Light of Xaryxis, a 64-page hardcover adventure for Dungeon Masters that is set in the Astral Plane and designed for characters of levels 5–8
Double-sided poster map of the Rock of Bral, an asteroid-city that can serve as both an adventure location and a campaign hub in the Astral Plane
Sturdy, four-panel Dungeon Master's screen designed for use with the books in this set
This is set for release on August 16th. Alongside this, Wizkids is set to release minis for this adventure as well. And we did get our first looks at the covers for it as well:
Continuing, we did also get 2 Campaign Case products revealed as well.
This terrain campaign case contains everything a Dungeon Master needs to construct encounters for your wilderness, dungeon, and city adventures, including a set of double-sided adventure tiles and a collection of illustrated adventure clings to customize your maps. This kit is also the perfect companion to Campaign Case: Creatures. Use these Campaign Cases together to create a premium experience for all your adventures.
Included with this is:
30 double-sided interlocking 5″ × 5″ terrain tiles ready for your dungeon, city, and wilderness adventures.
5 sheets of reusable Adventure Clings with an assortment of wilderness, dungeon, and interior features to customize your terrain surfaces, including campsites, rubble, and tombs.
1 double-sided Adventure Grid with Wilderness terrain on one side and Dungeon on the other, measuring 22″ × 25.5″ when laid flat. Ready to use in combination with the terrain tiles or on its own
1 storage folder for your reusable Adventure Clings
1 sturdy storage case with a magnetic closure and rope handle designed to take your adventure on the road
1 Outer box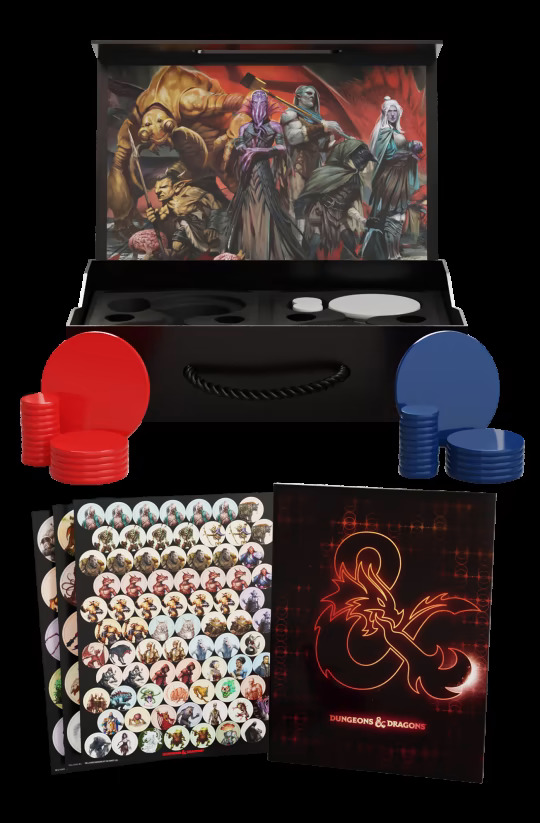 This campaign case equips the Dungeon Master with a large set of customizable creature tokens that will complement any D&D adventure or home brew campaign. The high-quality creature discs and broad selection of reusable creature clings makes this kit ready for any encounter. It's also the perfect companion to Campaign Case: Terrain. Use these Campaign Cases together to create a premium experience for all your adventures.
This new set includes:
64 weighted plastic discs that come in 3 sizes and 4 colors for maximum flexibility in encounter creation: 40 medium-sized creature tokens, 20 large-sized creature tokens, 4 huge sized creature tokens
5 Sheets of fully illustrated reusable creature clings. Simply apply a cling to a disc to create customized Creature Tokens ready for any encounter.
2 Removable custom token storage trays
1 durable storage case with a magnetic closure and a rope handle designed to take your adventure on the road
1 Outer box with all-new art that protects the keepsake box
Video Game Updates
So Larian Studios posted a Journey So Far video for Baldur's Gate 3. Meanwhile, Gearbox Publishing and Arc Games dropped a trailer for Neverwinter: Dragonslayer:
Meanwhile In Other Product Announcement News…..
A new Dragonlance Book and Board Game were revealed: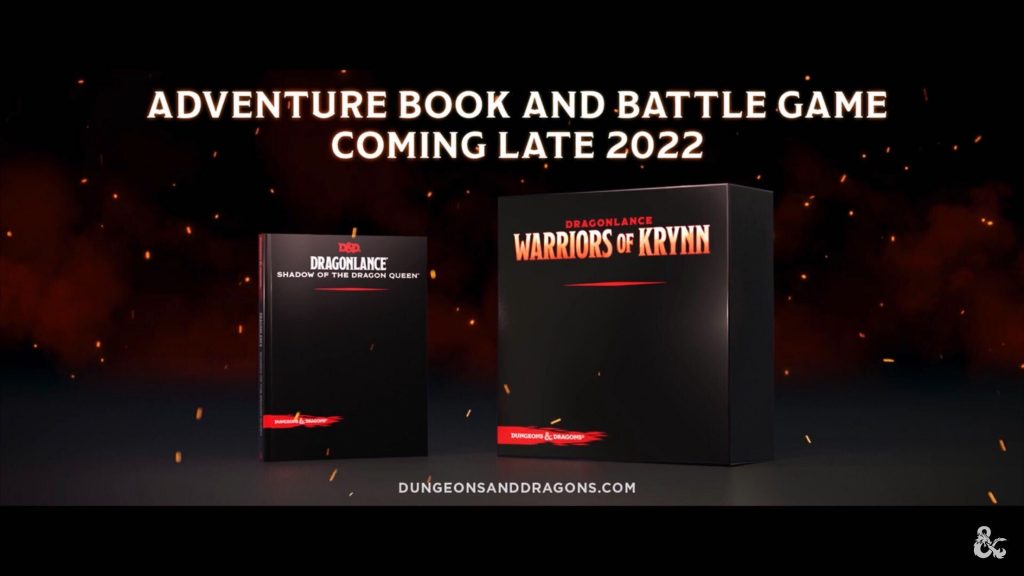 Dragonlance: Shadow Of The Dragon Queen and Dragonlance: Warriors Of Krynn are set for release in late 2022.
And one other thing got announced, which is the new starter set:
The Dungeons & Dragons Starter Set: Dragons of Stormwreck Isle is your gateway to action-packed adventures in the cooperative storytelling game Dungeons & Dragons, where heroes battle monsters, find treasure, and undertake epic quests. This box contains the essential rules of the game plus everything you need to play heroic characters caught up in an ancient war among dragons as they explore the secrets of Stormwreck Isle.
The new Starter Set includes:
48-page adventure booklet with everything you need to get started
32-page rulebook for playing characters of levels 1–3
5 ready-to-play characters, each with a character sheet
6 polyhedral game dice
We did also get our first look at the new item:
And Wizkids announced a new board game: D&D Onslaught.
DUNGEONS & DRAGONS Onslaught is a competitive skirmish game in which each player controls an adventuring party from one of the powerful factions of the Forgotten Realms. Parties delve into dungeons, battle rival adventurers, and confront fearsome monsters on a quest for treasure and glory!

This core set includes everything two players need to play, including twelve characters from two different factions (Harpers and Zhentarim), a horde of monsters, and an immersive campaign that sends rival parties deep into the depths of a ruined keep to confront a mighty black dragon.
This 2-player board game includes:
21 Fully-Painted Miniatures
1 Double-Sided Game Board
4 Twenty-Sided Dice
16 Dial Cards
26 Standard Cards
44 Mini Cards
71 Tokens
14 Terrain Elements
1 Rule Book
1 Scenario Guide
4 Plastic Standees
D&D Onslaught Image Gallery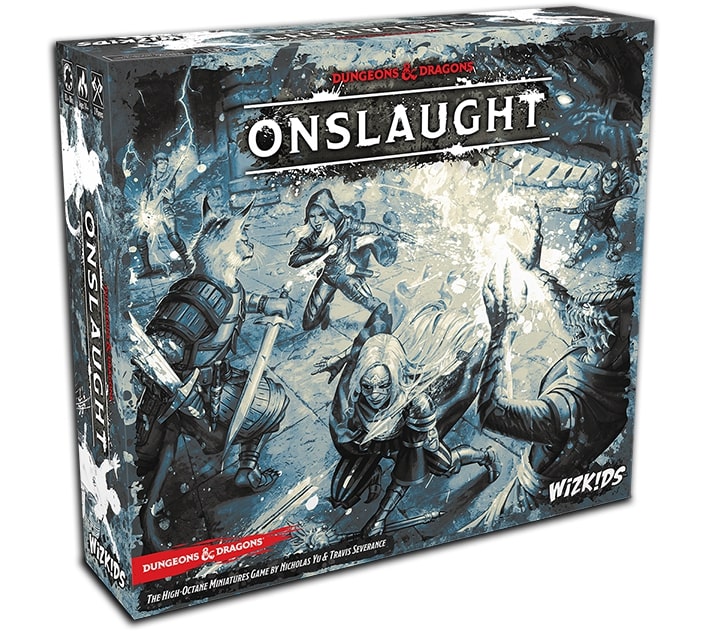 For more on tabletop gaming, make sure to check back to That Hashtag Show.
Keep Reading: