Crunchyroll is the biggest anime streaming service in NA, and possibly even the world. Thus, you can understand why it would have a major presence at the 2023 edition of Anime NYC in the form of an industry panel. You can also understand why Crunchyroll would want to reveal new anime series heading to their streaming platform at that panel. Fortunately, as you can tell by the title, we've got 3 of them inbound for 2024.
Crunchyroll Industry Panel at Anime NYC 2023: New Anime Details
Crunchyroll is proud to announce at Anime NYC 2023 that a trio of new anime series will arrive on the streaming platform sometime in 2024. We only have a specific release window for one of those anime though. The rest only give us the year and nothing more. We'll just have to wait for Crunchyroll to give us that information later. Hopefully, not much later. That said though, this trio of new anime series is interesting. We've got a straight-up comedy that borders on absurdist, a gender-defying romantic comedy, and a very traditionally shojo-style romantic comedy. It looks like 2024 is the season for romance for Crunchyroll. Heck, maybe they'll even stream the latter 2 anime series on Valentine's Day. And comedies. Don't forget comedies. No romance is complete without a dash of comedy.
But that's enough out of me for now. Want to know what Crunchyroll has in store for us for 2024? You can check out the full list of this new anime announcement from Crunchyroll's industry panel at Anime NYC 2023 below:
Crunchyroll 2024 Anime Releases
Delusional Monthly Magazine
Release Date: January 2024
Territories: North America, Central America, South America, Europe, Africa, Oceania, the Middle East, CIS and India
Synopsis:
The story takes place in the town of Most City in a certain country. On the second floor of an old building is a publishing company that puts out a periodical called Delusional Monthly Magazine, a science magazine featuring articles about shocking, bizarre events and inexplicable phenomena that make even scientists throw up their hands in defeat.
Its staff consists only of a beautiful editor-in-chief and her one editor, Taro J. Suzuki, who are joined by grade-school-aged assistant Jiro Tanaka and his dog, Saburo. The editorial department is always empty, and Taro, Jiro, and Saburo are usually hanging out in Rock, a coffee shop on the first floor. One day, the scientist Goro Sato visits them for a consultation, and therein lies the beginning of an outlandish new story…
Senpai is an Otokonoko
Release Date: 2024
Territories: North America, Central America, South America, Europe, Africa, Oceania, the Middle East and CIS
Synopsis (via WEBTOON):
Can true love really overcome any obstacles? Saki, a high school student, confesses her feelings to Makoto. Taken aback, Makoto reveals his secret, but the sudden discovery doesn't seem to bother Saki who is already head over heels for him.
After being rejected, Saki asks Ryuji, Makoto's childhood friend, for some advice on how to win his heart. A love triangle unfolds when Ryuji realizes that he might also have some feelings for his old friend.
True Beauty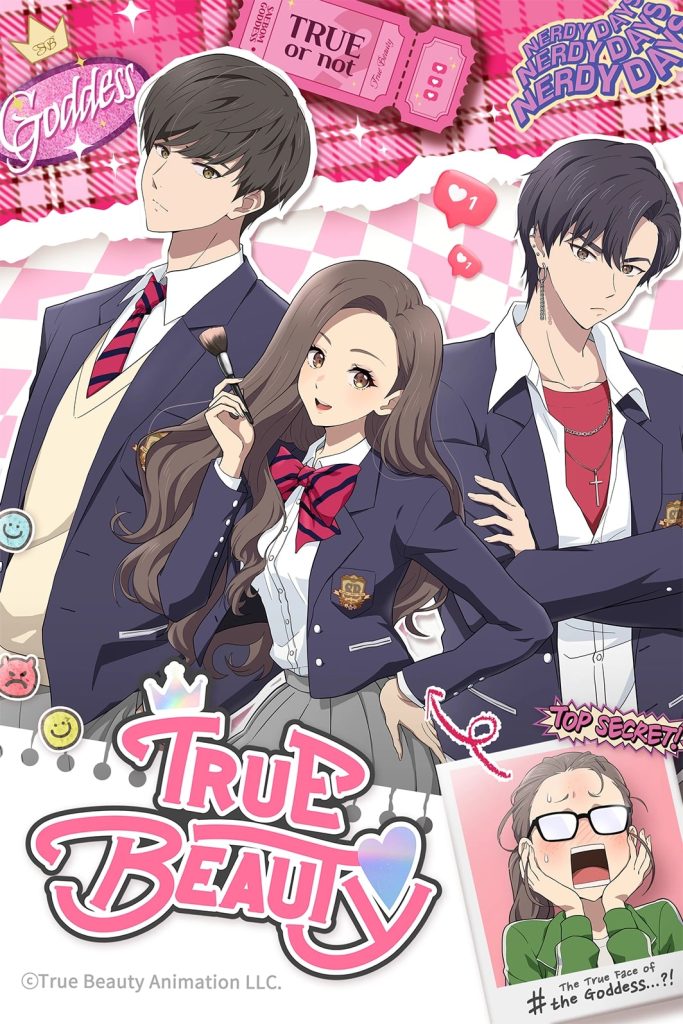 Release Date: 2024
Territories: North America, Central America, South America, Europe, Africa, Oceania, the Middle East, CIS and India
Synopsis:
Jugyeong, who transformed herself with makeup, transfers to Saebom High School to leave her past of being bullied behind. The school is known for producing idols, actors, and influencers, thanks to its unique tradition of anonymous voting for the school's True Beauty goddess. The chosen student gets scouted by entertainment agencies.
Jugyeong quickly becomes the center of attention, gaining the title of the next goddess candidate and mingling with Sujin, the former two-time goddess. However, Sujin's friendly facade hides a malicious intent. She aims to bring Jugyeong down using cunning tactics and traps.
Determined not to be a victim again, Jugyeong confronts Sujin, vowing to become the next goddess. She engages in a fierce voting war while concealing her makeup-free face. However, things take unexpected turns when Suho Lee, the school's heartthrob, accidentally sees her bare face, and Jugyeong crosses paths with the enigmatic SeoJun Han, who is determined to unveil her true identity.
As Jugyeong's life becomes more entangled with these two, a thrilling tale of beauty, intrigue, and self-discovery unfolds. Will Jugyeong conquer it all or succumb to the pressures of the beauty-obsessed world around her? Dive into the world of "True Beauty" and let the drama unfold!
Source: Crunchyroll News