If you are like me and are always looking for something new and exciting to read you will want to check out this new Kickstarter campaign for Trace War, a new comic book series by John Garvin. Taking place in the future Pacific Northwest in a world that has been plagued by climate changes, war, and a mysterious threat; one soldier finds himself in a war to save all of humanity and himself. Thanks to our friends at Liithos I was able to get a look at the first three issues of this series. But since I hate to give spoilers I will only be reviewing Trace War #1. You can check out more about this series at Kickstarter.com. Also by reading this review today, you will be some of the ones that get an exclusive first look and never before seen pages from Trace War #1.
Trace War
This comic book series will bring fans deeper into the narrative of the Trace War Universe, which takes place in the climate-change-ravaged Pacific Northwest where Seattle has been submerged beneath the ocean for hundreds of years. The Trace – deadly pockets of dark energy – has brought mutation, ruin, and chaos wherever they appeared. Civilization has devolved into factions and enclaves, fighting over resources and differing ideologies.
By the time the Ring of Fire ignited, the world was already burning. At the foot of erupting Mount Rainier, Ash Naranjo, born without arms, is taken by the Order of Life Science, who give him TechGyn prosthetic arms and other nano implants – changing him forever. Now one of the Order's Ghosts, Ash fights for the United Enclaves, vowing to destroy the oppressive Freelanders who have taken his family and destroyed his homeland.
Trace War – Review
When introduced to this comic I was excited to read something that was not a superhero story. Don't get me wrong I love my Captain America and Batman stories but this came at the right time when I was looking for something different. Taking place on a war-beaten Earth that also has been ravished by climate changes mysterious pockets of dark energy called "The Trace" also have appeared causing the collapse of global civilization. Trace War takes you on a dark journey with an elite group of soldiers (Ghosts) as they try to save all of humanity from the Trace and the end of the world.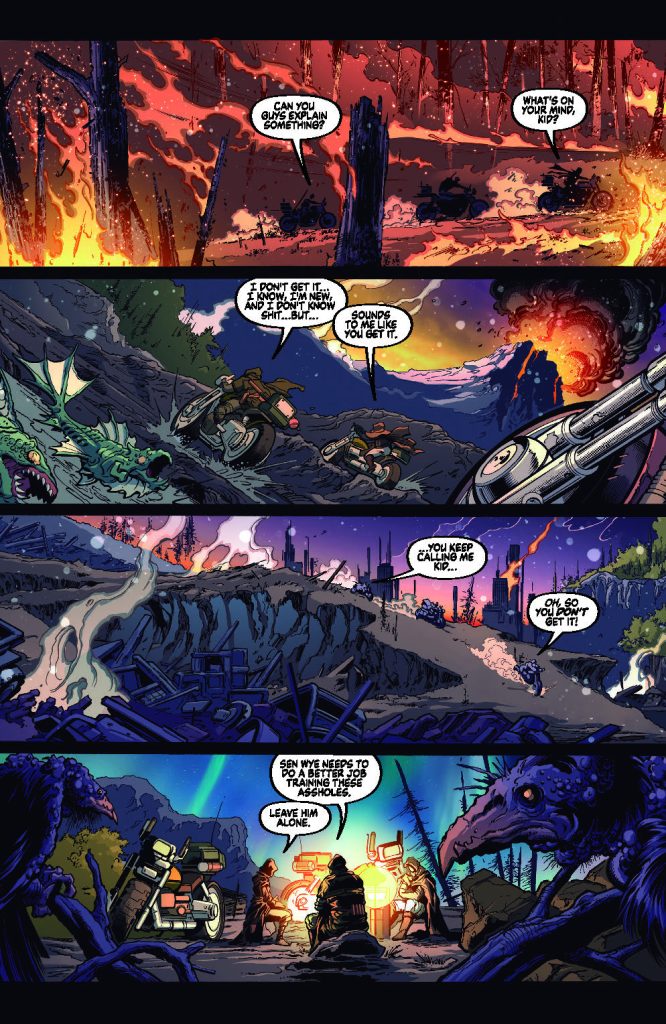 This first issue introduces us to Ash Naranjo a newly promoted Ghost that was born with no arms because of the Trace. He was given implants and is looked at as an outcast and a freak because of his TechGyn technology. Ash is not only fighting the war against the Trace he is also looking for his missing family. We are also introduced to Mari (Machine Artificial Recursive Intelligence). Mari was implanted into Ash when he was a newborn to control his implants and is referred to by Ash as the "annoying voice in my head."
Other characters you will meet throughout this issue are Zai Chennova (Ghost), and Bramon Zendoya (Ghost). But you can learn more about them when you read the series.
The Storyline
I will be the first to admit that when I started to read this I thought this issue was going to be a slow burn into the series. But after a couple of pages, I realized I was wrong. Writer John Garvin did a great job with the pace of this story. Garvin did a great job of setting up the plot for the series while keeping the story of issue #1 interesting and fresh.
The story is dark and it doesn't get any lighter throughout this issue and that's what I love about it. Also as you read you see Ash is not only fighting a war against the Trace but he is also fighting a war within himself as well. As this story focuses on Ash and his battles it also ties in the other characters' personalities and struggles as well. On top of all this, you see the makings of a pretty bad-ass Ghost team.
Art
The artist team of Paul Pelletier (pencils), Andrew Hennessy (inks), David Garcia Cruz (colors), and Taylor Esposito (letters) do an amazing job making each panel flow with the story. The art is simple at times and very detailed when it needs to be. Because of this and the colors that are used in each panel, you can feel the mood, action, and even emotions without having to read a word. Now, I will say there are a few panels where the art went simple and it took me a second to realize who a character was but it wasn't enough to take away from the story. This artist team did an amazing job.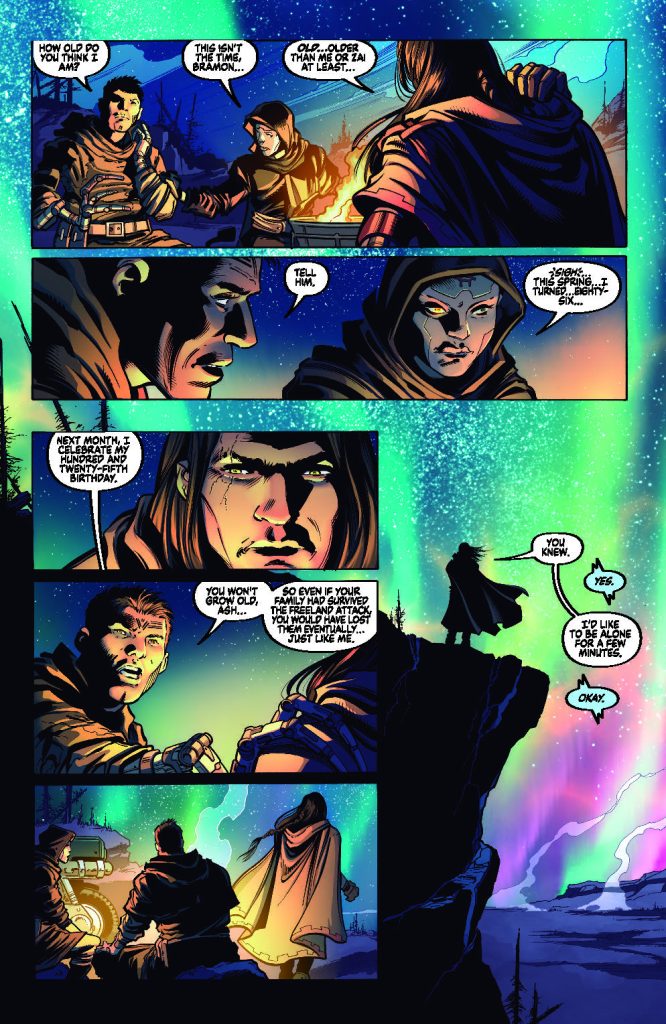 Trace War – My Final Thoughts
Like I said earlier when I first started to read Trace War #1 it started slow but did not take long for the action and storyline to pick up the pace. I loved how Garvin was able to set up the series and keep the current issue going smoothly without any distractions. It is a dark story but that is what makes it so good. The characters work well together and you really start to root for Ash, who gave me a Winter Solider vibe. That is probably why I liked this story so much.
Also, the art was on point. The colors flowed perfectly and when the details were needed they were there, especially during some of the action panels. No there were a few times where I struggled making out some characters but like I said before it was nothing that took away from the story. The artistic team makes this story flow even better.
So, if you are a fan of doomsday stories or are looking for something new that will make you want more; then you will want to support this Kickstarter and read this series, you will not be disappointed. You can find this Kickstarter by clicking here.
We Want To Hear From You
What are your thoughts about this post-apocalyptic sci-fi series.? Is Trace War a must-read for you? Also, we must know, what has been some of your favorite Kickstarter comics? That Hashtag Show wants to hear from you!
You can tell us your thoughts by leaving a comment on our That Hashtag Show Facebook page. You can also let me know your thoughts by hitting me up on social media at NerdyVet574. Also, stay up to date on all the pop culture news by following us at ThatHashtagShow.com.