They're baaack! Or are they…? A new image shared by Empire shows what seems to be an Inquisitor in the upcoming Disney Plus series Ahsoka. This masked figure is holding up a double-bladed red lightsaber in the direction of something out of sight. Who could they be fighting? What planet is this Inquisitor on? More importantly, what's an Inquisitor doing here?
Who are the Inquisitors?
The Inquisitors are a group of force-sensitive agents who serve the Sith and the Galactic Empire. They were former Jedi or Padawans who survived Order 66 but were turned to the dark side by Darth Vader. Vader ordered them to hunt down the Jedi who remained after the fall of the Jedi Order following Order 66, making the Inquisitors' goal tragically ironic. During the Battle of Malachor in Star Wars: Rebels, Maul and Jarrus killed the final Inquisitors, the Fifth Brother, Seventh Sister, and Eighth Brother. This effectively dissolved the Inquisitorius. They've appeared throughout Star Wars media over the years, recently appearing in the Star Wars Jedi: Survivor video game. Fans of the live-action Disney Plus shows will remember the Inquisitors as the main adversaries in the recent 'Kenobi' series, which explored the politics and selfish intentions of many of the Inquisitorius.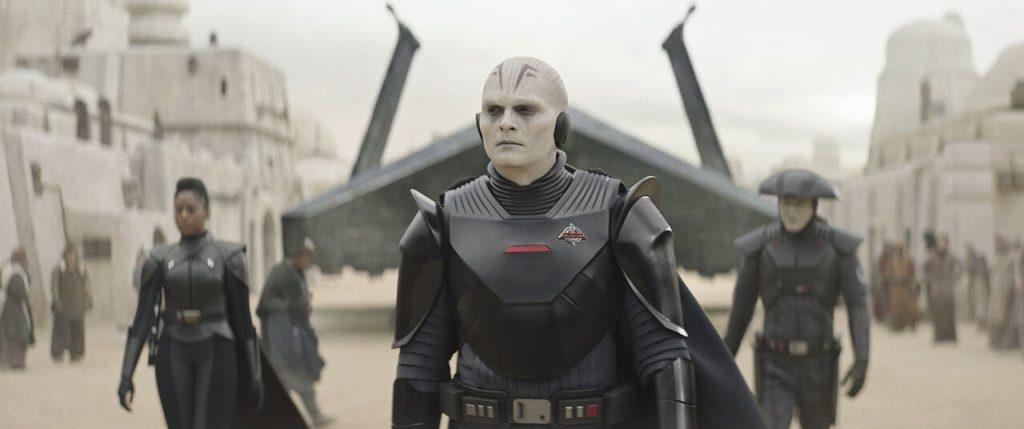 Why Is This Such a Big Deal?
Committed Star Wars fans know that Ahsoka is taking place following Return of the Jedi, an era beyond the reign of the Inquisitorius. Every Inquisitor should have been discarded at this point in the timeline, which makes the surprise presence of this figure all the more fascinating. Because of this, there's always the possibility that this person is simply imitating an Inquisitor for their own nefarious purposes.
However, that armor looks pretty legitimate and well-crafted. This scene could also be a flashback to a time when Inquisitors still ran rampant across the galaxy. Of course, a true Inquisitor that's survived this long would certainly be a formidable foe for Ahsoka Tano.
Set after the fall of the Empire, Ahsoka follows the former Jedi knight Ahsoka Tano as she investigates an emerging threat to a vulnerable galaxy. The series stars Rosario Dawson as Ahsoka Tano, Natasha Liu Bordizzo as Sabine Wren, Hayden Christensen as Anakin Skywalker, Eman Esfandi as Ezra Bridger, Ivanna Sakhno as Shin Hati, the late Ray Stevenson as Baylan Skoll, Mary Elizabeth Winstead as Hera Syndulla, and Lars Mikkelsen as Grand Admiral Thrawn.
So, who do you think is behind the mask? Any theories on where this may lead? We'll have to wait until August to find out!
For more on Star Wars, make sure to check back to That Hashtag Show.
Source: Empire
KEEP READING: