Slip is a new dark comedy RokuTV Series from the mind of Zoe Lister-Jones (A Good Person). The series follows Jones as Mae Cannon. Mae seems to have it all, a great job as an assistant curator at a museum, as well as a seemingly boring husband, Elija (Whitmer Thomas).
While on the surface her life seems great, Mae is a woman who is unhappy with her marriage, and seemingly her life. However, after a one-night stand with an incredibly handsome musician (Amar Chadha-Patel), she learns that she can travel through different timelines triggered by her orgasm. Yes, you read that correctly.
SLIP TAKES YOU ON A JOURNEY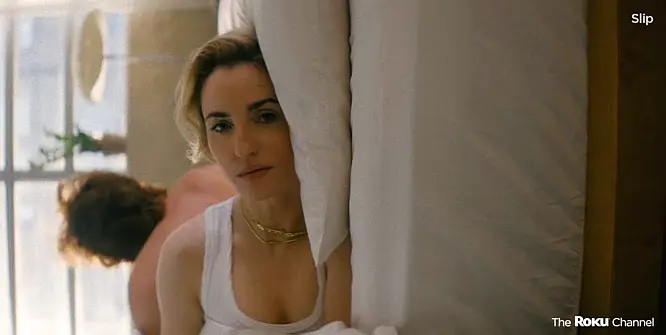 It's common to question one's choices in life. If we had turned left instead of right. If we had said yes to the one thing we were afraid of. If we didn't marry this person but ran away with that one. What if I followed my dreams instead of taking the safe route?
Throughout Slip, we find Mae in a multitude of situations, relationships, and troubles all examining these life questions. However, in the end, nothing makes her happy. Why? Because she's not happy with herself.
Zoe Lister-Jones manages to wear the hats of writer, director, and star with ease. Slip is honest and vulnerable. Jones's performance is absolutely one to watch and not be brushed aside. I do not know how she dropped some of these lines seriously and grounded with a straight face.
"I think my p**sy is a wormhole"
While Mae, at times, comes across as unlikeable and non-sympathetic I found myself coming back to each episode needing to know where the story would go. There are only 7, 30-minute episodes making Slip incredibly bingable.
I will say that when watching the series I felt like I was seeing something that I didn't quite fully understand. The show is a deep dive into love, sexuality, friendship, and so much more. So, watching it I felt like I was back in high school needing to dissect a book and my teacher not being okay with me enjoying it on a surface level.
That said, I still really enjoyed Slip. The series never talks down to you as a viewer, and you can still go along for the ride even though you know you're missing something deeper.
Slip premieres on Roku Channel on April 21, 2023!