Regarding YuYu Hakusho Nendoroids, we haven't had many options for a while. All we've had for a long time was just a Nendoroid version of the main character Yusuke Urameshi. Now it seems though, that we're going to get more of the main cast. A lot more, in fact.
The Rest of the Gang is Finally on the Way
Good Smile Company has just revealed on their official Twitter account that they're finally going to release more YuYu Hakusho Nendoroids. Specifically, these new Nendoroids will be of the rest of Yusuke Urameshi's gang. It's rather fitting since only Yusuke has had his own Nendoroid for a while now since 2019. Now though, his friends will join in on the chibi action. As you can see above, Kurama is in full fighting form with his signature Rose Whip in flower form. This by itself would be great news, but Kurama isn't the only one to get some limelight.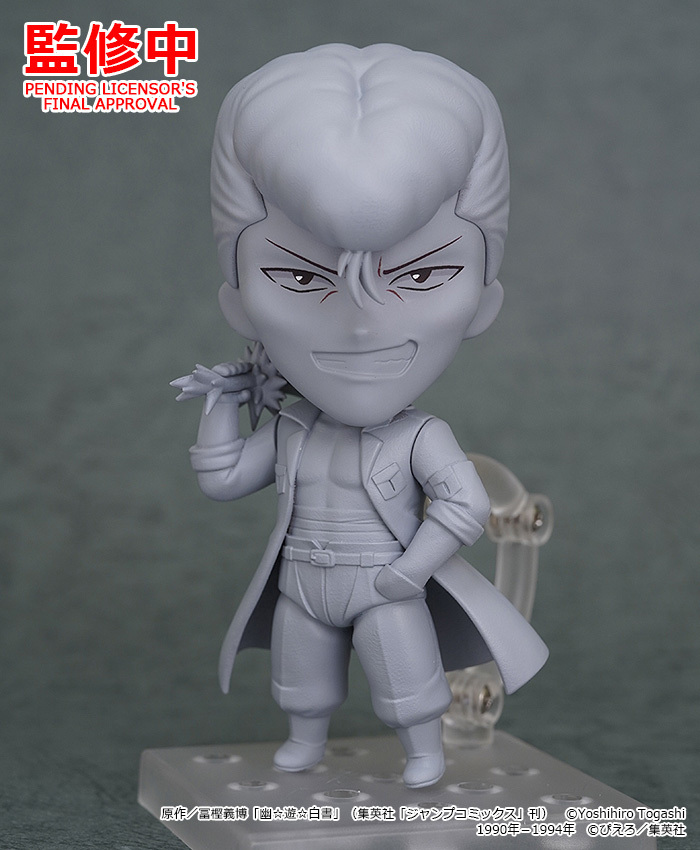 Yusuke's best friend/rival Kazuma Kuwabara will also be joining us in Nendoroid form. As you can see above, he comes bare-chested and with the cockiest grin imaginable. Aside from his signature pompadour, he also has his just-as-signature Spirit Sword in his right hand. Sadly, he also lacks color, since this isn't the complete version. This is apparently a preliminary look at an unfinished version, so we'll have to wait for later to see what he looks like in color.
The final YuYu Hakusho Nendoroid we have for today is the Hiei Nendoroid above. He's posed in that stoically cocky look he normally has, complete with his usual fighting garb and his signature headband. Unfortunately, like Kuwabara, he also seems to be missing his color at the moment. Only his irises have their usual dark brown color, with the rest of him in greyscale. Hopefully, Good Smile Company will remedy this at some point.
Unfortunately, we don't know when that will be. There's no release window for these YuYu Hakusho Nendoroids anywhere in Good Smile Company's Tweet. We'll just have to wait for them to give us that info later. Tune in later to find out when we do.
YuYu Hakusho: Details
YuYu Hakusho is the 1992 anime adaptation of the supernatural adventure martial arts manga of the same name by Yoshihiro Togashi (Level E, Hunter x Hunter). Pierrot (Naruto, Bleach, Saiyuki) is the animation studio behind this anime. Noriyuki Abe is the director, with Ken Hagino, Kenji Shimizu, Kōji Kaneda, and Kyōtarō Kimura producing. Yukiyoshi Ōhashi is the writer, with Yusuke Honma composing the music. Lastly, Crunchyroll licensed this anime for its NA streaming.
As for what YuYu Hakusho is about? Well, Crunchyroll has an official synopsis on the anime's page. Check it out below:
"From cutting classes to brawling in the streets, Yusuke Urameshi is not your typical role model. In fact, this kid's nothing more than a fourteen-year-old delinquent with a talent for trouble. But in a single selfless act Yusuke dies while saving another. For such noble sacrifice he is given a second chance at life, but it's to be a life far different than the one left behind. Now a Spirit Detective, the young man must track down demons and humans alike who desire to rule over the three realms of reality."
You can watch all seasons of YuYu Hakusho for free on Crunchyroll and Funimation.
Source: Twitter