Netflix's Never Have I Ever season 3 – It's Devi's Junior year of High School and it seems all her dreams are coming true. She's dating the hottest boy in school, and classes are going great, but she still can't seem to shake her insecurities.
Our little girl that could it still learning and growing throughout all of season 3. While she's no longer just the sad girl with the dead dad (which is a huge growth moment for her), Devi is also now dealing with typical high school insecurities. Life doesn't live in checked-off boxes. And sometimes what you wish for isn't exactly what you really want.
NEVER HAVE I EVER SEASON 3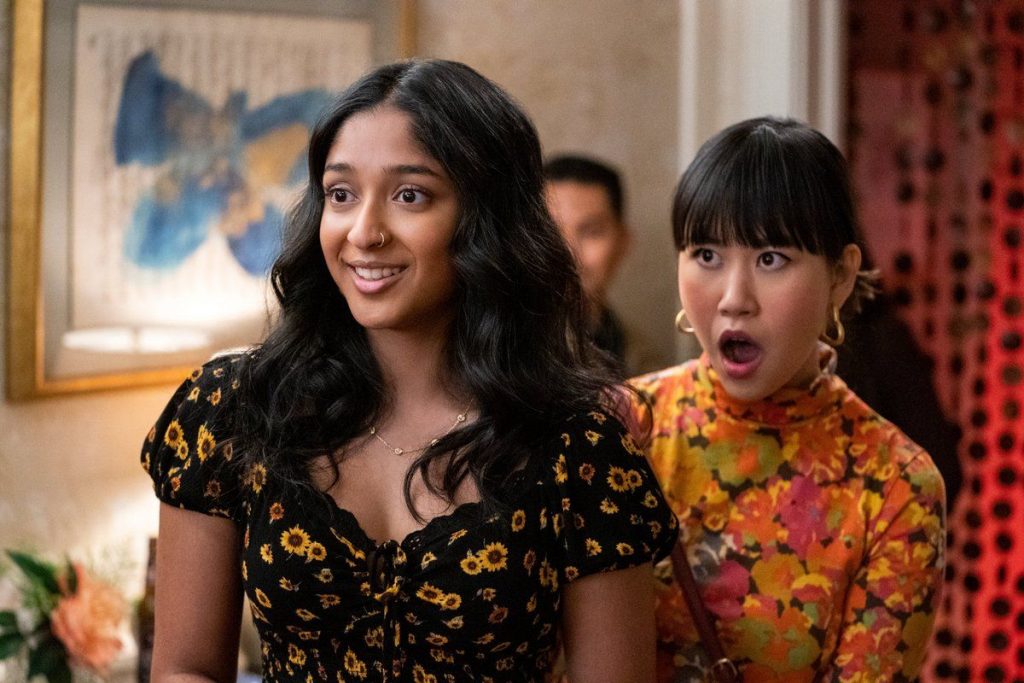 At the end of Never Have I Ever season 3, Paxton (Darren Barnet) and Devi (Maitreyi Ramakrishnan) are officially a couple. She did it! She snagged the hottest boy in school! But now the two have to settle into Sherman Oaks High as a new, fully-fledged couple. However, everything that glitters isn't always gold. Devi is littered with insecurity about their mismatched relationship. She's the nerdy, smart girl. Paxton is the hot popular jock. No matter how much Paxton reassures her, Devi continually gets in her own way. It's easy to want to be together, it's another thing to face down the rumor mill – especially the one in your own head.
There are even more flashbacks with Devi's late-father, Mohan (Sendhil Ramamurthy) which I LOVE. While Devi is no longer a sad girl, she's learning it's okay to move forward. She's learning more about the stages of grief. AND we finally get to learn why Tennis Star John Mackenroe is the narrator in her head.
What Never Have I Ever does so well facing teen issues head-on with comedy and heart. And season 3 is no different. While Devi continues her journey of growth, love, and self-discovery everyone around her is also on a learning curve.
MULTI-CHARACTER GROWTH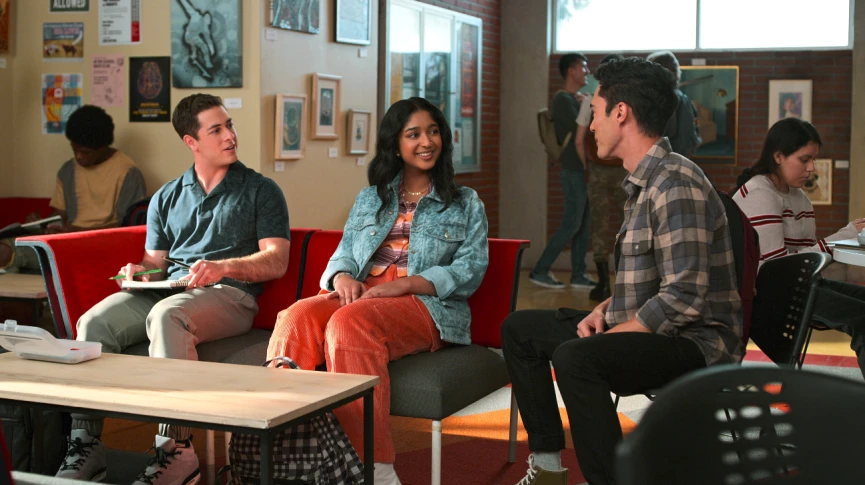 Devi has changed Paxton's life forever. He's no longer the aloof jock just getting by on his looks. He enjoys learning, wants to go to college, and is no longer interested in relationships that are purely surface level – outside of licking his own wounds. There's a moment with him and Devi at the end of the season that is so heartwarming and drastically out of character for the man he use to be that was wonderful.
Ben (Jaren Lewison) and Devi were able to save a semblance of a friendship after last season's debacle. At the beginning of the season, he's in a relationship with Aneesa (Megan Suri), but as the season goes on the two have multiple hearts to hearts and mature conversations that are examples of healthy relationships and friendships.
Devi's group of girlfriends also has bigger storylines than in previous seasons which I appreciate. While it's not major, allowing them to learn and grow throughout the season allows for more well-rounded characters.
When it comes to Devi's family, her mother (Poorna Jagannathan) takes a little bit of a backseat. While she does make a friend, the love storyline from season 2 is gone completely leaving her to just be Devi's mom. I wish she had more to do this season, but I also understand the choice. Kamala (Richa Moorjani) is finally standing up to Nirmala (Ranjita Chakravarty) when it comes to her dating life! Kamala is one of my favorites and I love finally seeing her happy and in a relationship she actually enjoys. As well as, with a man who supports her to the fullest.
RENEWED FOR 3RD AND FINAL SEASON
The ending of season 3 gives the viewer a lot of answers but also leaves you with a lot of questions. Truly, I think this season is my favorite one so far. I laughed, I cried, and I was just happy while watching it. The series is renewed for season 4, its final season. I can't wait to see what Devi's Senior Year has in store!
Watch Never Have I Ever streaming now on Netflix!
KEEP READING!