With the room filled with GRID ENERGY Boom! Studios delivered amazing news to everyone in attendance! We got a triple threat of amazing news!
#1 A New RECHARGED Era!
With Ryan Parrott & Mat Groom stepping away from the main Power Ranger storylines. Misty Flores is taking up the writer's mantel in the COMBINED MIGHTY MORPHIN POWER RANGERS starting in issue 101! Misty has had over 10 years of experience in the franchise working behind the scenes as a producer. But she's living the dream of BOTH being a fan girl and flagship author!
"Being able to write MIGHTY MORPHIN POWER RANGERS is a literal dream come true, and I can't stop pinching myself. The coming issues will feature a wild ride that will aim to honor the incredible history of this iconic series, and push the Rangers to their absolute limits."

Misty Flores
RECHARGED COVERS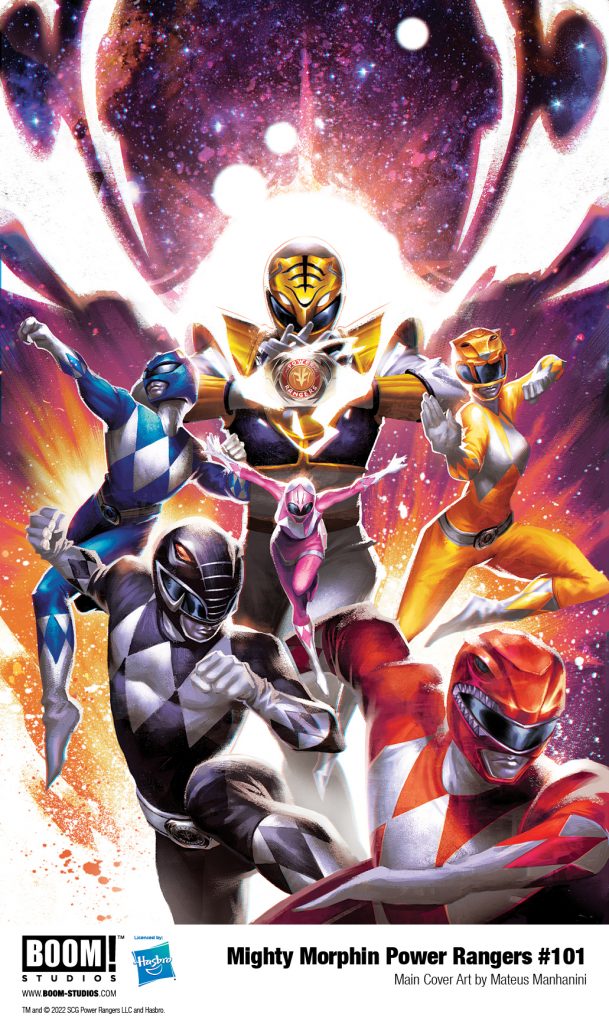 #2 Heroes in a Half-shell and Teenagers with Attitude join forces again!
You loved the first 5-parter and even went out and got the whole line of Lightning Collection figures, like me. Ryan Parrott and Dan Mora return with their stupendous symbiotic styles to bring you a sequel that the fans have been waiting to hear about!
"The first Mighty Morphin Power Rangers and Teenage Mutant Ninja Turtles team up resulted in iconic moments such as the reveal of the Green Ranger Shredder, the Ninja Rangers, and the mighty Turtlezord! But if you think there's nothing that could top that, just wait 'til you see what's up next for both teams as they face familiar faces and unexpected villains in an adventure full of the new shocking twists and turns!"

Dafna Pleban, Senior Editor, BOOM! Studios
There are no real details as to how or why all 9 of these super-powered teens join forces again. But we won't have to wait long as the first issue drops THIS DECEMBER!
#3 OFF THE PAGE and ON THE SHELF
As a surprise announcement, Hasbro debuted new images of the ZAP LIGHTNING COLLECTION DRAGONZORD!
WE KNEW IT WAS COMING We got our FIRST LOOK at the Lightning Collection Zord Ascension Project Dragonzord!
The Lightning Collection Zord Ascension Project Dragonzord will retail for $131.99 and will be released on January 1st, 2023.
You can pre-order the Lightning Collection Zord Ascension Project Dragonzord on Hasbro Pulse.
BONUS Metallic White Ranger Lightning Collection PRE-ORDER
Also available for preorder today is the Metallic White Ranger. Those of us in the fan groups have already seen some images from various parts of the world but now we have the official "confirmation".
The final Metallic Figure shines and it looks like Saba even got the Metallic treatment too! PREORDER HERE
So what do you think about all this great news?! Are you dusting off your shelves in anticipation of the new figures? OR have you already messaged your "COMIC BOOK GUY" to make sure the RECHARGED storylines end up in your Pull List?
While you're at it, head on to our That Hashtag Show Facebook page for all your Power Rangers news.
Please consider following me personally at OFF THE CUFF GAMING on other social media platforms.
Keep up with ThatHashtagShow.com for all your latest Power Ranger news and "May the Power Protect YOU!"