Crunchyroll looks like they're definitely making up for all of the virtual panels in every convention for the past few years. All because of a certain COVID-19. Why else would they announce all of this for SDCC 2022?
Crunchyroll Heading To SDCC 2022!

Crunchyroll is proud to announce that they will return to the San Diego Convention Center for this year's Comic-Con International. In fact, they're so proud that for the weekend of SDCC 2022, you can see city buses from the San Diego Metropolitan Transit System throughout the convention painted in Crunchyroll colors. These buses will feature various anime like My Hero Academia, Chainsaw Man, Attack on Titan, Spy x Family, and more. At least one of the "more" is apparently Crunchyroll-hime herself and her kitty, as you can see above. You can tell that they're pulling out the stops for this Comic-Con. Which is just as well, what with all the virtual conventions we had.
So what does Crunchryoll have in store for SDCC 2022? Well, as it turns out, they have a full list of panels and booths for Comic-Con available for us today. The list of info contains not only info about what the panels are about, but also when they will be showing and where you can find them at SDCC. This includes a panel dedicated specifically to Dragon Ball Super: Super Hero. Check them out below:
Crunchyroll Panels at SDCC 2022:
Crunchyroll Industry Panel
Thursday, July 21, TBD | Room 6A
All the latest and greatest anime coming out of Crunchyroll straight from the source from Crunchyroll's own Tim Lyu and Lauren Moore.
Friday, July 22, TBD | Hall H
Just one month prior to the theatrical release of Dragon Ball Super: SUPER HERO, join us for a Q&A with talent and production members, including Toshio Furukawa (Japanese Voice of Piccolo), Christopher R. Sabat (English Voice of Piccolo), Akio Iyoku (Executive Producer) and Norihiro Hayashida (Producer) for stories and insights from the film – and of course, giveaways and an exclusive look at approximately the first 20 minutes of the film only for fans at SDCC!
Crunchyroll Booths at SDCC 2022:
CRUNCHYROLL AND 88rising PRESENT: CRUNCHYROLL-HIME DANCE PARTY WITH DJ JUN INAGAWA WITH ATARASHII GAKKO!
Friday, July 22 at 7pm-9:30pm | The Rady Shell at Jacobs Park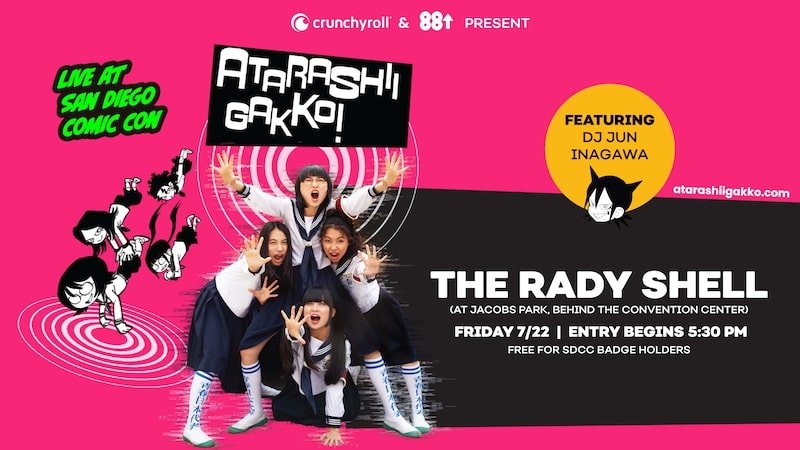 A high-impact performance with anime inspired elements and dance crew! 88Rising's powerhouse J-Pop girl group ATARASHII GAKKO! represent a new generation of Japanese youth, one embracing personal expression and pushing against traditional boundaries a little at a time. The outlandish quartet — composed of kawaii-but-fierce Mizyu, wildcard Suzuka, graceful Kanon and funky Rin — break down genre walls to create music mixing elements of pop, jazz, hip-hop, rock and more. DJ Jun Inagawa opens the Crunchyroll-Hime Dance Party for anime fans to get their groove on!
ATARASHII GAKKO! (literally meaning "new school" in Japanese) are a group of four young women who are redefining what it means to be a girl group. They wear sailor-fuku (sailor suits) uniforms in a style that were worn by Japanese students back in the 70s and 80s with long skirts and pulled-up socks, and staunchly refuse to be objectified. Their aggressive and expressive dance moves, which they choreograph themselves, are a hybrid of the energy of Japanese butoh dance, heavy metal headbanging, and hip-hop street dancing. Musically, AG! brings together elements of modern J-Pop, Showa-era kayokyoku, rap, punk, dance music, but it would be pointless to try to categorize them in any genre.
DRAGON BALL Z CONCERT EXPERIENCE AND CRUNCHYROLL-HIME ANIMATA DANCE PARTY
Saturday, July 23 at 7pm | The Rady Shell at Jacobs Park
The Dragon Ball Z Concert Experience – Comic Con International Premiere Edition combines the senses and sounds of Dragon Ball Z, together with a world renowned orchestra, live vocals, and a legendary composer, to create a truly immersive multimedia, one-of-a-kind curated concert experience. Nicholas Buc, Conductor, and San Diego Symphony Orchestra power up for the experience.
Source: Crunchyroll News