As an avid bodice ripper reader, Lady Chatterley's Lover was a must-read book. If you don't know the story behind it, English author D. H. Lawrence had one heck of a time getting it published. There was a time when smut was highly unacceptable. So, this novel became notorious for its story of the physical relationship between a working-class man and an upper-class woman. However, its explicit descriptions of sex, as well as the then unprintable four-letter words kept it off the shelves. It wasn't until the publisher, Penguin Books went to court to fight the ban. Finally, in 1960, Penguin Books won its obscenity trial and sold three million copies!
LADY CHATTERLEY'S LOVER ON NETFLIX NEEDS MORE SUBSTANCE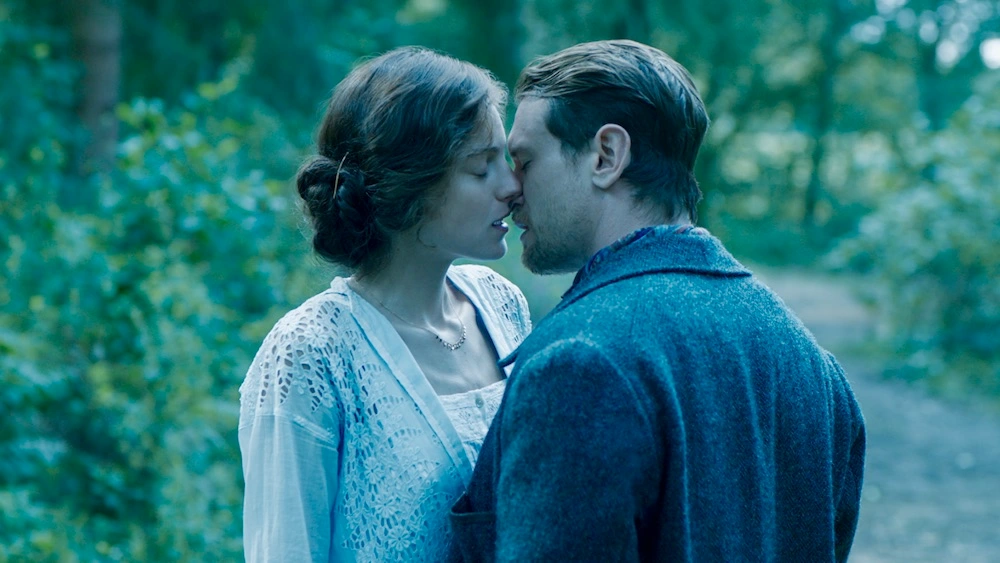 The Netflix adaptation of Lady Chatterley's Lover isn't the first and it won't be the last. However, while this version of the story does bring to life the infamous sex scenes, as well as Emma Corrin (My Policeman) and Jack O'Connell (Jungleland) having incredible chemistry, that's all this version really is. Pretty people having pretty sex.
Was the film shot beautifully? Yes. The costumes, wigs, and set design are incredible. Is the acting good? Absolutely. That being said, I found that the story and depth of Lady Chatterley's Lover were completely missing. There is so much more than happens with her husband, Clifford Chatterley (Matthew Duckett), and even more so when it comes to the class system. There's a reason there have been so many stories written about this piece, and it's not just all because they have sex outside.
They also chose to modernize the story in some ways, and also give it a happily ever after ending which is incredibly odd for me. While the original ending is controversial, like the rest of the book, it is also a product of its times. Personally, I don't love this change, but I do understand the reason it was done.
If you're looking for my favorite adaptation of Lady Chatterley's Lover, check out the 2nd BBC version starring Richard Madden (Game of Thrones).
Lady Chatterley's Lover will begin streaming on Netflix on December 2, 2022!
LADY CHATTERLEY'S LOVER OFFICIAL SYNOPSIS
Marrying Sir Clifford Chatterley, Connie's life of wealth and privilege seems set as she takes the title of Lady Chatterley. Yet this idealistic union gradually becomes an incarceration when Clifford returns from the First World War with injuries that have left him unable to walk. When she meets and falls for Oliver Mellors, the gamekeeper on the Chatterley family estate, their secret trysts lead her to a sensual, sexual awakening. But as their affair becomes the subject of local gossip, Connie faces a life-altering decision: follow her heart or return to her husband and endure what Edwardian society expects of her.

Official Synopsis