Have you ever wondered what Anya from Spy x Family would look like if she and her friends were the main characters of Cardcaptor Sakura? Well, as it turns out, one fan artist has imagined just that and is showing us what that looks like.
Cardcaptor Anya?!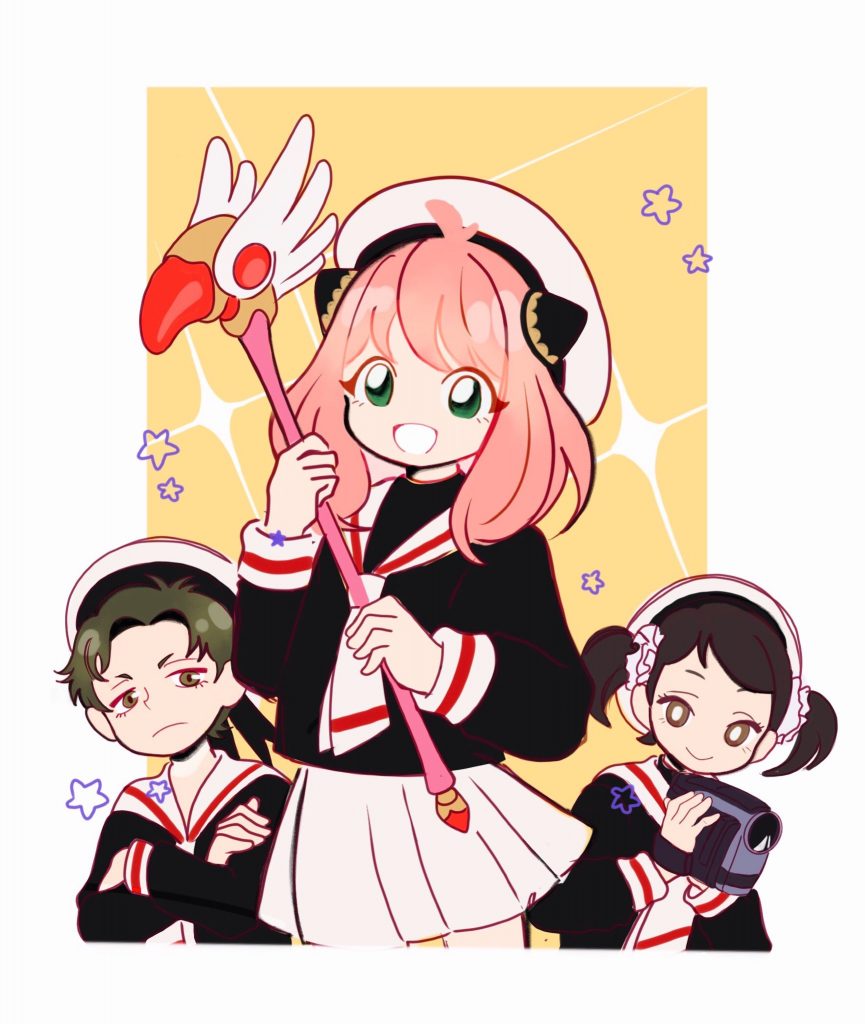 An artist who goes by the handle of @tokenblckfrnd on Twitter has recently posted that Spy x Family fan art above. As you might guess from the costumes, the artist is reimagining Anya Forger, her best friend Becky Blackbell, and her kinda-sorta friend/crush Damian Desmond as Sakura Kinomoto, Tomoyo Daidouji, and Syaoran Li of Cardcaptor Sakura respectively. Honestly, the 3 of them look like they fit the roles quite well, visually speaking.
Personality-wise, Anya is a near-perfect match for Sakura. She too has that blend of innocence combined with a head as dense as lead for romance. Although personally, I think Sakura has a leg up on Anya in terms of intelligence. Anya is adorable, but let's face it: she's nowhere near the sharpest knife in the drawer. It really says something that Sakura, of all people, beats Anya in terms of raw intelligence.
Becky…not so much. Yes, she is Anya's best friend, but she doesn't have a clear romantic attraction to Anya the way Tomoyo does for Sakura. If anything, Becky would be crushing hard on Loid or Fujitaka, exactly as she does in Spy x Family canon. She has a thing for older men, as fans of the manga know.
As for Damian, he's actually a near-perfect match for Syaoran. Both of them are bratty boys who initially pick on their respective crushes, before falling in love with them. The only thing Damian lacks is Syaoran's bisexuality, but that's understandable. You can't match them all.
Spy x Family: Details
Spy x Family is the anime adaptation of the spy action-comedy manga of the same name by Tatsuya Endo (TISTA, Gekka Bijin, Rengoku no Ashe). Wit Studio (Attack on Titan, The Ancient Magus' Bride, Ranking of Kings) and CloverWorks (The Promised Neverland, Horimiya, Wonder Egg Priority) is the animation studios responsible for the anime. Kazuhiro Furuhashi (Rurouni Kenshin, Hunter x Hunter, Mobile Suit Gundam Unicorn) is the director of the anime, with Makoto Miyazaki and Shūhei Mutsuki of [K]NoW_NAME as the composers for the music.
As for what Spy x Family is about? Well, Crunchyroll has a synopsis for us when you look up the anime. Check it out below:
"World peace is at stake and secret agent Twilight must undergo his most difficult mission yet—pretend to be a family man. Posing as a loving husband and father, he'll infiltrate an elite school to get close to a high-profile politician. He has the perfect cover, except his wife's a deadly assassin and neither knows each other's identity. But someone does, his adopted daughter who's a telepath!"
You can watch Spy x Family only on Crunchyroll, and even then, only if you have a paid premium account. The first 3 episodes are free to watch, but only until May 31, 2022. After that, they go back behind the paywall.
Source: Twitter