Star Wars Episode II: Attack of the Clones just turned 20 and to celebrate Sideshow is giving us a first look at the Hot Toys Jango Fett sixth scale figure. This sixth scale figure pays homage to one of the most feared bounty hunters in the galaxy. It does not matter if you want to display Jango Fett with or without his helmet either way you decide, it will look amazing. Jango retails for $285 and is still available to order at sideshow.com. You can check out this amazing figure in Sideshow's unboxing video below.
Jango Fett Sixth Scale Figure by Hot Toys
Regarded as the best bounty hunter in the galaxy, Jango Fett™ was a proficient marksman and unarmed combatant covered in a sleek armored Mandalorian suit that concealed his scarred face. Keeping himself in top condition and training often with his equipment, Jango Fett was known for utilizing his harnessed jetpack to gain the advantage of speed and height over his enemies in deadly combats.
SEE ALSO: STAR WARS: THE CLONE WARS YODA BY SIDESHOW COMING SOON
In expansion of our Star Wars collectible series, Sideshow and Hot Toys is very excited to officially present the much anticipated Jango Fett Sixth ScaleCollectible Figure from Star Wars Episode II: Attack of the Clones!
The highly-accurate collectible figure is specially crafted based on the appearance of Jango Fett in the movie, features a newly developed head sculpt with striking likeness and facial scars, a meticulously crafted Mandalorian helmet, and armor pieces, beautifully applied weathering effects, finely tailored under-suit, a poncho, the bounty hunter's iconic jetpack, detailed blasters, accessories, and a dynamic figure stand.
Star Wars fans don't miss the opportunity to pre-order this amazing collectible figure!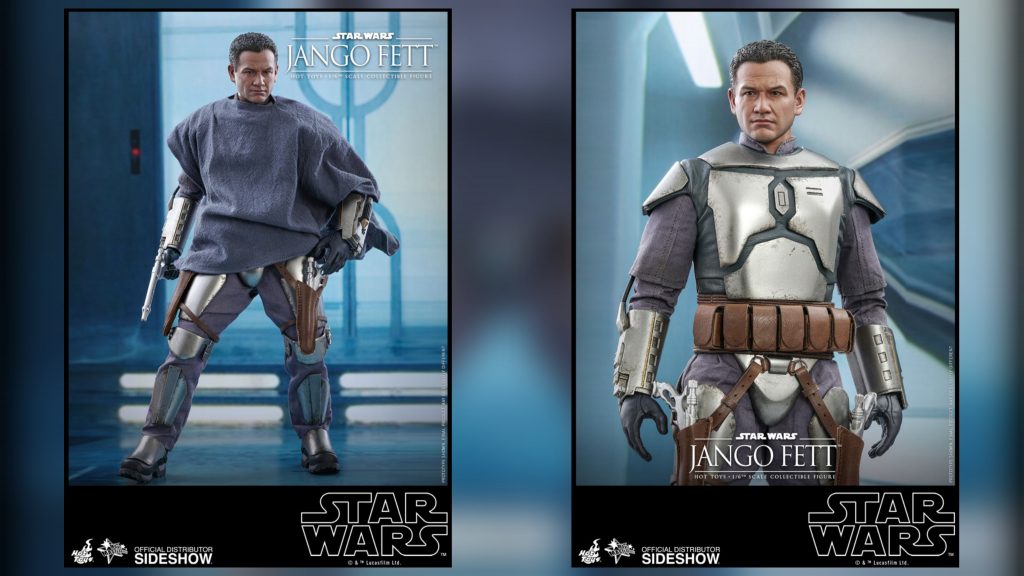 SEE ALSO: THE MANDALORIAN: DIN DJARIN LIFE-SIZE BUST AVAILABLE NOW TO PRE-ORDER AT SIDESHOW
We Want To Hear From You
What are your thoughts on the new Jango Fett figure from Hot Toys? Is this a must-have for your collection? Also, what other figures are you looking forward to from Hot Toys? That Hashtag Show wants to hear from you.
You can tell us your thoughts by leaving a comment below or hitting me up at starwarsnerd574. You can also join me at the Midwest Star Wars Fanatics on Facebook to chat about all things Star Wars. Also, you can stay up to date on all the Star Wars news by following us at ThatHashtagShow.com. More importantly, be safe, I can't wait to see you all at Celebration 2022.
SEE ALSO: