How do you know that the Spy x Family anime is getting really popular? When the mangaka behind Attack on Titan decides to draw fanart for it.
Attack on Spy?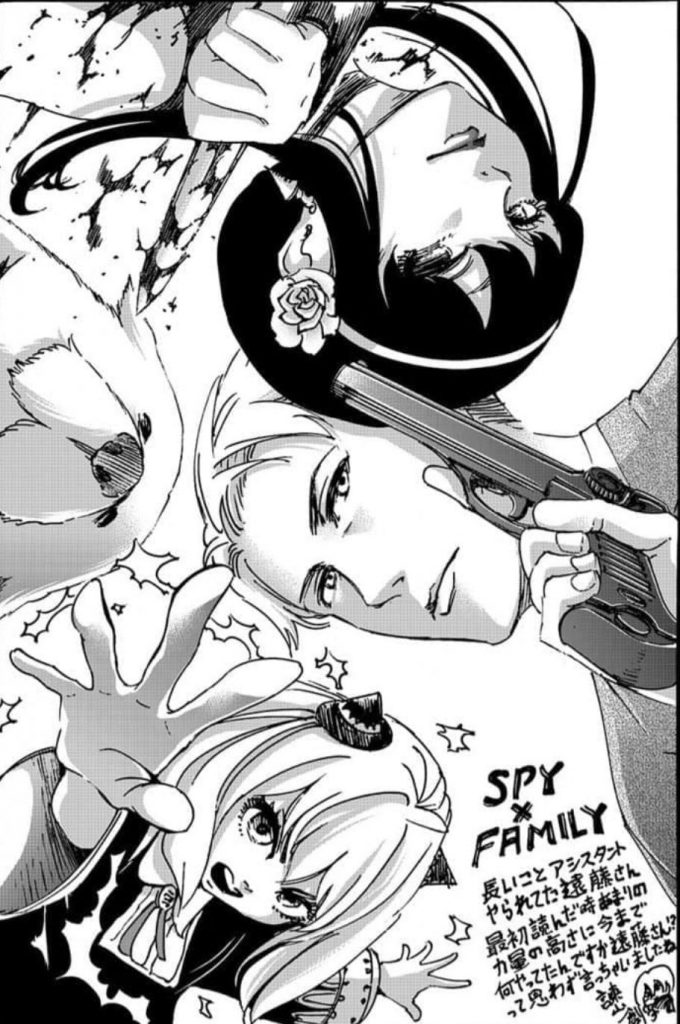 The Attack on Titan Wiki has just posted on Twitter a piece of fanart Attack on Titan mangaka Hajime Isayama has drawn for Spy x Family. The fanart depicts the entire Forger family posed in ridiculously cool poses and drawn in the distinct Attack on Titan art style used in the manga. Loid and Yor look appropriately cool, with Yor, in particular, looking appropriately bloody. Anya looks a lot cooler than she actually is, which creates a hilarious contrast between this image and her actual personality. Bond the dog though, just looks like Bond the dog. Nothing about him has actually changed despite the redraw. Clearly, he looks great the way he is.
The little comment from Hajime Isayama cheering on Tatsuya Endo (the mangaka of Spy x Family) in the bottom right along with a doodle of himself only completes this fanart.
Spy x Family: Details
Spy x Family is an action-comedy spy manga series by Tatsuya Endo, which now has a wildly popular anime adaptation. Wit Studio (Attack on Titan, The Ancient Magus' Bride, Ranking of Kings) and Cloverworks (The Promised Neverland, Wonder Egg Priority, My Dress-Up Darling) are the animation studios behind the anime. Kazuhiro Furuhashi is the director behind the anime. Makoto Miyazaki and Shūhei Mutsuki of [K]NoW_NAME are responsible for the 1950's spy flick music you hear throughout the anime.
As for what Spy x Family is about? Well, Crunchyroll has an official synopsis ready for us. Check it out below:
"Master spy Twilight is unparalleled when it comes to going undercover on dangerous missions for the betterment of the world. But when he receives the ultimate assignment-to get married and have a kid-he may finally be in over his head! Not one to depend on others, Twilight has his work cut out for him procuring both a wife and a child for his mission to infiltrate an elite private school. What he doesn't know is that the wife he's chosen is an assassin and the child he's adopted is a telepath!"
You can watch Spy x Family only on Crunchyroll.
Source: Twitter