If you're a fan of movies and dinner parties, look no further than The Rose Table for all your inspirational needs! I have been a fan of TRT's blog and video series since its incarnation. She always has incredible food, with easy-to-follow recipes that even someone kitchen-challenged like me can pull off.
The Rose Table dinner party series originally kicked off as purely Disney Dinners! So, of course, the Disney lover in me waited every month with bated breath to see which dinner would come next! Side note: I was even a guest at the Hercules-inspired Disney Dinner!
Now, it's time to hold on to your butts! We at That Hashtag Show have the EXCLUSIVE FIRST LOOK at The Rose Table presents Jurassic Park! Let me tell you, it is far from predictable and does not disappoint!
THE ROSE TABLE PRESENTS – JURASSIC PARK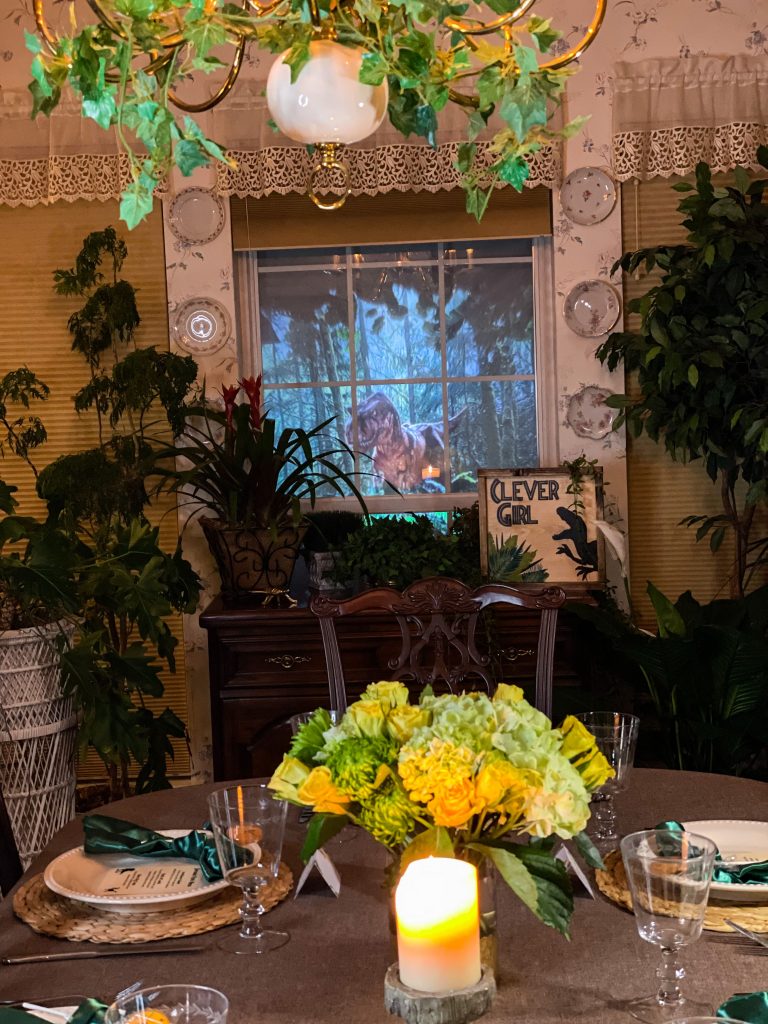 TRT's Jurassic Park dinner party is full of the magic, whimsy, and deliciousness that we have come to know and expect from the TRT creator, Katie-Rose Watson. Watson serves up multiple courses beginning with a delightful cocktail, as well as any paleontologist's favorite dessert, all while being entertained by the dinosaurs outside the window. Yes! I said DINOSAURS!
This is the first Dinner Party not thrown at Watson's home, but never fear it's for the best reason. With the use of projector effects (that would not work elsewhere), Watson has moved the dining room to her childhood home and gives the dining area the full The Rose Table effect!
SO, WHO'S HUNGRY?
The Rose Table never misses when it comes to the decor, or the food being served. Everything is thought through with meticulous detail from the color of the flowers (tour car anyone?) to the amber mosquito lollipops!
The menu for the dinner party is influenced by Watson's love for the Jurassic Park film franchise. Starting with the perfectly named "Clever Girl" Cocktail! This isn't your average beverage. This tasty treat is like something you'd find at Disneyland's Olga's Catina by taking the idea of a Jell-o Shot and flipping it on its head. Giving you a fruit punch, fun to slurp cocktail.
For the first course, she serves up an Herbivore Salad with a dinosaur egg in a cheesy nest! Let me tell you when I first saw the images my mouth not only watered, it dropped! Where does she come up with these ideas! In the soon-to-be-released video, there will be a step-by-step instructional moment for fans to recreate this at home.
WHAT'S THE MATTER, KID? YOU NEVER HAVE LAMB CHOPS?
Once again, inspired by an iconic scene in the film, for the Carnivore course guests are served a scrumptious rack of lamb! For the sides, guests are served roasted potatoes and pesto sauce.
In honor of Alan Grant and Ellie Sattler, TRT serves a dessert is a paleontologist's dream: Dino Dig Cups! Just look at that adorable T-Rex foot-stamped sugar cookie!
I'm always in awe with every The Rose Table dinner party, but this time she has truly outdone herself! Catch the premiere of The Rose Table Jurassic Park dinner party on social media Friday, April 29th!
Jurassic Park: World Domination hits theaters in June. This gives fans plenty of time to put together their own dinner/watch party!