April looks like a big month for Netflix subscribers.
Several of the platform's popular longer-running originals return this month, including Ozark, Grace and Frankie, and Elite. Fans can also stream the much-anticipated return of Russian Doll.
Netflix will also launch buzzy new originals like Anatomy of a Scandal this month. Plus, if you love trivia, you'll want to check in every day in April for a new episode of Trivia Quest.
Some library highlights making their way over to Netflix in April include Inception, The Blind Side, The Ring, How to Train Your Dragon, and Sherlock Holmes.
Check out the full list of Netflix titles for April below.
Available April 1 On Netflix
*Netflix Original shows and movies bolded
Netflix Originals:
Apollo 10 1/2: A Space Age Childhood
A man narrates stories of his life as a 10-year-old boy in 1969 Houston, weaving tales of nostalgia with a fantastical account of a journey to the moon.
Comedy about a group of actors and actresses stuck inside a pandemic bubble at a hotel attempting to complete a sequel to an action franchise film about flying dinosaurs.
Get Organized with The Home Edit: Season 2
Clea and Joanna return to tame the clutter of celebrities and everyday clients with their signature rainbow style — and open a door into their lives.
Trivia Quest (Series – new episodes daily in April)
Test your knowledge of history, art, science and more across varying levels of difficulty in this interactive trivia series.
Library Content:
A Cinderella Story
Abby Hatcher: Season 2
Any Given Sunday
Argo
Blade
Blade II
Blade: Trinity
The Blind Side
Blow
Bonnie and Clyde (1967)
Catch and Release
CoComelon: Season 5
Delta Farce
Eagle Eye
Four Brothers
Full Metal Jacket
Grown Ups
Heartland Season 14
Her
How to Train Your Dragon
Inception
Love Actually
Molly's Game
Monster-in-Law
New York Minute
The Nut Job
Polly Pocket: Season 4: Part 1: Summer of Fun
Puss in Boots
The Rental
The Ring
Rumor Has It…
Saving Private Ryan
Sherlock Holmes
Sherlock Holmes: A Game of Shadows
Shrek Forever After
Something's Gotta Give
We The Animals
Streaming April 2 – 7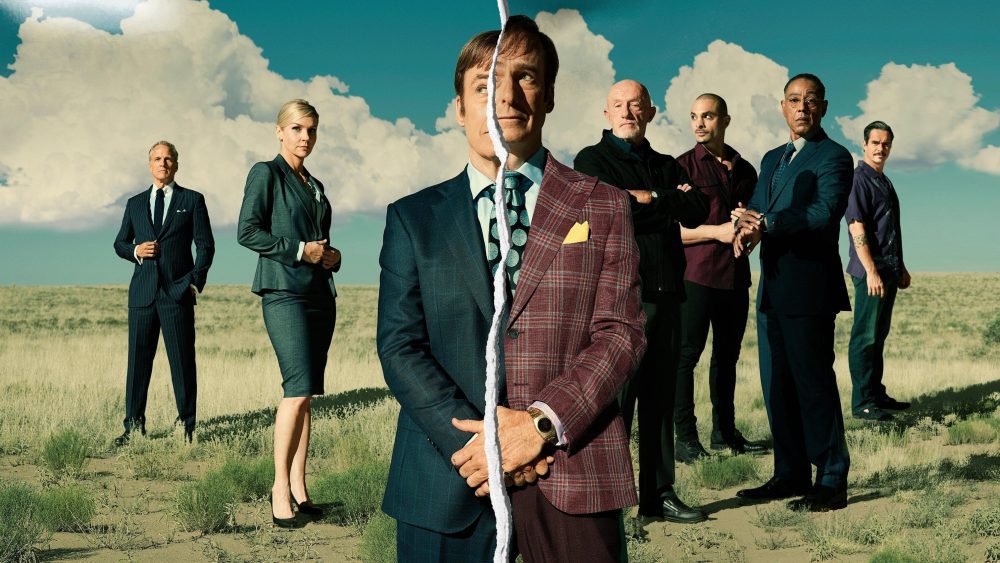 Better Call Saul: Season 5 4/04
Ronny Chieng: Speakeasy 4/05
In this stylish follow up to his highly acclaimed debut Netflix stand-up comedy special, Ronny Chieng performs live in New York City in the intimate setting of the Chinese Tuxedo bar and restaurant. With a unique blend of intelligence, rage and physicality, Ronny shares his take on the pandemic, race relations, cancel culture and stories from his experiences as an international touring comic. Directed by Sebastian DiNatale and produced by All Things Comedy, Ronny Chieng: Speakeasy premieres globally on Netflix on April 5.
The Ultimatum: Marry or Move On (4/06, New episodes weekly)
Six different couples, on the verge of marriage. One partner is ready to get married, the other isn't quite as sure. An ultimatum is issued – and in just over eight weeks, they must commit to marriage, or move on. In the meantime, each will choose a new potential partner from one of the other couples, in a life-changing opportunity to get a glimpse of two different possible futures
Queen of the South: Season 5 4/07
Return to Space 4/07
Elon Musk and SpaceX engineers embark on a historic mission to return NASA astronauts to the International Space Station and revolutionize space travel.
Streaming April 8 – 15
Barbie It Takes Two: Season 1 4/08
Elite: Season 5 4/08
At Las Encinas, a new semester means a new victim, a new perpetrator and a new mystery as the students find themselves drowning in secrets.
Green Eggs and Ham: Season 2 4/08
A secret story, an unsolved mystery, a new beginning — and spies! Settle in for a second helping of Seuss-inspired fun and epic adventure.
Metal Lords 4/08
For teenage misfits Hunter and Kevin, the path to glory is clear: Devote themselves to metal. Win Battle of the Bands. And be worshipped like gods.
The Call 4/10
Nightcrawler 4/10
The Creature Cases 4/12
Special agents Sam and Kit hop the globe with their sleuthing skills, science facts and cool gadgets to solve the animal kingdom's many mysteries.
Our Great National Parks 4/13
An epic five-part series narrated by President Barack Obama that invites viewers to celebrate and discover the power of our planet's greatest national parks and wild spaces.
Ultraman: Season 2 4/14
Ultraman is joined by Seven, Ace, Zoffy, Jack and Taro and together, the united Ultraman brotherhood takes on a new alien threat.
Anatomy of a Scandal 4/15
An insightful and suspenseful series about sexual consent and privilege set in London. Based on the international bestselling novel "Anatomy of a Scandal" by Sarah Vaughan.
Choose or Die 4/15
Tempted by a chance to win unclaimed prize money, two friends reboot a mysterious 1980s video game and step into a surreal world of next-level terror.
One Piece Film Z 4/15
Strawberry Shortcake Berry in the Big City: Season 1  4/15
Streaming April 16 – 22
LEGO Friends: Girls on a Mission: Seasons 1-4 4/16
Ouija: Origin of Evil 4/16
Van Helsing: Season 5 4/16
Battle Kitty 4/19
A warrior kitten must defeat all the monsters on Battle Island in order to be crowned a champion. An interactive animated adventure from Matt Layzell.
Pacific Rim: The Black: Season 2 4/19
The epic series conclusion! Piloting Atlas Destroyer with Mei and Boy in tow, Hayley and Taylor continue their journey to Sydney, but first, they must get past a bloodthirsty cult.
White Hot: The Rise & Fall of Abercrombie & Fitch 4/19
Abercrombie & Fitch conquered malls in the late '90s and early '00s with gorgeous models, pulsing dance beats and a fierce scent. But while the brand was running white hot, its popular "all-American" image began burning out as controversy came to light surrounding its exclusionary marketing and discriminatory hiring.
Russian Doll: Season 2 4/20
After enduring the wildest night of their lives — over and over — Nadia and Alan stumble into another bewildering existential adventure.
Along for the Ride 4/22
The summer before college Auden meets the mysterious Eli, a fellow insomniac. While the seaside town of Colby sleeps, the two embark on a nightly quest to help Auden experience the fun, carefree teen life she never knew she wanted.
Selling Sunset: Season 5 4/22
New loves. Old foes. An exciting fresh face. With the luxury market on fire, competition comes to a boil at the brokerage. Who'll shine — or stumble?
Streaming April 23 – 30
Big Eyes 4/25
David Spade: Nothing Personal 4/26
Hot off the beach from his guest hosting duties on Bachelor In Paradise, David Spade makes his Netflix comedy special debut with Nothing Personal. From sharing his disdain for crabs to his unique approach to turning down drugs, David proves that no topic is off limits. Filmed at the Pantages Theater in Minneapolis, David Spade: Nothing Personal premieres globally on Netflix on April 26, 2022.
Bullsh*t The Game Show 4/27
Hosted by Howie Mandell, Bullsh*t The Game Show will offer contestants a chance to win big money, even when they don't know the correct answer. Throughout the game, players will work their way up a money ladder either by answering questions correctly or by confidently giving incorrect answers – and persuading their opponents that they are accurate. To win big in this game you don't have to be the smartest person in the room to cash in, you just have to convince everyone that you are.
The Mystery of Marilyn Monroe: The Unheard Tapes 4/27
In this documentary, an investigative journalist reexamines the mysterious death of Marilyn Monroe, sharing his extensive audio interviews with the people who surrounded her.
Samurai Rabbit: The Usagi Chronicles 4/28
An impulsive, samurai-wannabe rabbit and his new warrior friends join forces to protect their city from monsters, ninjas, gang members and evil aliens.
Grace and Frankie: Season 7 – The Final Episodes 4/29
Seven years ago, Grace and Frankie's lives turned upside down when their longtime husbands left them for… each other. Both sparring partners and partners-in-crime, Grace and Frankie formed an unlikely and unbreakable bond as they faced uncertain futures head-on, and hand-in-hand. They've laughed together, cried together, did shrooms together, and twice-over became successful entrepreneurs together. A history-making 94 episodes later, Grace and Frankie continue to show themselves, their families, and their fans what it means to live life to the fullest, fearlessly and unapologetically. Here's to seven seasons of laughs, tears, mood-enhancers, and good vibes. And, as Grace and Frankie would say, fuck it. This may be their final chapter, but they're just getting started.
Marty and Wendy are rid of Helen and climb to the top of Navarro's empire. They find another opportunity to get out of the Ozarks but some past sins won't stay buried and the most dangerous threats come from blood.