Pixar's Turning Red is premiering exclusively on Disney+ this Friday! And we were lucky enough to sit down with the cast and crew, to talk about their exciting new film. So, here are 5 Things We Learned at the Turning Red Press Junket:
TURNING RED FILMMAKERS WANTED TO PORTRAY AN AUTHENTIC FEMALE FRIENDSHIP WITH MEI AND HER CREW
It was highly important for the entire crew, that Mei-Mei and her friends were portrayed in an authentic light. Rather than playing with the tropes of cattiness and backstabbing that we have come to know in the film… These friends were going to be there for each other, through the good and the bad. Sandra Oh who plays Mei's mom Ming said that she doesn't know how it got to be this way in the movies. She also said that she believes Turning Red, "is an extremely good representation of deep friendships, and the highs and the lows." And after seeing the film, I would 100% agree with her on that.
THE SETTING OF TORONTO AND THE TIME PERIOD OF THE EARLY 2000'S IS A HUGE PART OF TURNING RED'S DNA
Many of the voice talents as well as the creators Domee Shi and Julia Cho have called Toronto their home. And the setting is a huge part of the film, as it becomes almost a love letter to the city. There are easter eggs aplenty throughout Turning Red that anyone who has visited the Candian metropolis will recognize. The time period of the early 2000s was also important because that is when the creators came of age, which adds to the personal touches of the story. As one of the stars noted, if the movie had taken place in 2022 "all of the girls would just be on Snap Chat the whole time".
MEI IS A CHARACTER THAT ANY YOUNG GIRL SHOULD BE ABLE TO LOOK UP TO
The filmmakers wanted Mei to be a strong character that young girls could look up to. So, when kids finished watching Turning Red, there was something that could be learned from the experience. The girls who make up Mei and her crew (Rosalie Chiang, Ava Morse, Hyein Park, and Maitreyi Ramakrishnan) all had different things to say about the lead character. They believe that she has an incredible drive, has a kind heart, that she chooses herself and owns up to her mistakes. And because Turning Red is, obviously, a movie that is a metaphor for the trials and tribulations of puberty… Rosalie Chiang hopes young kids can see themselves through her struggles. She had this to say:
"Especially puberty. It's such a messy and weird and awkward time that I literally went through during the duration of recording for Pixar. And I hope people admire, what she goes through and how she deals with it."
TURNING RED'S STYLE HAS BEEN COINED AS "CHUNKY CUTE" BY ITS CREATORS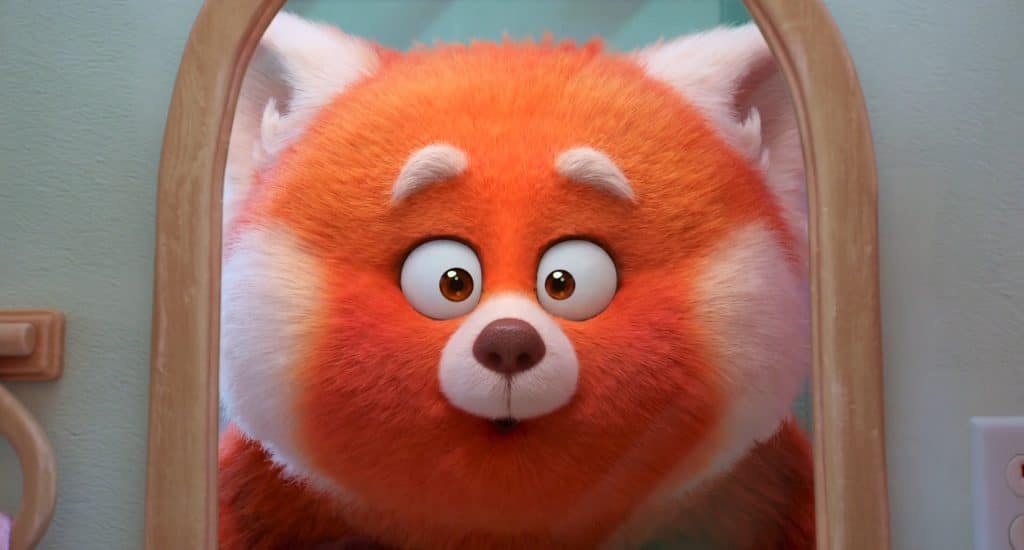 The style of the film was super important to the filmmakers… To convey their message and make it as personal as possible. Director Domee Shi, who also used the "chunky cute" style in her Oscar-winning short Bao, wanted to use it here as well. This is what Domee had to say about it:
"…it just felt like the perfect style to tell this story about this girl and really show the world through her eyes, right? Like, how does she see the world? How does she see people? And, just really making the world feel like it was designed by a 13-year-old girl. So that's kind of how we coined that chunky cute style."
TURNING RED IS A VERY PERSONAL STORY FOR THE WRITER AND DIRECTOR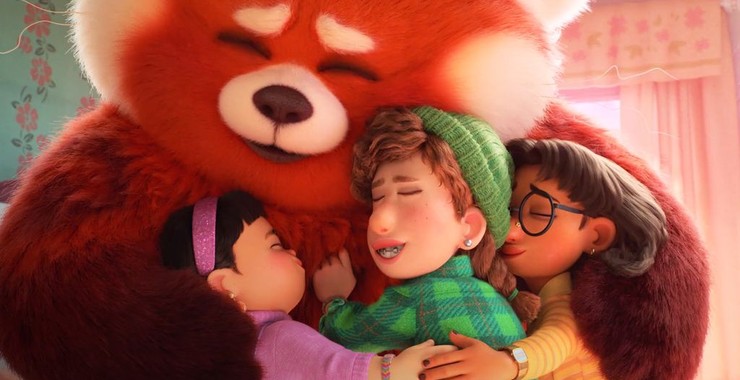 One of the things that were impossible not to take away from the press junket… Was how personal this story was for Domee Shi and writer Julia Cho. Not just the setting and the time period, as was mentioned before. But, also the cultural significances, their tight relationships with their "tiger moms" and how when they were young, they wanted to blaze their own trails. The two said that they continued to encourage each other to put more and more of themselves into the film. And for me, watching it, I think that is what makes Turning Red such a special viewing experience for audiences. All of the personal touches.
Turning Red premieres exclusively on Disney+ this Friday, March 11th, 2022.
For more Movie News, make sure to Stay Tuned to That Hashtag Show!