Astrid and Lilly Save The World has dropped on SyFy! I had a chance to ask the stars of the series a few questions about the show, their characters, and which other monster hunter they'd love to team up with!
WHAT IS ASTRID AND LILLY SAVE THE WORLD?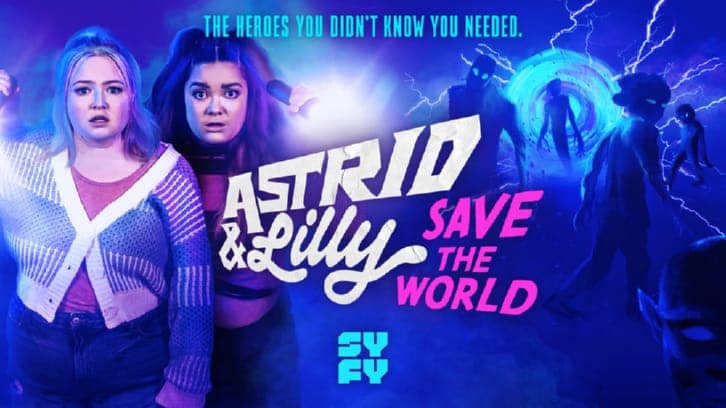 Astrid and Lilly Save The World is a campy, fun, monster of the week show about two best friends who accidentally open a portal to another dimension. The two best friends are outcasts at Pine Academy, but one day – after accidentally casting a spell – the girls have become monster hunters. Along with their own personal "Giles", Brutus, the two best friends are on a journey to kill monsters and close the portal.
Q&A with Jana Morrison and Samantha Aucoin
Q: How excited were you when you learned you got the role in this fantastic show?
Jana: I was shocked and thrilled to find out that I'd gotten the role of Astrid! It was my mother's birthday, and we were about to get pedicures together when my agent called and said "You booked the role!". At first, I asked if she was joking, but she let me know that it was for real. There weren't a lot of details right away, but I felt pure joy from the moment I was told I would be playing an amazing, feisty, plus-size 16-year-old.
Samantha: This is my first time landing a TV role so I was extremely shocked and excited when my agent called me to tell me I got the role! She actually had initially told me that I wasn't getting the role to prank me so I literally screamed when she told me I got it. I called my parents right away and they were so happy for me! We had a celebratory dinner and then I started getting myself prepared for the show.
Q: What is your favorite thing about playing Astrid/Lilly?
Jana: I can't just pick one thing! It was so fun to play within a best friend dynamic with Samantha Aucoin throughout the series. I love how confident Astrid is in herself, she knows what she wants, and she goes for it. I also really loved how the creators of the show took my Filipino heritage and applied it to the character.
Samantha: Something I admire about Lilly is that she isn't afraid to wear her heart on her sleeve. So, when getting to portray her, I love getting to be so vulnerable – a trait that I wasn't very used to. Playing Lilly really opened me up as a person and I loved how much I learned from her.
Q: What superpower does Astrid/Lilly have that you wish you did and why?
Jana: All of Astrid's powers aren't revealed right away so I can't necessarily talk about my favorite just yet. But her first power, a super-sense of smell when other-worldly monsters are nearby, would be awesome to have. In my own life, I don't encounter any literal monsters from a different dimension… that I know of… but I'd love to be able to sniff out selfish, negative, or duplicitous people.
Samantha: Lilly has this awesome super leg as her superpower that can detect when monsters are near. I feel like I, Samantha, would love to have the power to be decisive because I am extremely indecisive when it comes to small things. I feel this superpower would save me a lot of time and energy.
Q: Which monster is your favorite of the season and why?
Jana: I think my favorite monster of the season is the ego monster, who possesses someone at Pine Academy. It was really fun to act with different versions of the same character, and this might even remind some people of the monsters they see in their own lives.
Samantha: I cannot name which monster is my favorite…Yet! What I can say is that they are the most terrifying little thing you'll ever see. The episode this particular monster is in is actually my favorite as well because it has a lot of references to a certain classic film.
Q: I love a Monster of the week show like this. If your character could team up with Buffy Summers, the Winchester brothers, or Scully and Mulder, who would you pick and why?
Jana: 100% Buffy! We'd make a great monster-fighting trio if she joined Astrid & Lilly, especially if it was 2022-Buffy, and she could lean on her experiences being a monster killer in high school as a mentor to our characters. We would also look *so* badass together.
Samantha: I feel like my character would pick Buffy to be partners with because she is a badass woman who defeats monsters. I feel like Lilly could learn a lot from her, confidence-wise.
Make sure to check out Astrid and Lilly Save the World on SyFy! And stay tuned to THS for more interviews!