If you love Disney, as well as learning all about the behind-the-scenes of the magic, Disney+ has a new series for you! Coming hot off the heels of the widely successful, Imagineering Story comes Behind the Attraction. The series dives into the Disney Parks attractions' incredible history by using archival, and never-before-seen footage, photographs, and Imagineer interviews to help tell the stories of how the iconic attractions came to life and continue to evolve.
It's easy to compare the idea of the Imagineering Story with Behind the Attraction, however, the visuals and storytelling are completely different. Imagineering Story is told in your a-b-c, 1-2-3, documentary style. However, Behind the Attraction, being directed by Brian Volk-Weiss (The Toys that Made Us), let us know he wanted to take the series in another direction.
"So my personal background is comedy…and I'm a doc lover, like going back to college, where if you wanted to see a doc, you had to go to a movie theater-like. So one of the things I've always had a problem with [are] docs that are dealing with fun and happy and light subjects, but treat them like, you know, it's the rise and fall of the Roman Empire."

Director Brian Volk-Weiss during the Behind the Attraction Press Junket
DOES THE COMEDY DOCUMENTARY-STYLE WORK?
Yes and No. As a viewer, I wasn't completely sold on the quirky comedy style for every episode. I found a lot of the editing choices for some attractions to be incredibly jarring and yanking me right out of the episode. I also didn't love how the VO drives the story instead of these incredible interviews. Not one single person gets to have a full thought. Which some might enjoy, but the wackiness just wasn't my jam.
SEE ALSO: LEARN HOW THE MANDALORIAN PULLED OFF ITS LUKE SKYWALKER CAMEO IN A SPECIAL EPISODE OF DISNEY GALLERY.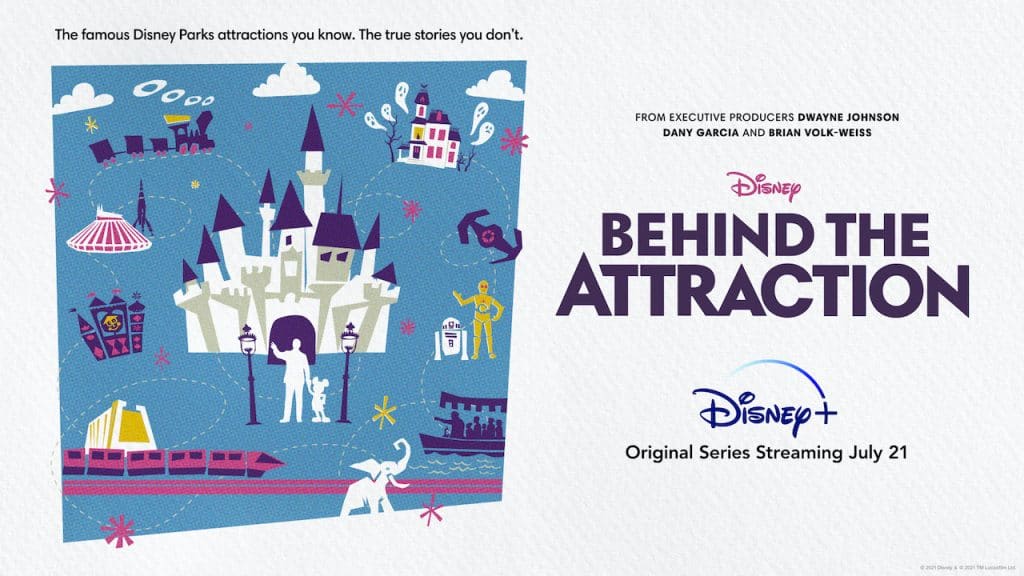 That being said, I LOVED learning about the attractions chosen for season one. The series gives you a glimpse into versions of attractions you don't get to see unless you travel to multiple parks around the world. I even learned lots of fun information about attractions close to home which will forever solidify my trust and love for Imagineers Joe Rohde and Jeanette Lomboy. Whatever they touch is gold!
WHAT ATTRACTIONS WILL BE IN SEASON ONE?
The first 5 episodes of Behind the Attraction come to Disney+ Wednesday, July 21st. With the final 5 dropping later this year. The initial release will include episodes about the Jungle Cruise, Haunted Mansion, Star Tours, The Twilight Zone Tower of Terror (my favorite of this bunch), and Space Mountain. Which episode are you most excited for?
You can tell us your thoughts by leaving a comment below or hitting us up on Twitter. You can also join us at the Disney Cinema Facebook page to chat about all things Disney. Also, make sure to stay up to date on all the Pop Culture news by following us at ThatHashtagShow.com. More importantly, be safe, we can't wait to see you all at some of your favorite conventions this year.
SEE ALSO: GO 'BEHIND THE ATTRACTION' IN NEW DISNEY PARKS DOCUSERIES
SEE ALSO: EXCLUSIVE: DETAILS ON MS. MARVEL'S ORIGIN IN MS. MARVEL DISNEY+ SERIES.