FOR THOSE OF YOU WHO HAVE NOT YET SEEN FEAR STREET PART THREE: 1666, THIS IS A NON-SPOILER REVIEW.
Fear Street Part Three: 1666 is wildly different from the first two installments of this trilogy. And I have a feeling some are going to like this one the least. Why? Because many of the things that people latched on to with this series are noticeably absent here. First and foremost, 1666 is completely missing that feeling of nostalgia that made the first two so fun. Although the movie is still paying homage to the genre, it is much less apparent here.
We don't have the head-banging soundtrack of classic music, the slasher tropes are pretty much gone, and the overall "fun and silly" factor that made the first two so watchable has been replaced by a much darker, more sinister tone. At first, it didn't necessarily work for me… because, it almost felt like we were seeing our cast play dress-up in a period setting. But, once I settled into this altogether different atmosphere, I was shocked at how effective 1666 really was.
WHAT IS PART THREE ABOUT?
In Fear Street Part Three, we are flung all the way to the year 1666. Deena has a life-altering vision of what happened to Sara Fier all of those years ago. And Deena uses what she learns in her vision to try and stop the witch's curse once and for all. I will not go into any more detail because I wouldn't dare give anything away.
IS THIS INSTALLMENT SCARY?
So, I still wouldn't call this film scary. But, out of all three, this is the one that's going to make you want to keep the lights on. There is something about the way this story progresses… It starts to creep up and get under your skin in a way that the other two did not. 1666 is unnerving and unsettling in the best way possible and there are some stand-out scenes here that belong in the best of the genre.
HOW IS THE CAST?
It's also a blast to see the whole cast return playing different characters as Deena is seeing everything from Sara Fier's point-of-view, but has replaced everyone from her life as surrogates. This was an ingenious decision to really bring all three films full-circle and make them feel like a complete whole. Kiana Madeira is once again outstanding and leads the pack with a convicted performance tinged with disorientation and exasperation. Ashley Zukerman is also given much more time to shine and takes full advantage of his new role here.
AND THE PRODUCTION VALUES?
And as much as I loved the soundtrack of classics in the first two parts, I never missed them as the score by Marco Beltrami and Anna Drubich is stupendous. It adds to the anxiety and paranoia of the film and really elevates everything to the next level. Janiak also completely comes into her own here as she is not aided with the era flourishes that she was in the first two films. Part Three has a scaled-back, bare-bones aesthetic that makes it stand on its own and allows the gorgeous cinematography to take center stage. After these three films, I can't help, but feel like Janiak has a very bright future ahead of her.
DOES IT TIE THE TRILOGY UP IN A SATISFYING WAY?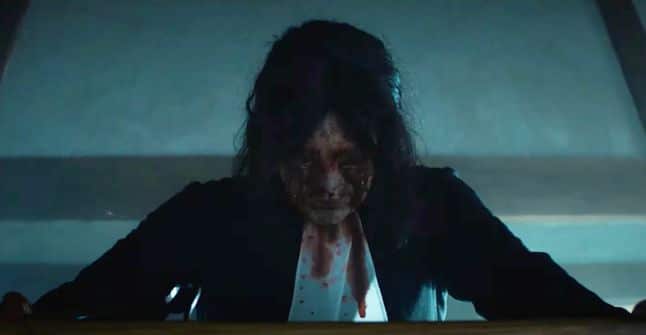 Lastly, what makes Fear Street Part Three: 1666 the best of the trilogy is how it ties everything together. After watching this installment, you can see how meticulously planned these movies were. Aspects of the story that didn't make sense in the first two parts are actually explained in this movie, that make me appreciate the other two even more. And just as I thought 1666 was taking itself a little too seriously and not embracing the nostalgia and fun we had come to expect from this series… it takes a complete 180 and gives you everything you would want to finish out a genre exercise like this. I'm honestly just so utterly shocked how brilliantly they were able to connect all three of these movies together, into a cohesive and fulfilling whole.
Netflix has really outdone themselves with this Fear Street trilogy, in my opinion. I think this was such an intriguing idea to take three interconnected films… All with a bit of a different style and tone, and to release them each a week apart. What is most surprising and what greatly pleases me to say, is that not only were they able to pull it off, but they really hit it out of the park. And I hope we get to see more refreshing experiments like this from Netflix and other studios, in the future.
Fear Street Part Three: 1666 will be streaming on Netflix Friday, July 16th.
For more Rants, Reviews and Ramblings make sure to stay tuned to That Hashtag Show!