Ready to enjoy that sweet summer sun, anime-style? Well, Crunchyroll has you covered there. (for more on the company's offerings, click HERE.)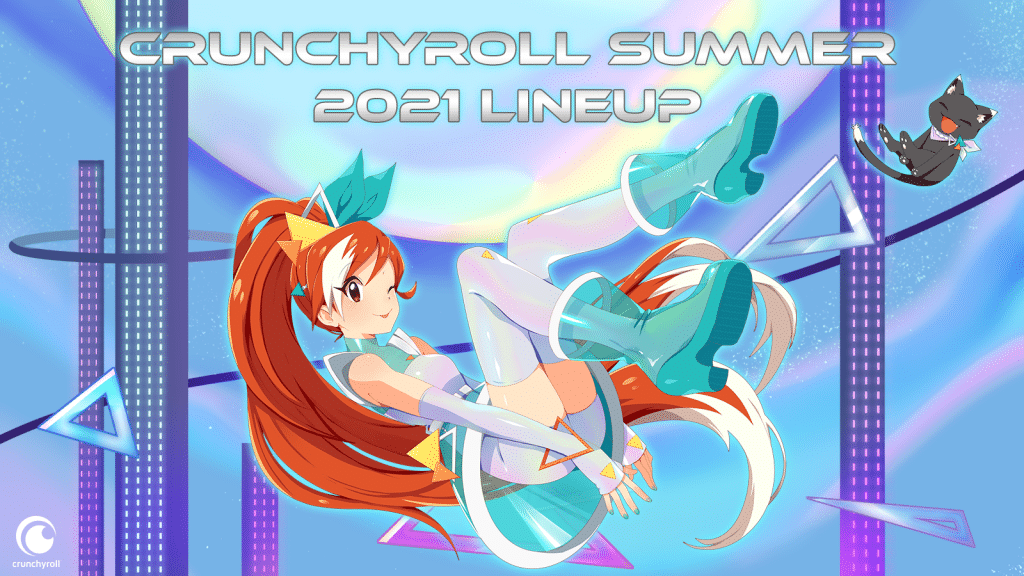 Crunchyroll has just announced their slate of anime releases for Summer 2021 on June 22, 2021. Most of what they've got for you this summer consists of fantasy anime. It seems fantasy is a popular genre right now. There are a few sci-fi and slice of life anime in this lineup. But for the most part, it's fantasy all the way. Even there though, you have some subgenres within that genre. You got your standard isekai fantasy, but you've also got sword and sorcery shows too.
Now without further ado, here's Crunchyroll's lineup for Summer 2021:
Crunchyroll Anime Simulcast
Fena: Pirate Princess:
After an orphan escapes to the high seas, she takes her place as captain of a pirate crew for a swashbuckling adventure! Fena: Pirate Princess is a Crunchyroll and Adult Swim Original premiering this summer.
Miss Kobayashi's Dragon Maid S:
Tohru, Kobayashi, and all the dragon friends are back in all-new episodes of Miss Kobayashi's Dragon Maid S!
That Time I Got Reincarnated as a Slime Season 2:
Rimuru and Tempest set up to clash against the forces of the Demon Lord Clayman in the continuation of Slime Season 2!
I'm Standing on a Million Lives Season 2: Crunchyroll Anime 2021
Yusuke Yotsuya and the other humans begin their fight against the Orc Army in I'm Standing on a Million Lives Season 2!
Crunchyroll: Latest Anime Offerings
SD Gundam World Heroes:
A new SD Gundam series begins with battles set across the world stage!
Aquatope of White Sand:
One former idol goes to Okinawa and finds a new life helping a struggling aquarium from shutting down.
The Idaten Deities Know Only Peace:
As demons wake from their great slumber, descendants of battle-gods called Idaten and humanity fight back!
Girlfriend, Girlfriend:
From the creator of AHO-GIRL comes a story of a triangular relationship as one high schooler dates two girlfriends at the same time!
Peach Boy Riverside:
One princess aims to travel the world when one day she encounters a famous ogre-slaying warrior!
Returning Crunchyroll Anime Favorites
To Your Eternity:
Fushi's journey to understand humanity and the world continues in new episodes of To Your Eternity.
Tokyo Revengers:
One young man time-leaps back to his middle school days where he vows to protect his friends against dangerous delinquents!
Boruto: Naruto Next Generations:
Boruto continues his adventures to become the ultimate ninja with Team 7 and all your favorite ninja from the Hidden Leaf Village!
Case Closed:
Ace teen detective Shinichi Kudo solves cases after becoming trapped in the body of a ten year old.
Dragon Quest: The Adventure of Dai:
Based on the classic Dragon Quest series, follow Dai and his party in their grand adventure to defeat the demon lord Hadlar!
Kiyo in Kyoto: From the Maiko House:
Two girls chase after their dreams in the ancient capital in this healing slice-of-life animation about an aspiring maiko and the house chef!
Quintessential Crunchyroll anime
My Hero Academia (Season 5):
Deku and Class 1-A continue their hero training and unleash new powers in the latest season of My Hero Academia!
Tropical-Rouge! Pretty Cure:
A brand new PreCure series is on Crunchyroll, and now it's time to get tropical!
One Piece:
Luffy and the Straw Hats continue their adventures in Wano and fight against the powerful Emperors!
Last but not least for Crunchyroll summer anime lineup
Welcome to Demon School, Iruma-kun! Season 2:
Demon school is back in session as Iruma and his devilish classmates continue their lessons in the dark arts!
Source: Crunchyroll