*WARNING* THIS REVIEW CONTAINS SPOILERS FOR STAR WARS: THE BAD BATCH EPISODE TWO "CUT AND RUN"
This has been a great week for fans of the Disney+ series Star Wars: The Bad Batch. Not only did we get a huge 70-minute premiere (Aftermath) on Star Wars Day we also got our second episode (Cut and Run) a few days later. Now don't get too used to the two a week episodes, The Bad Batch will release on Fridays for the remaining 14 episodes.
The Bad Batch "Cut and Run" – Visiting An Old Friend
Picking up right where we left off we soon learn that The Bad Batch with Omega is heading to talk with an old friend that we have seen before in Season 2, Episode 10 "Deserter," of Star Wars: The Clone Wars. Not having many places to go they head to the plant of Saleucami in Sector J-19. Once there our now renegade clones leave the shuttle and head to meet with the deserter. We then see The Bad Batch come up to an area that was filled with traps.
Of course, Wrecker thinks he was able to get through but didn't waste any time tripping the traps. Once sprung the crew was surrounded by repurposed battle droids. That is when we are reintroduced to the deserter clone, Cut Lawquane. Cut and his wife Suu take them back to their house where we also see their kids Jek and Shaeeah. Once there we also learn that The Bad Batch was not the only clones that came to visit, Rex was through there just a day before.
OMEGA
After learning that Omega was a clone in the last episode we of course all want to know what her role is going to be in this series. Well if you were looking for the answer in this episode you are not going to find it. What we do learn is that everything is new to her. When they first step out of the ship on Saleucami she is overwhelmed with everything around her. From the dirt to bugs see was taking it all in for the first time.
We also Omega get to act like a child for the first time as Jek and Shaeeh teach her how to play and have fun. But again her newest to things show when she misses the ball they were playing with and it goes past the fence that they are not allowed to cross. Omega not understanding the danger crosses the fence and soon learns why she shouldn't have. Upset she heads to the ship where she tries to process all that happens. During all this the question still remains, why was Omega created, and what is her purpose?
The Empire Presence
It seems that The Bad Batch were not the only ones looking to a place to lay low. Cut also want to get his family off Saleucami because of the increased presence of the Empire. With hopes of getting tickets and leaving Cut and Hunter head into town to get passage off the planet. Well, they quickly learned that it was going to be easy because a new policy was put into place by the Empire that each resident needs a chain code to travel.
Now we know they were not going to be able to get them the easy way so they came up with a plan that involved Tech forging codes and having their ship impounded with Tech and Echo in it so they could get the items that they need to make these codes. Oh yeah, remember when I said Omega went to the ship, well Tech did not know she was there when he had the ship impounded. I won't go into more on this but you all know what happens next.
Hunter Is Out Of His Element
During this whole episode, we can see an unspoken father-daughter bond forming between Hunter and Omega. Not sure how to do things Hunter was pretty rough on the kid after the danger she found after she crossed the fence. Not really knowing how to be a father Cut and Sue help consul her and talk to Hunter on how he needs to work with her. Hunter thinking he could give Omega what she needs as a father figure asks Cut and Suu if she could stay with them. Well of course things didn't work out how Hunter planned and it seems like Omega will be hanging with The Bad Batch a little longer.
My Thoughts On The Bad Batch "Cut and Run"
Just like everyone else, I wish all the episodes could be like the first one with a ton of action, but I also understand that well need these builder episodes as well. It looks that The Bad Batch is going to be closing some of the open story arcs from The Clone Wars. We see that with the reintroduction of Cut and Suu. I do like that we know The Bad Batch seems to be on the same path as Rex and hopefully we will have that meeting soon.
Again voice actor Dee Bradley Baker knocked it out of the park as he keeps giving each member of the bad batch their own voice. Overall "Cut and Run" was not too bad. It did have its downtimes but like I said we can't have non-stop action every episode. I also liked how we continue to seething through the Empire's eyes and convert everything to their way.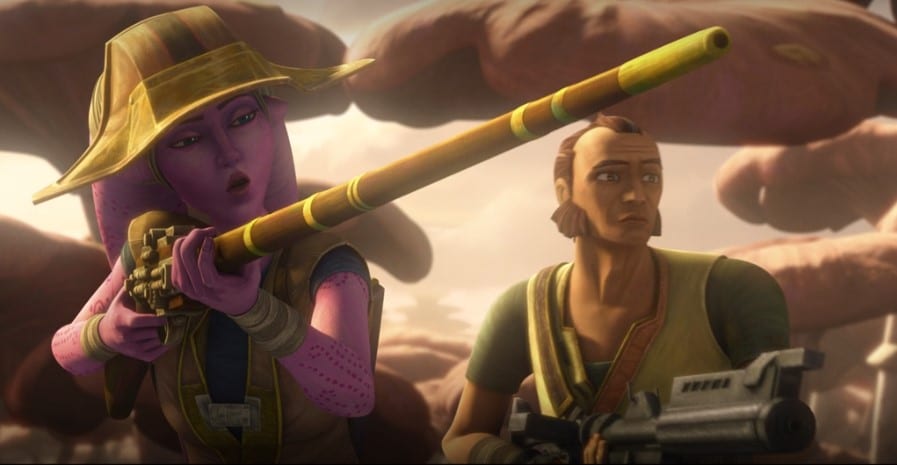 My only concern is how fast that we are seeing the focus of the father-daughter thing. While that is not always a bad thing I would rather see that build up as the episodes go on. And let's be honest with each other we have seen this story many times in the Star Wars universe. Just like in The Mandalorian and Rebels, we see Mando and Kanan come across a kid, they try to find someone else that can help them more but the kid ends up with them still and has special powers. Don't get me wrong I like Omega I just want to see this story take us in a direction we have not seen yet.
We Want To Hear From You
What are your thoughts on Star Wars: The Bad Batch "Cut and Run?" Do you like the approach that the series is taking? Also, what are you hoping to see in future episodes? That Hashtag Show wants to hear from you!
You can tell us your thoughts by leaving a comment below or hitting me up at starwarsnerd574. You can also join me at the Midwest Star Wars Fanatics fan page to chat all things Star Wars. Also, make sure to stay up to date on all the Star Wars news by following us at ThatHashtagShow.com. More importantly, be safe, I can't wait to see you all at Celebration 2022.