Welcome to this week's installment of That Hashtag Show's What To Watch, a viewing guide for new releases from this week and the upcoming weekend. I will attempt to hit all of the major new releases across theatres, television, and streaming. But of course, if I've missed something, please let me know in the comments. Also, be sure to let us know what you are watching this weekend in the comments or on social media.
WATCH TO WATCH: THEATRE RELEASES
This week we feature a pair of films that are directed by their stars. On one hand, we have the next entry in the Hercule Poirot films by Kenneth Branagh. On the other is, The Outlaw Johnny Black, a Western directed and starring Michael Jai White
A HAUNTING IN VENICE
The third Hercule Poirot film, once again directed by and starring Kenneth Branagh. This time around the famous detective finds himself wrapped up in a supernatural murder mystery in Venice. The previous two Poirot films are some of my favorite murder mystery films in recent history. I am looking forward to seeing how the supernatural elements will play into this latest entry.
Release Date: September 15, 2023
What's it about?: In post-World War II Venice, Poirot, now retired and living in his own exile, reluctantly attends a seance. But when one of the guests is murdered, it is up to the former detective to once again uncover the killer.
Who's in it?: Kenneth Branagh, Kyle Allen, Jamie Dornan, Tina Fey, Jude Hill, Ali Khan, Emma Laird, Kelly Reilly, Riccardo Scamarcio, and Michelle Yeoh.
THE OUTLAW JOHNNY BLACK
The Outlaw Johnny Black is clearly an homage to both the 1960s Spaghetti Westerns and the 1970s Blaxploitation films and appears to blend them together well. The film looks to be full of plenty of references to both genres. You can check out the official trailer below to see both of those nods on full display.
Release Date: September 15, 2023
What's it about?: Cowboy Johnny Black vows to gun down Brett Clayton, the man responsible for the death of his father. He soon becomes a wanted outlaw while posing as a preacher in a small mining town that's been taken over by a notorious land baron.
Who's in it?: Michael Jai White, Tony Baker, Byron Minns, Anika Noni Rose, Jill Scott
WATCH TO WATCH: TV & STREAMING RELEASES
This week we have the return of the Apple TV+ series, The Morning Show, and the Pixar film, Elemental debuting on Disney+.
THE MORNING SHOW
The third season of The Morning Show dropped its first two episodes on September 13. The show stars Jennifer Aniston and Reese Witherspoon. Joining them this season are a few new faces, including Jon Hamm and Tig Notaro. Our THS review praised the performance by Aniston, calling it some of her best work.
Jennifer Aniston continues to do some of her finest work on The Morning Show. Alex Levy is the perfect heroine to root for in the show's toxic media landscape. She is trying to cling to her integrity and remember why she wanted to be a journalist.

Ameila Harvey, That Hashtag Show
Where's it streaming?: Apple TV+ on September 13
What's it about? An unapologetically candid drama that looks at the modern workplace through the lens of the people who help wake America up, pulling back the curtain on early morning TV.
ELEMENTAL
The latest Pixar film is making its way Disney+. Elemental. The film follows a pair of elements, fire element Ember Lumen (Leah Lewis) and water element Wade Ripple (Mamoudou Athie), who meet and fall in love. Elemental initially had a bit of an underwhelming opening at the box office but eventually went on to gross $478 million.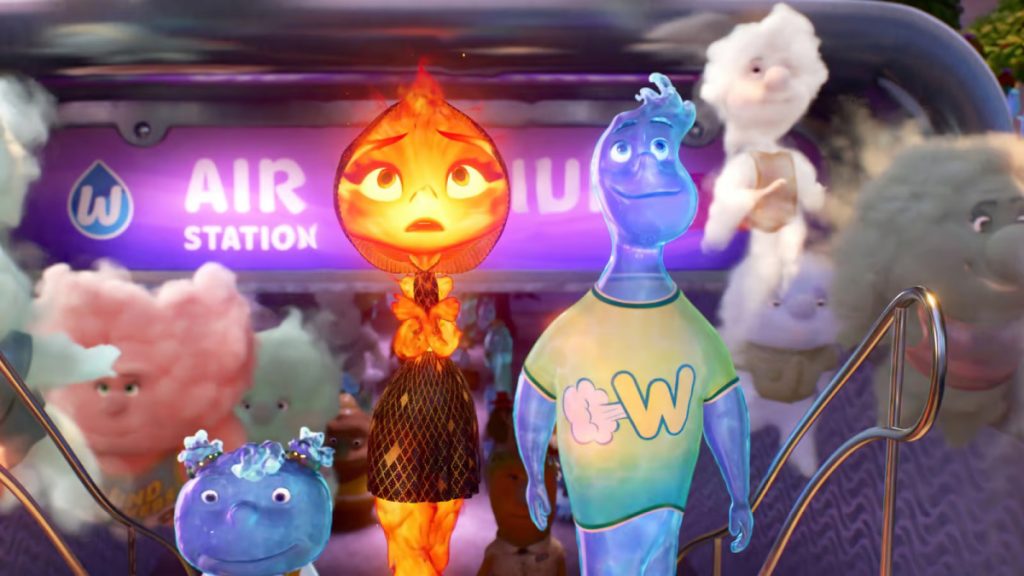 Where's it streaming?: Disney+ on September 13
What's it about? In a city where fire, water, land, and air residents live together, a fiery young woman and a go-with-the-flow guy discover something elemental: how much they actually have in common.
WE WANT TO HEAR FROM YOU
What do you think about this week's lineup for What to Watch? Are any of these on your list of films or shows to watch? Also, is there anything we missed that you will be watching? That Hashtag Show wants to hear from you!
You can tell us your thoughts by leaving a comment on our That Hashtag Show Facebook page. You can also let me know what you think by following me on social media at TheIndianaSlone. Also, stay up to date on all your Entertainment and Pop Culture news by following us at ThatHashtagShow.com.
KEEP READING