Bandai seems determined to celebrate what they call Ani-MAY in 2023 with some new anime figures. What are these new figures, you might ask? Well, let's find out, shall we?
Ani-MAY 2023 with Anime Figures
Bandai is proud to announce their new line of anime figures for Ani-MAY 2023. Their list of figures is actually fairly substantial, albeit only covering the most popular mainstream anime series. If you're into less well-known anime series like The Ancient Magus' Bride or even apparently Spy x Family, you'll not find any figures about them here. You'll only find figures from Dragon Ball, Bleach, One Piece, etc. here.
In fact, there's even a distinctly non-anime title included in here for some reason. You know, despite it being for Ani-MAY. In fact, it's not even an animated series at all. You'll know it when you see it. Especially if you have a Netflix account or are otherwise a fan of Netflix. Still, if you have any interest in these figures, then you can check out a full list of them below (that may or may not include images of the figures in question):
Vital Hero
An inter-ACTIVE band that evolves how kids play, stay active, and compete with friends through raising and training Digital Monsters on this wearable device. Each band has an exclusive Digital Monster that you can train through completing a range of missions, such as shadow boxing, squatting, sprint challenges, walking, and more!
Age: 8+
MSRP: $64.99
Anime Heroes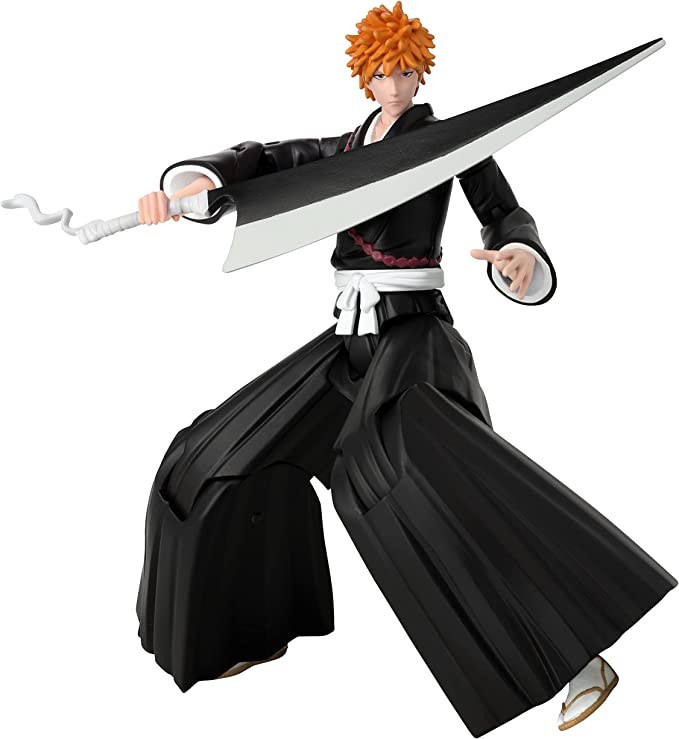 Anime fans can now imagine the biggest battles and missions with the Anime Heroes 6.5-inch figures that have over 16 points of articulation. Bandai's Anime Heroes have amazing features and decoration that incorporates the quality and realism anime fans love.
Age: 4+
MSRP: $19.99
Available IPs: BLEACH, Naruto, One Piece, Digimon
Stranger Things
Bandai brings Netflix's Stranger Things to life with detailed figures, paying homage to the 80's. Fans and collectors alike can bring home their favorite characters AND MONSTERS from the series that captivated audiences and became a global phenomenon.
Age: 8+
MSRP: Ranges per figure
Available characters: Eddie, Eleven, Hopper, Vecna, Demobat, and Demodog
Dragon Stars
Welcome the fierce battles of Dragon Ball into your world with these superior 6.5-inch Dragon Stars action figures. This is the highest order of quality, and as close as you can get to the real thing. You can be the star of your own Dragon Ball battles with figures inspired by the show and NEW movie!
Age: 4+
MSRP: $19.99
Dragon Ball Evolve
5" tall with 17 points of articulation allowing infinite posing and display options. The figure was created with exceptional details to look exactly like the characters in the popular anime series, Dragon Ball Super.
Age: 4+
MSRP: $9.99
Gashapon Blind Packs
Bandai's Gashapon Blind Packs bring an element of surprise for anime fans looking to start their 2.5-inch Anime figure collections. These battle-ready mini-figures bring fan-favorite characters to small-scale collectible fun, each pack containing a detailed action figure and stand.
Age: 15+
MSRP: $7.99
Available IPs: Dragon Ball Super, My Hero Academia, Demon Slayer, Jujutsu Kaisen
Jujutsu Kaisen – Styling Series
Delivers a figure sculpted perfectly to look exactly like your favorite character from the popular anime. Each character in the Jujutsu Kaisen styling series is approximately 5 inches tall, meticulously detailed, and stylishly posed in iconic stances that help recreate scenes from the top anime property!
Age: 8+
MSRP: $12.99
Ultimate Legends Naruto
5" tall figures with 15+ points of articulation allowing infinite posing and display options. The figure was created with exceptional details to look exactly like the shinobi in the popular anime series, Naruto Shippuden.
Age: 4+
MSRP: $10.99
Adverge
The Adverge Series features fan favorites and villains from some of the most well known anime properties: Dragon Ball Super and Jujutsu Kaisen. The Adverge 4-Pack gives fans an instant collection of highly detailed 2-inch mini-figures striking their most memorable poses, perfect for play or display.
Age: 8+
MSRP: $27.99
Available IPs: Dragon Ball Super, Jujutsu Kaisen
Gundam Infinity
The Gundam Infinity collection from Bandai takes the most iconic Mobile Suit from the Gundam Universe and delivers a 4.5 Inch, highly detailed figure with over 14 points of articulation and battle-ready accessories.
Age: 6+
MSRP: $14.99
Mobile Change HARO
Your favorite mobile suits are taking on a new look with the all-NEW Mobile Change Haro series! With multiple points of articulation, your favorite mobile suits have the ability to transform from its 3.5′′ stylized form into the iconic Haro form!
Age: 6+
MSRP: $9.99
For more on Collectibles, make sure to check back to That Hashtag Show.
Keep Reading: