The final season of my favorite Netflix Teen Comedy, Never Have I Ever, has finally been given a release date. It's almost time to say goodbye, and see if Paxton or Ben is Devi end game. So, what team are you on?
The fourth and final season of Never Have I Ever will have 10, 30-minute episodes. Along with the Date announcement, Netflix has given us FIRST-LOOK images of the final and fourth season!
WATCH THE NEVER HAVE I EVER SEASON 4 ANNOUNCEMENT AND IMAGES BELOW!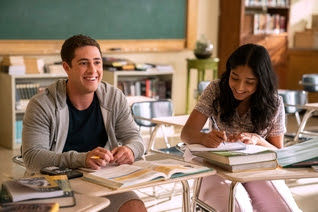 ABOUT NEVER HAVE I EVER SEASON 4: Never Have I Ever is a coming-of-age comedy about the complicated life of a modern-day first-generation Indian American teenage girl. The series stars Maitreyi Ramakrishnan as Devi, an overachieving high school student who has a short fuse that gets her into difficult situations.
Never Have I Ever is created by executive producers, Mindy Kaling and Lang Fisher, with Fisher serving as the showrunner. Never Have I Ever is produced by Universal Television, a division of Universal Studio Group, and executive produced by 3 Arts Entertainment's Howard Klein and David Miner.
Our returning series regulars are Maitreyi Ramakrishnan (Devi Vishwakumar), Poorna Jagannathan (Nalini Vishwakumar), Richa Moorjani (Kamala), Jaren Lewison (Ben Gross), Darren Barnet (Paxton Hall-Yoshida), Lee Rodriguez (Fabiola Torres), as well as Ramona Young (Eleanor Wong).
The final season of Never Have I Ever will hit the streaming platform on June 8, 2023! So, will you be watching the final season of Netflix's Never Have I Ever? I know I will!
For more information about the series, you can follow them on social media!
Twitter: www.twitter.com/NeverHaveIEver
Instagram: www.instagram.com/NeverHaveIEver