Happy International Women's Day to all, but especially these horror movie icons. Whether hero or villain, killer or Final Girl, these actresses have solidified their place in genre culture for years to come. Here's some of our favorite actresses and their most iconic horror roles.
The Up-and-Comer: Mia Goth (X franchise)
Let's kick things off with one of the newest entries to this list: Mia Goth. Her role as Maxine/Pearl in X was so powerful, it got the studio to immediately greenlight a prequel film about the character (Pearl) and shortly later, a sequel (MaXXXine). Talk about making an impact. Outside her role as Pearl, Goth also crops up in horror flicks like Infinity Pool, Marrowbone, and 2018's Suspiria. She's undoubtedly a current/future "it girl" of the horror genre. I expect she'll continue to scare our pants off for years to come.
The Most Imitated: Sissy Spacek (Carrie)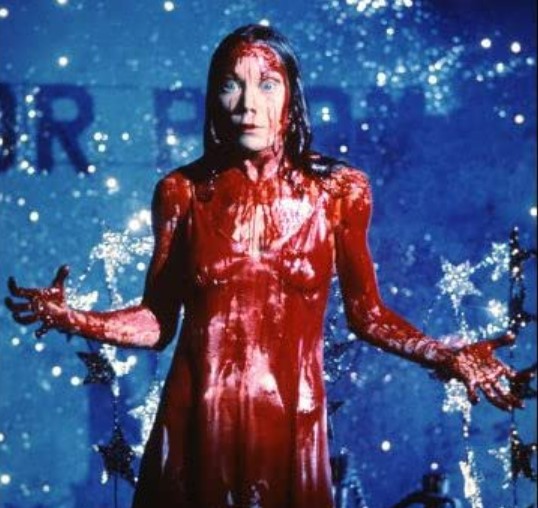 Even if you aren't a horror fan, you know about Sissy Spacek in Carrie. That's how iconic this role is. Spacek brought Stephen King's teen terror to life in a way destined to be mimicked, remixed, and paid homage to in media across all genres for decades to follow. She's also one of just a few women to make this list based on the staying power of a single film, rather than an entire horror franchise. (Of course, Spacek has also appeared on other horror media, including An American Haunting, The Ring Two, and another King project, the series Castle Rock.) Spacek's Carrie will always hold a special place in horror history. You know what they say: imitation is the sincerest form of flattery.
The Rule Breakers: Neve Campbell / Courteney Cox / Melissa Barerra / Jenna Ortega (Scream franchise)
Ok, I'm cheating a little bit here. The Scream franchise has always centered around powerful women, so I couldn't choose just one. Neve Campbell's Sidney gave the teen slasher genre a meta twist, acknowledging the "rules" of a horror flick while living inside one. Surviving the original Scream in part due to an unlikely team-up with Courteney Cox's Gale Weathers, these women returned to outlast killers time and time again. Then, the duo reprised their roles in 2022's Scream, when Ghostface goes after new leads played by Melissa Barerra and Jenna Ortega. The rules dictating what it takes to survive a horror movie may have shifted over the years, but these women know how to break the rules and come out on top. It's their world; we're just living in it.
The Best of Both Worlds: Lupita Nyong'o (Us)
When we're talking about women in horror, we're usually talking about Final Girls. And yes, Lupita Nyong'o's Adelaide definitely deserves recognition for everything she does to survive in Us. But Jordan Peele's film places Nyong'o in the unique position of playing both hero and villain, of being terrified and terrifying. And look, the woman has an Oscar for a reason – her acting is phenomenal. I don't think anyone else could make me so afraid I could have a secret evil doppelgänger out in the world. With her wide range of credits, Nyong'o may not be a "horror actress" per say, but I'd certainly welcome more chances to let her creep me out on screen after Us.
The Catalog: Barbara Crampton
This list has women who made an impact in iconic solo flicks and women who led multi-film horror franchises. But no one has a horror catalog like Barbara Crampton, someone who's starred in so many scary movies I couldn't even pick one role to highlight. Re-Animator, From Beyond, You're Next, Tales of Halloween, Jakob's Wife, We Are Still Here, Chopping Mall, Castle Freak… the list goes on and on. Talk about a Scream Queen.
The New Final Girl: Samara Weaving (Ready or Not)
For me, Samara Weaving in Ready or Not is THE modern Final Girl. Horror movie stereotypes rely heavily on people making the dumbest (read: deadliest) choices possible. But watching Weaving's Grace, you really feel like she's making the best choices given the crap hand she's been dealt. She's determined and resourceful. And the wedding dress/Converse/shotgun look? Definitely iconic.
The Ultimate Legacy: Jamie Lee Curtis (Halloween franchise)
If you clicked this list and didn't expect to see Jamie Lee Curtis, I don't know what to tell you. She took on Michael Myers as teenage babysitter Laurie Strode back in 1978… and then proceeded to do it over and over again in subsequent films. And when the Halloween franchise returned for a new trilogy in 2018 – 40 years after the original – so did Curtis. Not in a half-hearted cameo as a wink to fans, but once again as our lead – because Laurie, like Curtis herself, just got better and even more badass with age. Whenever I think of horror movies, I'll always think of Jamie Lee Curtis.
Plus, some honorable mentions…
Megan Fox in Jennifer's Body; Heather Langenkamp in A Nightmare on Elm Street; Toni Collette in Hereditary; Linda Blair and Ellen Burstyn in The Exorcist; Jennifer Tilly in the Chucky franchise
Keep Reading: