Fans of the hit Disney+ series The Mandalorian were in for a BIG surprise when they watched this week's episode 'The Mines of Mandalore'. This week we get Din Djarin and Grogu taking a trip to the cursed and abandoned planet of the Mandalorians, Mandalore. Once there Mando and Grogu once again had to face some challenges. Luckily they were able to get some help from former Mandalorian ruler Bo-Katan. But returning to the planet wasn't what surprised her, it was what she saw after she got there, and that was the once thought to be an extinct ancient monster, the Mythosaur.
The Mythosaur
As of now, we have had very little on the Mythosaur in the canon Star Wars timeline. But it looks like that is going to change. Mythosaurs were large creatures that were found on Mandalore. These powerful creatures were tamed and ridden by the ancient ancestors of Din Djarian. Thought to be extinct, the Mythosaur's legacy lived on as its skull was used as an emblem that was used on Mandalorian armor. This was first seen on the armor of the bounty hunter Boba Fett. Also, Din Djarian wore a necklace featuring the Mythosaur skull that he gave to Grogru.
What Does The Return Of The Mythosaur Mean For The Mandalorian?
So why is it important that we are seeing a Mythosaur for the first time in the canon timeline? Well, one hint came from the Armorer. "We shall see. The songs of eons past foretold of the mythosaur rising up to herald a new age of Mandalore." So, we already know that Din Djarian has control of the Darksaber, so could he be the one that leads the revival of Mandalore? Also, we could see the Mandalorians once again riding this ancient beast, I mean Grogu was able to tame a Rancor, so why couldn't he do the same with a Mythosaur? But whatever happens next it looks as if the "new age of Mandlore" has begun. I can't wait to see what happens next.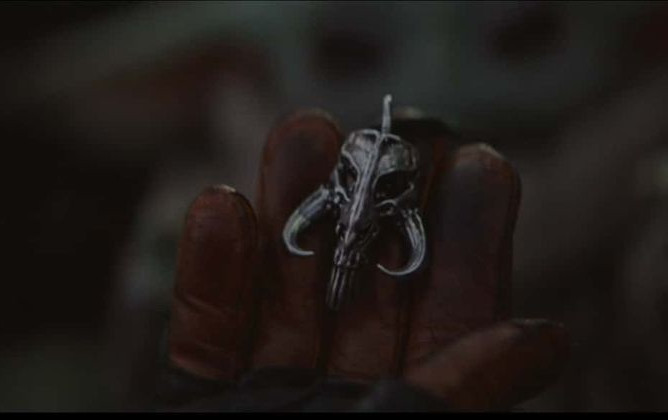 We Want To Hear From You
What were your thoughts on this week's episode? Were you excited to see the return of the Mythosaur? Also, what have you thought about the start to season 3 of The Mandalorian? That Hashtag Show wants to hear from you.
You can tell us your thoughts by leaving a comment below or hitting me up on social media at  NerdyVet574. You can also join me at the Midwest Star Wars Fanatics on Facebook to chat about all things from the galaxy far far away. Also, you can stay up to date on all the pop culture news by following us at ThatHashtagShow.com. More importantly, be safe, We can't wait to see you all at Celebration 2023.
SEE ALSO: