The Mandalorian Season 3 is less than a month away and Star Wars fans can hardly wait. Of course one of the main reasons for this excitement is Din Djarin (The Mandalorian) and Grogu. So to celebrate this upcoming release I am going to take a look at a few items from Gentle Giant Ltd. starting with their The Mandalorian with Grogi Mini Bust. This mini bust was a St Patrick's Day exclusive pre-order in 2022 but is available now at gentlegiantltd.com and some local comic shops and has an SRP of $120.
Star Wars: The Mandalorian – The Mandalorian with Grogu Mini Bust – St Patrick's Day Exclusive
Thanks to our friends over at Gentle Giant Ltd. I was able to get my hands on a couple of their The Mandalorian items. Obviously the one I am going to talk about today is the Star Wars: The Mandalorian – The Mandalorian with Grogu Mini Bust – St Patrick's Day Exclusive. You can check out the official details of the bust and my thoughts below.
A Gentle Giant LTD Release! The bounty hunters are back for St. Patrick's Day! The Mandalorian, a.k.a. Din Djarin, and his sidekick Grogu are back in an all-new 1/6 scale resin mini-bust. Holding Grogu with his blaster drawn, "Mando" measures approximately 6 inches tall atop his pedestal, and is limited to only 3000 pieces. This holiday exclusive comes packaged in a full-color box with a numbered certificate of authenticity. From the talented artisans at Gentle Giant LTD!

Gentle Giant Ltd.
The Mandalorian with Grogu Mini Bust Review
As always when doing my reviews there are a few things I look at. Those things are packaging, sculpt and paint quality, and displayability. I also always like to get the negatives out of the way first so we can always finish up on the good stuff. So without any more waiting here are my cons and pros of this mini bust.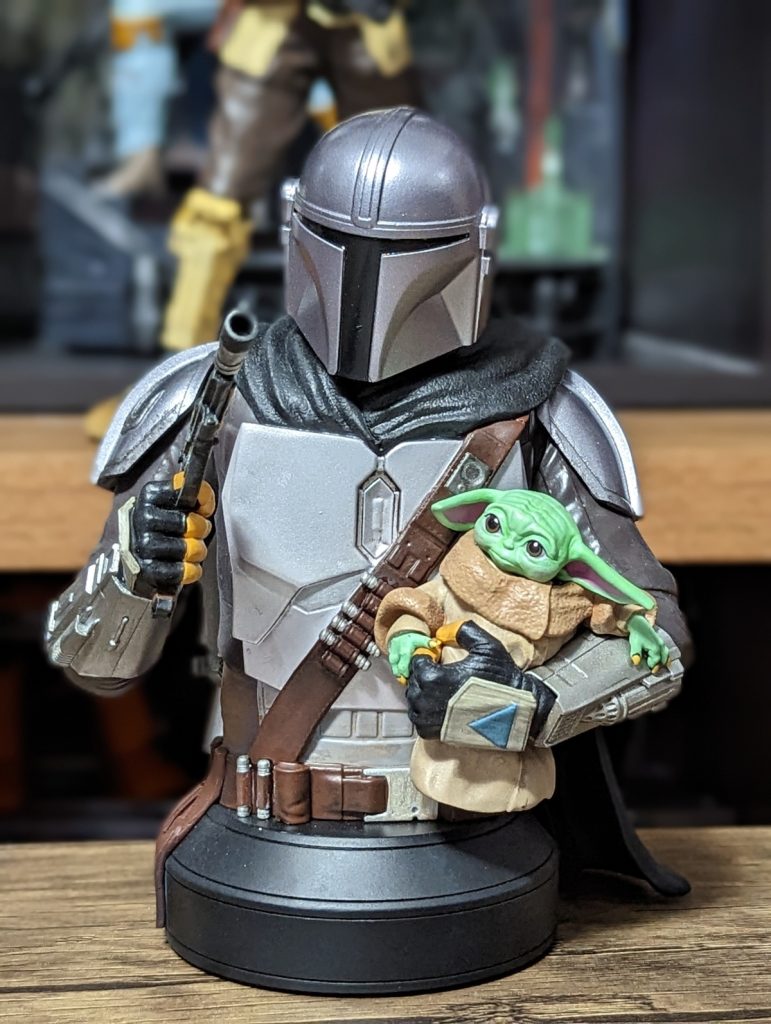 Cons Of The Mandalorian with Grogu Mini Bust
OK, so let's take a look at some of the cons of The Mandalorain with Grogu Mini Bust. Now with this being a mini bust one thing really can take the rating down on this review. Well, the good thing is there really isn't anything that makes this mini bust stand out on the negative side. But here are a couple of things that I could see some collectors not being happy about.
While the sculpt looks great, Mando's head faces down some and if you have it displayed on a lower shelf you are looking mostly at the top of the helmet.
Mando's cape is made out of resin like the rest of the bust. It would look nice if it was made out of cloth.
If you are a fan of parts that you can switch out you will not get that with this bust. The Mandalorian with Grogu mini bust is one solid piece.
The price of $120 is about the going rate for these busts now so if you are concerned about the price you may want to look into Gentle Giants Ltd. Guild Membership.
Pros Of The Mandalorian with Grogu Mini Bust
OK, now it is time for the fun part of this review, the positives. And the great thing about The Mandalorian with Grogu mini bust is there are a lot of them. Here is what I like about this mini bust.
The Mandalorian with Grogu mini bust is packaged very well as it is encased in a styrofoam block. It also has plastic around the statue to protect the paint job.
If you are a keep-it-in-the-box person the box art looks great. Also, the back of the box gives you a brief summary of the statue.
The mini bust comes in one piece so no assembly is required.
This mini bust sculpt is unique because not only are you getting The Mandalorian you also get Grogu.
The paint job looks great. from Mando's beskar armor to the details on Grogu, the bust comes to life in your collection.
Even though this statue is only about 6 inches tall, it has some good weight to it and will display well without the fear of it being knocked over easily. Also, the cape does help with this as well (probably with it isn't cloth).
Each statue comes with an individually numbered certificate of authenticity.
My Final Thoughts
When it comes to mini busts, The Mandalorian with Grogu is a fun and cute statue to have in your collection. So yes, if you are a The Mandalorian fan this is a must-have in your collection. Just like most of Gentle Giant's items, there are not enough negatives to deter me from buying this mini-bust. The thing I like best about this is how well they combined Mando and Grogu into one bust. The details are amazing and if you look close enough you can even see Grogu holding onto Mando's finger. Now, remember this mini bust is limited to 3000 pieces so if you are thinking about adding it to your collection you might want to do it before it is too late. Also, make sure to keep an eye out for my next Star Wars Gentle Giant Ltd. review of The Mandalorian – Bo Katan Kryze Milestones Statue.
We Want To Hear From You
What are your thoughts on The Mandalorian with Grogu mini bust from Gentle Giant Ltd? Is this a must-have for your collection? Also, what other items from Gentle Giant Ltd. are you looking forward to? That Hashtag Show wants to hear from you.
You can tell us your thoughts by leaving a comment below or hitting me up at  NerdyVet574. You can also join me at the Midwest Star Wars Fanatics on Facebook to chat about all things from the galaxy far far away. Also, you can stay up to date on all the Star Wars news by following us at ThatHashtagShow.com. More importantly, be safe, We can't wait to see you all at Celebration 2023.
SEE ALSO: