When it comes to Marvel collectibles Diamond Select Toys is right there near the top of the list. From their mini-busts to their Milestone statues there is something for any level of collector. Well, thanks to our friends over a Diamond Select Toys I was given an opportunity to review their Silver Surfer Premier Collection Statue. This unique Premier Collection statue retails for $175 and is available now at DiamondSelectToys.com and local toy and comic shops.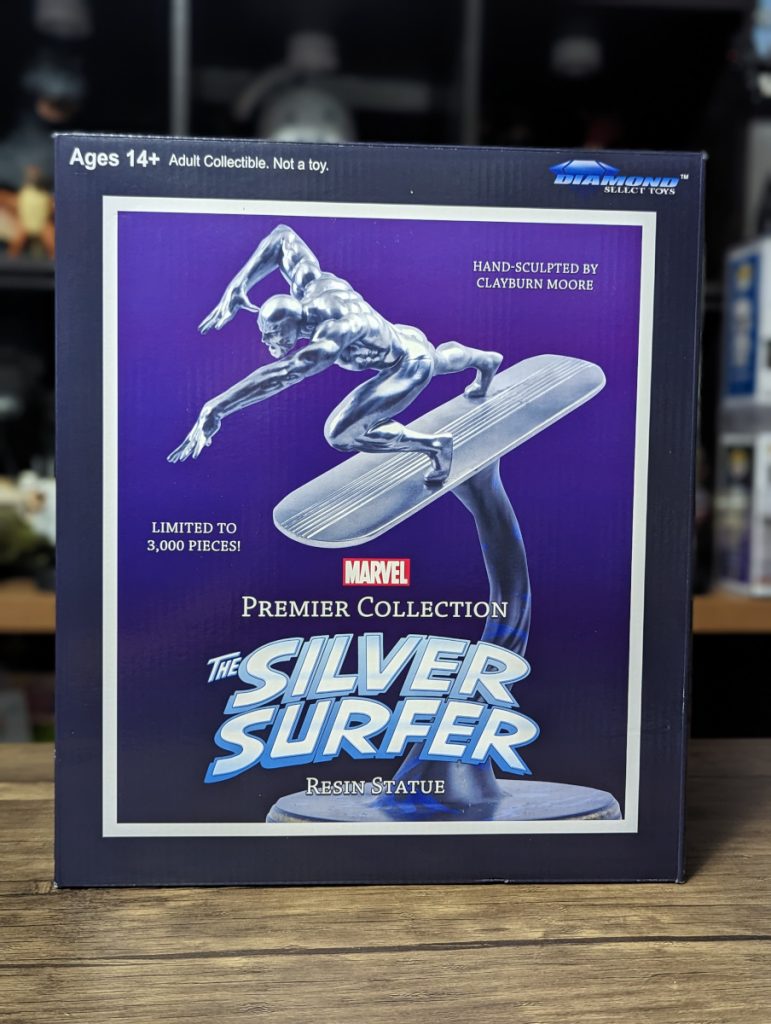 Silver Surfer Premier Collection Statue
When I received this Silver Surfer Premier Collection Statue I was excited. You could tell right away it will be a very unique piece for your collection. This statue is not like most of the ones you get. It is not as bulky and space-consuming (no pun intended) as most statues. Also, the look of the statue and the base is simple but elegant. You can check out all my thoughts on this statue below.
Swooping down to the surface at incredible speed, the Silver Surfer rides his shimmering surfboard in this dynamic statue. Hand-sculpted by Clayburn Moore based on a classic Marvel Comics cover, this statue pairs well with the Premier Collection Thor statue, and stands approximately 12 inches tall. It is limited to 3,000 pieces and comes packaged in a full-color box with a certificate of authenticity.

Source: Diamond Select Toys
Silver Surfer Premier Collection Statue Review
When doing my reviews I look at many things. Those things are packaging, sculpt and paint quality, and displayability. I also always like to get the negatives out of the way first so we can always finish up on the good stuff. So without any more waiting here are my cons and pros of the Silver Surfer Premier Collection Statue.
Cons Of The Silver Surfer Premier Collection Statue
As I said earlier this statue is very unique and not like most. Because of this, there are a few things that some may not be happy about.
Smaller than most statues the price point of $175 may seem high for some collectors.
Because of the surfing pose the Silver Surfer really can be displayed at one maybe two angles. Also with this, he will always be facing the right unless you want to see his back.
For those that like to accessorize you only get what you see. there are no changeable parts.
Pros Of The Silver Surfer Premier Collection Statue
While the Silver Surfer is different from most if not all of the statues in your collection it has a lot going for it. Here are my pros of this statue.
Like most statues from Diamond Select Toys, the Silver Surfer Premier Collection Statue is packaged very well as it is encased in a styrofoam block. It also has plastic around the statue to protect the paint job.
The box art looks great. Also, the back of the box gives a summary of this statue. So if you are one that likes to display the box, it will look good in your collection.
The statue comes in two pieces, the Silver Surfer and the base. It is very easy to assemble.
The statue is held to the base in a deep grove and a powerful magnet.
The scuplt of the base and statue are simple but very detailed. From the facial expression and muscles to the tall base that makes him swoop down this statue has a look like no other.
The paint job is as simple as it gets but it looks amazing. Also, the paint job around the base giving it a look of space is brilliant and amazing.
With the statue standing high, the base is very heavy making it easy to display without fear of it tipping over easily.
With Silver Surfer not being as wide as most, it is easier to display especially if you don't have a lot of room.
Each statue comes with an individually numbered certificate of authenticity.
My Final Thoughts
If you are a Marvel fan and a fan of the Silver Surfer this is a must-have statue. This statue is very simple but has a look of elegance to it that will make it stand out in any collection. The price point may be high for some but as a collector that few extra bucks are worth it to get a piece like this in your collection. Even though this statue is just one color except for his mouth and eyes, the details are amazing. The Silver Surfer Premier Collection Statue is limited to 3000 pieces, and as of this review, there are only five left in stock at DiamondSelectToys.com. So if you have been thinking about pulling the trigger you might want to do it soon before it is too late.
WE WANT TO HEAR FROM YOU
What are your thoughts on the Silver Surfer Premier Collection Statue from Diamond Select Toys? Is this a must-have for your collection? Also, what are some other Diamond Select Toys items you are excited about for next year? That Hashtag Show wants to hear from you!
You can tell us your thoughts by leaving a comment below or hitting me up at NerdyVet574. Or you can also join us on the Marvel Fanatics Facebook page and chat about all things Marvel. Also, make sure to stay up to date on all the pop culture news by following us at ThatHashtagShow.com.
SEE ALSO: