Pop Culture collectors will want to make sure you hit their local comic and toy shops this week. Diamond Select Toys has announced four new items that are hitting the shelves. Those items are Gargoyles Goliath mini-bust, LOTR PVC Figures, Green Goblin Diorama, and a Captain Carter Diorama. You can check out the official details of these items at DiamondSelectToys.com and below.
Diamond Select Toys Gargoyles Goliath 1/7 Scale Resin Mini-Bust ($120)
A Diamond Select Toys release! Soaring out of your childhood Saturday mornings, the Gargoyles have landed at Diamond Select Toys, with a new line of 1/7 scale mini-busts! Measuring approximately 7.5 inches tall and 9.75 inches wide, this bust of team leader Goliath is based on his cartoon appearance, and is limited to only 3,000 pieces. It comes packaged in a full-color box with a numbered certificate of authenticity. Designed by Barry Bradfield, sculpted by Varner Studios!
The Lord of the Rings (Series 1) D-Formz Blind Box ($8.99 each $107.88 set of 12)
A Diamond Select Toys release! Form the Fellowship! The members of the Fellowship of the Ring come together in the first-ever series of Lord of the Rings D-Formz! Packaged in blind boxes, and arranged in a counter display, these 12 figures include two each of Aragorn, Gandalf, Legolas, Gimli, and Frodo, plus one each of Gollum and Smeagol! Each figure stands 2-3 inches tall, and stands on a disc base. Designed by Barry Bradfield, sculpted by Rocco Tartamella!
The Lord of the Rings novels were written by J.R.R. Tolkien, and were adapted into three Oscar-winning films directed by Peter Jackson and released in 2001, 2002 and 2003. With a star-studded cast including Viggo Mortensen, Orlando Bloom, Ian McKellen, John Rhys-Davies and Elijah Wood, the movies were a huge success, and led to an adaptation of Tolkien's prelude story The Hobbit, as well as the Prime original TV series The Rings of Power.
Diamond Select Toys Green Goblin Deluxe Gallery Diorama ($125)
A Diamond Select Toys release! Release the Goblin! Spider-Man foe the Green Goblin soars out of a cloud of smoke on his Goblin Glider, preparing to hurl a pair of pumpkin bombs at the web-slinger! This all-new Gallery Diorama is made of high-quality PVC, and features detailed sculpting and paint applications. Plus, it features a hole in the back so you can mount it on the wall! The perfect companion to your Pumpkin Bombs Spider-Man diorama! Designed by Caesar, sculpted by Alterton.
What If – Captain Carter Gallery Diorama ($49.99)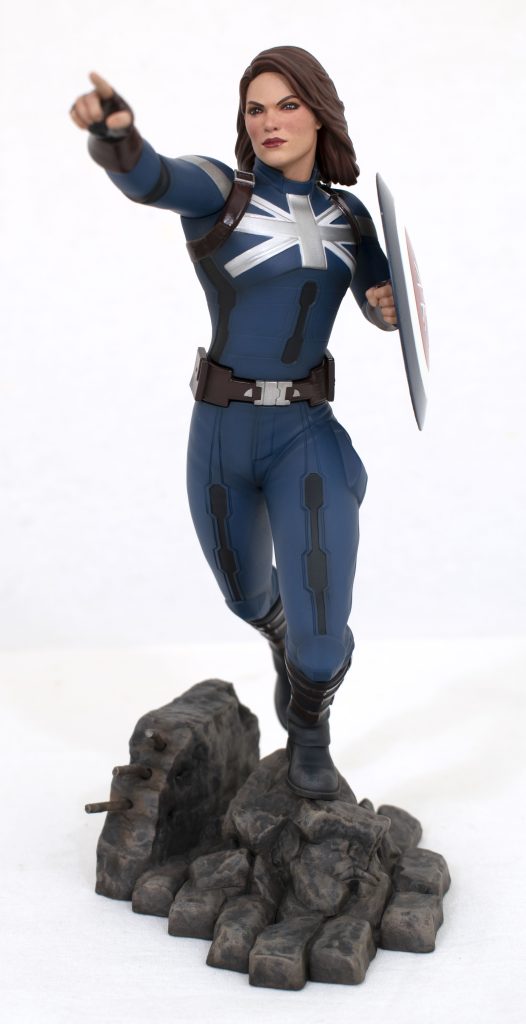 A Diamond Select Toys release! The Sentinel of Liberty joins the Marvel Gallery line of dioramas! As seen in the very first episode of "Marvel's What If…?", Captain Peggy Carter charges into action in this all-new Gallery Diorama. Cast in high-quality PVC, this sculpture stands approximately 10 inches tall and features detailed sculpting and paint applications. It comes packaged in a full-color window box. Designed and sculpted by Paul Harding!
We Want To Hear From You
Are you excited about these new items from Diamond Select Toys? Are these a must-have for your collection? Also, what are some other Diamond Select Toys items you are excited about for next year? That Hashtag Show wants to hear from you!
You can tell us your thoughts by leaving a comment below or hitting me up at NerdyVet574. Or you can also join us on our Facebook page to chat about all the collectibles heading our way. Also, make sure to stay up to date on all the pop culture news by following us at ThatHashtagShow.com.