Does anyone remember watching Disney's adaptations of Winnie-the-Pooh by A. A. Milne and E. H. Shepard back when they were kids? Well, it seems like some people want to capitalize on that nostalgia, and also capitalize on the success of animated reboots of children's books like Paddington. How else do you explain a bunch of hopeful DreamWorks alumni making a reboot of the franchise? And making it a prequel on top of that?
The Pooh Bear and Friends Prequel?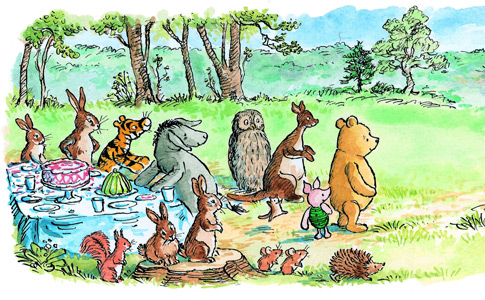 The Hollywood Reporter has just come out with the news that a group of DreamWorks alumni are working on a reboot of Winnie-the-Pooh. According to the news website, this reboot will be a feature-length prequel film to the story of Pooh Bear and his friends. How so? Well, apparently, this prequel will feature Pooh and his friends as children as part of a new origin story for them. It seems a bit odd considering that they already behave like children in Christopher Robin's present day, but at the same time, it could be an interesting premise.
These DreamWorks alumni even have a director and screenwriter lined up for this Winnie-the-Pooh prequel. Mike de Seve (Madagascar, Monsters vs. Aliens, Beavis and Butt-Head, Shrek 2) will direct this prequel, and even co-write it alongside screenwriter John Reynolds (The Mr. Peabody & Sherman Show). In fact, de Seve apparently has his own animation studio Baboon (Angry Birds, Gigantosaurus), which is teaming up with content incubator lab and Winvest Group subsidiary IQI to produce this prequel. Meanwhile, fellow DreamWorks alumnus and CIO of Winvest Charlene Kelly (Next Gen) will executive produce this prequel alongside Khiow Hui Lim, the founder of IQI and CSO of Winvest.
Lastly, we even have a release window for this Winnie-the-Pooh prequel film. Apparently, we'll get to see young Pooh Bear and his equally-as-young friends sometime in 2024. Nothing any more specific than that, but that's to be expected. This is very early in production, after all. Tune back in to THS later to find out more about this non-Disney Pooh Bear prequel film when we do.
Winnie-the-Pooh Prequel Film: More Details
That's not all, folks! There's one more bit of Winnie-the-Pooh prequel news from these DreamWorks alumni. According to them, they have so much confidence in this prequel film that they plan to immediately follow up the film with a TV series. For numerous reasons, there's no timeline for this Pooh Bear TV series' release other than sometime past 2024. We don't even know if de Seve and Reynolds will return to direct and write for it. That's also something we're going to have to wait for at a later date.
Source: The Hollywood Reporter