I went into Violent Night completely blind. I had only seen the posters around town, and that David Harbour (Stranger Things) was starring in it as Santa Clause. When I say run and see this movie I mean it.
Violent Night tells the story of the incredibly wealthy Lightstone family. On Christmas Eve, when the family has come together they are held hostage by Mr. Scrooge (John Leguizamo) and his band of professionals. However, Santa Clause is real and delivers gifts to the children on his good list, and unfortunately finds himself in the wrong house at the wrong time. In order to protect himself, as well as the adorable Trudy Lightstone (the youngest granddaughter), Santa Clause taps into his roots and takes out the bad guys one by one.
VIOLENT NIGHT IS MY FAVORITE MOVIE OF THE YEAR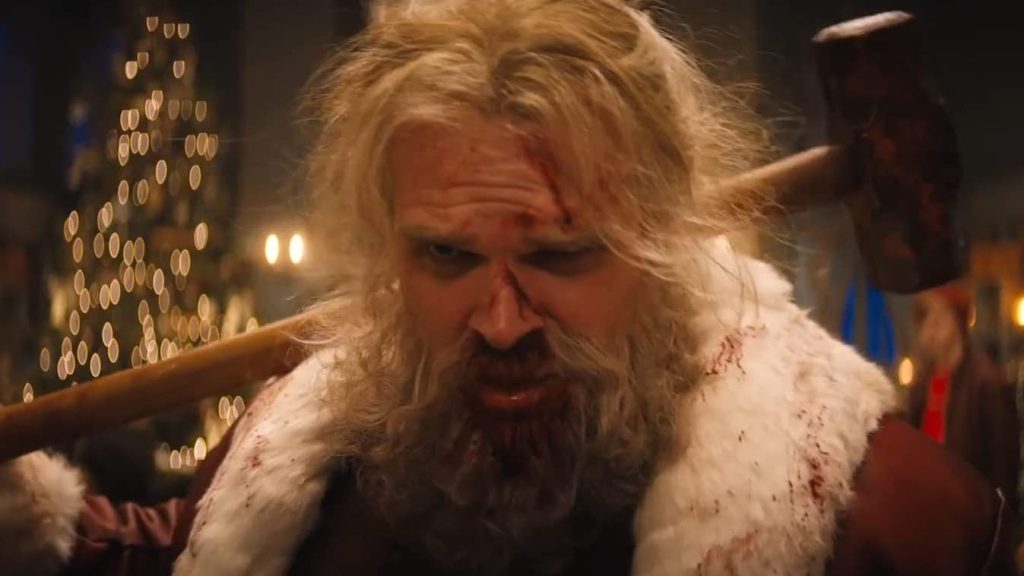 Yes, that is a bold statement, but I think it says a lot about me as a person. The story of the family, the reasons all this is happening, as well as the Santa Claus backstory all make sense. Everyone and everything has a purpose. When it comes to films like this, story and reason tend to be forgotten, and that just isn't the case here. I found myself laughing, gasping, and cheering throughout the entire movie. I haven't been this entertained in such a long time.
While Violent Night is not a Santa Clause goes crazy slasher film, that doesn't mean there aren't creative and fun kills. Just wait for the chimney. The film is much more like a heist movie, mixed with an updated Home Alone, and a dash of meets Tucker and Dale vs Evil. I love the relationship that Trudy and Santa build together. Not only does she help him remember why he does the job, but it makes him love it again.
Every performance is spectacular!
The cast of Violent Night is incredible! Not only does it star David Harbour and John Leguizamo, but the matriarch of the Lightstone family is Beverly D'Angelo (Christmas Vacation)! Also starring in the film is Cam Gigandet (Twilight), Edi Patterson (Knives Out), Brendan Fletcher (The Revenant), and Alexander Elliot (The Hardy Boys). Everyone gives a grounded, but also hilarious performance. In lesser hands, this film could easily have fallen into meh camp. But, everyone took this seriously and raises it up to something truly special and entertaining.
Make sure to go see Violent Night on December 2, 2022, in theaters!