I love a family-friendly film. Especially since I'm a giant kid at heart. So, when I saw that Jason Momoa (Aquaman) was getting into the children's film family I had to check it out. Netflix's Slumberland follows a young girl named Nemo (Marlow Barkley – Spirited) who lives in a lighthouse with her father. After a tragic accident, Nemo is sent to live with her estranged uncle, leaving the life she knows behind.
Nemo's father, played by Friday Night Lights' Kyle Chandler, would tell Nemo bedtime stories about how he and his friend Flip would go on wild adventures together. What she doesn't realize is that these escapades would happen in Slumberland – the land of magic and dreams. So, one night Nemo dozes off to slumberland and meets the infamous Flip (Jason Momoa). Next, they go on an adventure to film a magic pearl in order to make her wish come true – to see her father again.
SLUMBERLAND IS FULL OF ADVENTURE AND CHARM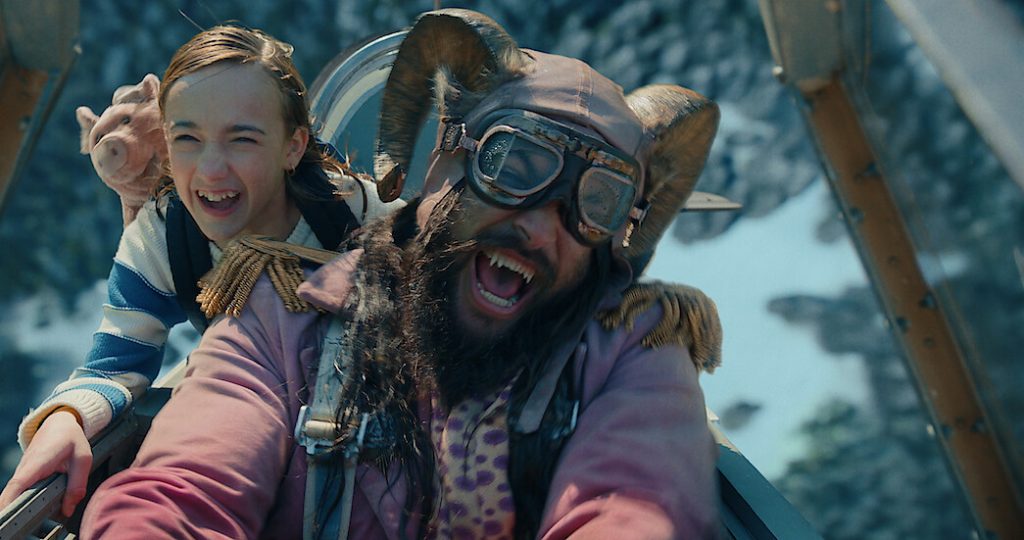 Marlow Barkley and Jason Momoa are absolutely fantastic together in Slumberland. You can tell Momoa is having the time of his life playing the scoundrel Flip. Personally, if he only did Aquaman movies and kid films for the rest of his career I would be stoked! Barkley has the acting chops of someone twice her age. I cannot wait to see how her career grows. She is absolutely one to watch.
Chris Dowd (Bridesmaids) plays the estranged uncle who lives a life completely different from his brother as a doorknob salesman. I loved him in this role. His charm oozes from the screen and his poignant moment in the film isn't a moment to be missed.
ENJOYABLE BUT WAY TOO LONG
I enjoyed the CGI and quirkiness of Slumberland and all the worlds and dreams we were able to explore. That being said, the film clocks in at about 2 hours. For me, that's way too long, especially for a children's film. The extra 30 mins don't buy us anything, and while the story is predictable the runtime seems to drag on the inevitable.
Slumberland premieres on Netflix Friday, November 18, 2022! Make sure to check it out.
Keep Reading: