For those that follow me, you know that I usually do the occasional toy, movie, or comic review. But this week is a little different as I was offered to review a video game from one of my all-time favorite movie franchises, Ghostbusters. That's right Ghostbusters fans, today is the release of the new Ghostbusters: Spirits Unleashed video game on Xbox, PlayStation, and Windows platforms. Based on the Ghostbusters franchise this game features Ernie Hudson (Winston Zeddemore) and Dan Aykroyd (Ray Stantz). Well, thanks to our friends over at IllFonic I was able to receive a copy for the Xbox Series X to check out and review for the living and even the dead.
Ghostbusters: Spirits Unleashed
Ghostbusters: Spirits Unleashed is a fun, multiplayer game perfect for all skill levels. Four proton pack wielding Ghostbusters attempt to catch a Ghost haunting unique locations in asymmetrical multiplayer battles (online or offline). As players progress, they will unlock cosmetics and upgrades for both Ghostbusters and Ghosts to evolve their gameplay experiences. The look and feel will deliver to fans an immersive experience in the universe, allowing them to play out their Ghostbusting fantasies. Whether hunting or haunting, the game is easy to learn and fun to master!

Source: Xbox
Ghostbusters: Spirits Unleashed – The Review
Developed by Illfonic (Friday The 13th: The Game & Predator: Hunting Grounds) is a multiplayer game that teams you up with a team of Ghostbusters or lets you play as a ghost to haunt and cause havoc to the citizens of New York. While this game does tie into the Ghostbusters: Afterlife timeline it does go off on its own story after the start of the game.
So the good this is that the worst part of the game is at the beginning. You start off as a new Ghostbuster and are introduced to the paranormal ghostbusting world by Ray, Winston, and new characters Catt and Eddie. Each of these characters are in charge of different areas and will guide and or help you as a new employee. Now when I said the beginning is the worst part of the game, it is because you have to go through a lot of long dialogues just to finish your training to start playing the game. But once you are done mastering your Proton Blaster, P.K.E. meter, and ghost trap you are ready to take on those pesky ghosts.
Your main area of operation is at the Firehouse. Look at it as your hub for the game. There you can take jobs, upgrade our equipment and interact with the other characters. Once you take a job you will be placed in a team of four characters. Now this team can include bots, random online players, or friends on all platforms. Once hunting your job is to calm citizens, destroy rifts, complete side quests, and of course catch ghosts before the building becomes too haunted. You learn very quickly that teamwork is very important in this game.
Now if you are not feeling like a team player you can also go solo mode by playing as a ghost. Of course, before you can do this you have to go through some more training and yes more scenes that include a lot of dialogs before you can move on. But just like before once that is done the fun starts and now you can play havoc on the Ghostbusters. You do this by hiding your rifts, scaring civilians, haunting and possessing items, and even sabotaging the Ghostbusters' equipment. On top of this, you also get special moves to help with all this chaos. I think I enjoyed this more than being a Ghostbuster.
Game Play
The art and details of the game look good. The Firehouse has a lot of areas to explore and you just might find a few easter eggs and callbacks throughout the film franchise. Also each levels you can play on look amazing. Each of them is different and with their own look and feel it has not got old looking for ghosts or haunting Ghostbusters. The game also gives you an opportunity to earn XP points that will unlock new upgrades and even ghosts that you can play as. The gameplay gave me a "The Real Ghostbusters" Feel and it was just fun.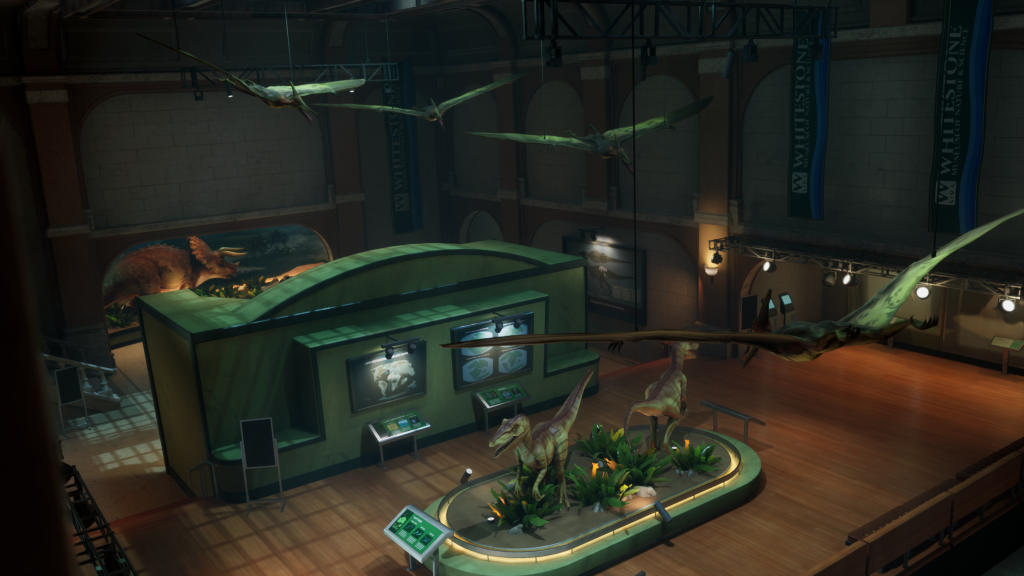 Now as in most new games there were a few demons that popped their ugly heads. There were a few glitches that affected my gameplay. One was there were a few times I would just fall from a ledge or glitch right off the stairs. Also for some reason, there were a couple of times I could not resupply and grab a new trap when mine got damaged. Also while the bots were OK playing as a team they were not as helpful when the ghost was being controlled by an actual person. There were also a few times that the bots would not help me destroy a rift or they would just stand in one place for the whole game.
My Final Thoughts
Overall Ghostbusters: Spirits Unleashed is a fun game. Yes, it is a slow start but once you get past all the training the fun begins. While I did enjoy being a Ghostbuster my favorite part of this game was being the ghost. Also playing with the AI is OK, but it gets a lot better when you are playing with real people. Now, if you are looking for a game with a major storyline this might not be the one for you. But if you are a Ghostbusters fan and love busting ghosts or haunting people you will want to pick this game up. Also with a price tag of $39.99 it is a good value for a fun multiplayer game.
We Want To Hear From You
Are you ready for Ghostbusters: Spirits Unleashed? Is this a must-play game for you? Also, what other games are you looking forward to this year? That Hashtag Show wants to hear from you.
You can tell us your thoughts by leaving a comment below or hitting me up at starwarsnerd574. You can also join me on the That Hashtag Show Facebook page to chat about all things game related. Also, make sure to stay up to date on all the Pop Culture news by following us at ThatHashtagShow.com. More importantly, be safe, I can't wait to see you all at some conventions in 2022.