Amy vs Navy, Georiga vs Florida, and Notre Dame vs USC. Anyone who is a college football fan knows how big these rivalry games are. These games not only give fans and teams bragging rights, but they also determine championships. While these games mentioned and many more are pretty big there is one game that may be one of the biggest rivalries of all time and that is Ohio State vs Michigan. "The Game" as it is known is one where there is no love lost on the field and most of the time has championship implications. Well thanks to Sinclair Broadcasting Group and Tennis Channel Studios (TC Studios), in partnership with DLP Media Group, we are getting a deep dive into "The Game" with their new documentary, RIVALS. You can check out the trailer and details on RIVALS below.
Rivals Ohio State Vs Michigan
Sinclair Broadcasting Group and Tennis Channel Studios (TC Studios), in partnership with DLP Media Group presents RIVALS, a compelling look at the high-profile, storied college football matchup between two of the top Division I football programs in NCAA history—University of Michigan and Ohio State University—narrated by Academy Award-winning actor J.K. Simmons (who was born in Michigan but remains a rabid Ohio Buckeyes fan) and created by L. Jon Wertheim (Tennis Channel reporter, 60 Minutes correspondent, Sports Illustrated senior writer).
RIVALS takes a deep dive into the rivalry between the two teams offering viewers a unique perspective from legendary football players, sports journalists and announcers, scientists historians, and more. Among them are Archie Griffin, the only two-time Heisman Trophy winner; legendary players Dan Dierdorf and Keith Byars; broadcasters Rich Eisen (a rabid Michigan Wolverines fan) and Joel Klatt; historians Jack Park and journalist John Bacon; and veteran journalists from Ann Arbor, MI and Columbus, OH, the respective homes of Michigan and Ohio State. The two-hour documentary special reveals the science and the conflict behind what makes this sports rivalry so compelling, it is historically revered as "The Game."
RIVALS is executive produced by L. Jon Wertheim and Ken Solomon (Tennis Channel president). It is produced by 10-time Emmy winning sports producer Michael Hughes and DLP Media (ESPN 30 for 30) and directed by Peter Karl (The Long Game, American Fútbol).
RIVALS debuts in local markets throughout November across the Bally Sports regional sports networks (RSNs), Bally Sports+, Marquee and YES Network, along with the Sinclair broadcast stations, with a nationwide debut on Tennis Channel Sunday, November 20 at 7:00 p.m./ET. This expansive distribution approach schedules the film to air immediately following highly viewed NBA, NHL and other events on the RSNs and stations, which often lead their local markets in ratings. Michigan and Ohio State—both members of the Big Ten Conference—are scheduled to play Saturday, November 26, after which RIVALS will air on Big Ten Network.
Updated program schedules, a channel finder, show promos, and additional information about RIVALS is at RivalsDocuseries.com, which also offers viewers enter-to-win prize pack opportunities.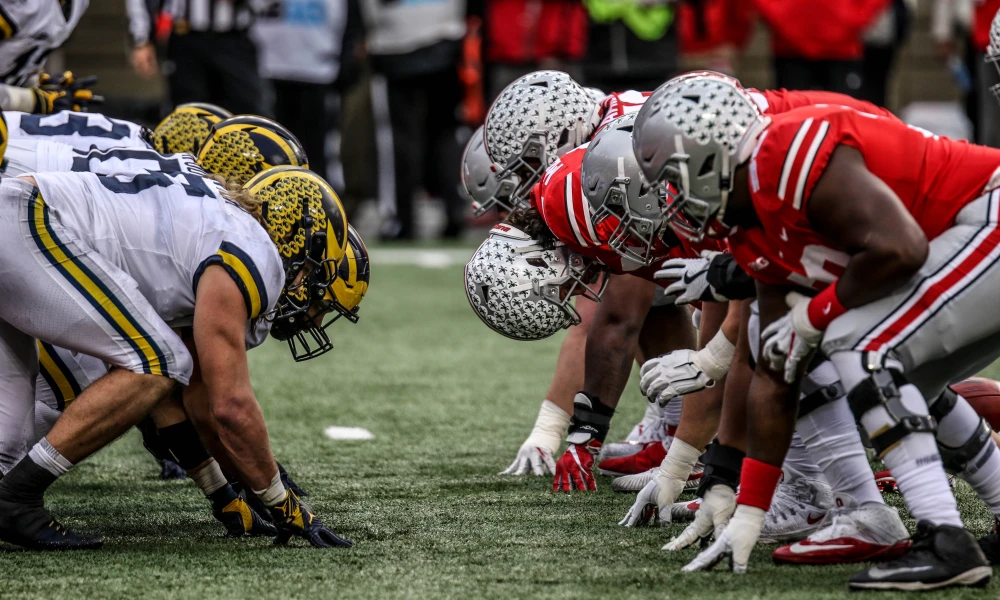 We Want To Hear From You
What are your thoughts on the Ohio State vs. Michigan rivalry? Is RIVALS a must-watch for you? Also, we must know, who do you think will win this year's "The Game". That Hashtag Show wants to hear from you.
You can tell us your thoughts by leaving a comment below or hitting me up at @NerdyVet574. You can also join me on the That Hashtag Show Facebook page to leave your thoughts as well. Also, make sure to stay up to date on all pop culture and movie news by following us at ThatHashtagShow.com.
Source: 42West
SEE ALSO: