Are you looking for new releases in Film or Television to watch this weekend of October 21st!? Well, THS has you covered in our weekly series! So, make sure to come back each week as we compile all of our recommendations for you to check out on your days off.
However, I wanted to break down this list and make it a little more personal. Kind of like when you walk into a bookstore and see the wall of employee recommendations. So, I'll be breaking down this list as to what we at THS are watching, not necessarily every single thing releasing.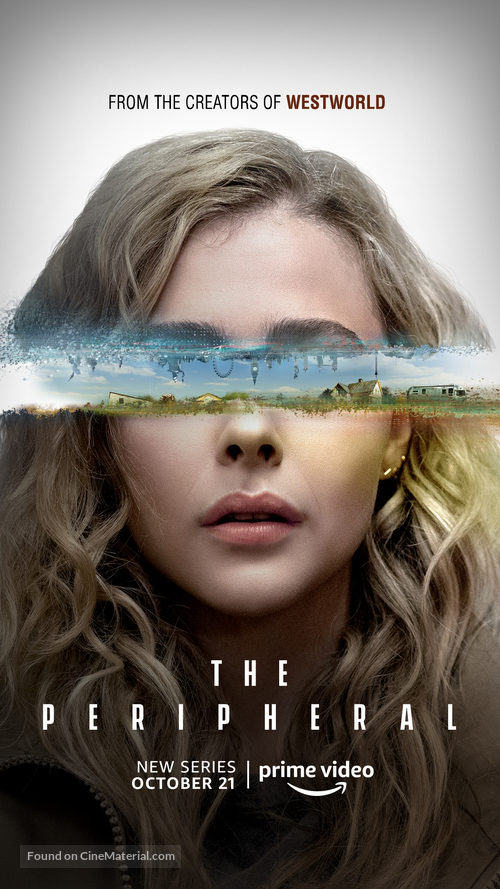 JESSICA'S WATCHING
I love fantasy, so I'm looking forward to checking out The School for Good and Evil on Netflix! Then shifting to sci-fi for The Peripheral on Prime Video. And just generally making the Halloween streaming rounds (Disney+ Hallowstream, Netflix & Chills, Huluween…) for some seasonal favorites.
LAURA'S WATCHING
I'm finally watching Clerks III on Prime Video. Plus the new season of American Horror Story, as well as the latest Chucky episode streaming on FX/Hulu. And the season finale of House of the Dragon on HBOMax. Then of course Ghosts episode thrown in on Paramount+.
SHAWN'S WATCHING
This weekend I will be watching "The School For Good and Evil" on Netflix with my sister. Even though the reviews have not been so kind, I found it to be a really fun time and can't wait to watch it again!
BRIAN'S WATCHING
I'll be away in Vegas this weekend for that musical festival, on that Saturday. But I am planning on watching Peele's "NOPE" on the plane ride there.
DARRYL'S WATCHING
I'm looking forward to trying The Peripheral starring Chloe Grace Moretz on Prime Video, thinking about trying One Of Us Is Lying as I love the books. It's on Netflix here, but Peacock in the states. Finally, I'll try Glitch (Kor) on Netflix.
RHETT'S WATCHING
I will be seeing Andor on Disney+ and also The New Mutants now that it's on the same streaming platform. I'm also watching Star Wars: The Clone Wars episodes, which are also on Disney+. I watched the essential episodes shortly after they came out, but I want to see each episode in the series. Then, I will also see Black Adam in theaters. (I always see films I want to watch in theaters, if possible!)
SARAH'S WATCHING
I'm headed to the theaters this weekend to check out the new Julia Roberts and George Clooney rom-com, Ticket to Paradise. Then, of course, Black Adam!
LINSAY'S WATCHING
I'm looking forward to diving into the next episode of Pennyworth (one of the best DC shows out there) and of course the season finale of House of the Dragon. I'm caught up on Avenue 5 but will be eagerly awaiting the next episode on Monday. All of these are currently streaming on HBOMax. I'm also going to check out the series premiere of The Peripheral on Prime Video.
BENJY'S WATCHING
I do wish to watch Spy x Family on Crunchyroll and then go back to watching Amphibia on Disney+. Although again, I do point out that Bleach: Thousand-Year Blood War just recently premiered on Hulu only and is getting a lot of attention. (Hint, hint)
JJ'S WATCHING
I'll be watching the season premiere of 'The Peripheral' starring Chloe Grace Moretz on Amazon Prime Video.
NEW RELEASES – WHAT ELSE YOU CAN WATCH THIS WEEKEND?
NEW IN THEATERS OCTOBER 21ST!!
Black Adam
Black Adam, a corrupted, ancient Egyptian predecessor of Captain Marvel, fought his way to modern times to challenge Captain Marvel and his Marvel Family associates. But he becomes a corrupted antihero attempting to "clear his name."
Ticket to Paradise
A divorced couple journeys to Bali to stop their daughter from getting hitched.
The Good Nurse
Registered nurse Charlie Cullen is a favorite son, husband, beloved father, best friend, and celebrated caregiver. But Cullen is also a nightmarishly prolific serial killer, implicated in the deaths of hundreds of people. After his December 2003 arrest, he is quickly dubbed "The Angel of Death" by the media.
My Policeman [LIMITED]
The story centers around a love triangle between Tom, and two people who are madly in love with him.
The Banshees of Inisherin [LIMITED]
A pair of lifelong friends on a remote Irish island find themselves at an awkward time in their relationship when one of them no longer wants to be friends.
American Murderer [LIMITED]
Based on a true story, this riveting thriller follows Jason Derek Brown (Tom Pelphrey), a charismatic con man bankrolling his extravagant lifestyle through a series of scams. On Brown's trail: Lance Leising (Ryan Phillippe), a dogged FBI special agent determined to put Brown behind bars. When Brown's funds run low and his past catches up with him, he ploBased on a true story, this riveting thriller follows Jason Derek Brown (Tom Pelphrey), a charismatic con man bankrolling his extravagant lifestyle through a series of scams. On Brown's trail: Lance Leising (Ryan Phillippe), a dogged FBI special agent determined to put Brown behind bars. When Brown's funds run low and his past catches up with him, he plots his most elaborate scheme yet,pitting himself against Leising in a deadly game of cat and mouse — and becoming the most unlikely and elusive fugitive on the FBI's most-wanted list.
Wendell & Wild [LIMITED]
Two scheming demon brothers must face their arch-nemesis, the demon-dusting nun Sister Helly, and her two acolytes, the goth teens Kat and Raoul.
NEW VOD OCTOBER 21ST!!
Beyond the Neon
Based on true accounts, a Las Vegas escort is recognized by her sister in a viral social experiment video. Looking to reunite the sisters, and secretly motivated to capture the reunion on camera, Joey Salads and his apprehensive crew are thrown into the dangerous and corrupt world of escorting, documenting every step of their desperate effort to rescue the woman from human sex trafficking in Las Vegas.
The Loneliest Boy in the World
A modern fairytale—except with zombies. When the sheltered and unsocialized Oliver is tasked with making new friends after the sudden and devastating death of his mother, he discovers that his newly acquired friends have mysteriously come to life overnight, launching them all into a series of misadventures as they try to keep their secret safe from neighbors, classmates and social workers alike.
Three Wishes for Cinderella
Scandinavian pop star Astrid Smeplass stars as the title character in this Norwegian fairy-tale reimagining, where Cinderella is out to find true love and also escape her stepmother's tyranny.
Dangerous Game: The Legacy Murders
Jonathan Rhys Meyers (Vikings) and Academy Award® Winner Jon Voight (Coming Home) star in this nailbitingly suspenseful thriller filled with twists and turns. A family reunion at a remote mansion takes a lethal turn when they are trapped inside and forced to play a deadly survival game where only one will make it out alive.
Slayers
Kick-ass vampire slayer, Elliot Jones (Thomas Jane), made it his life's mission to take revenge on the bloodsuckers who murdered his teenage daughter. After years of tracking them, he has finally reached their secret and hidden base. But to get to them he will need to use a motley crew of social media superstars. Enter 'The Stream Team': party-girl Jules (Abigail Breslin), gen-z pro-gamer Flynn (Kara Hayward) and their team of trend-makers and breakers!
With a hundred million-plus combined followers, they have attracted the attention of reclusive billionaire Beverly Rektor (Malin Akerman), who invites them to party at her multimillion-dollar vacation compound. They soon discover these rich people are none other than the ancient vampires that Elliot Jones is chasing. When the team is being held captive in a house of horrors to serve the vampires plan to take over the world, Elliott is their only hope of survival. As he links up with Flynn, a slayer in her own right, will he take down the vampire hoard and save The Stream Team?
Slash/Back
Maika and her ragtag friends discover an alien invasion in their tiny arctic hamlet, and it's up to them to fight back. Utilizing makeshift weapons and their horror movie knowledge, the aliens soon realize that you don't mess with the girls from Pang.
NEW ON SHUDDER OCTOBER 21ST!!
V/H/S/99
V/H/S/99 harkens back to the final punk rock analog days of VHS, while taking one giant leap forward into the hellish new millennium. In V/H/S/99, a thirsty teenager's home video leads to a series of horrifying revelations.
NEW ON AMC+ OCTOBER 21ST!!
CHECK BACK NEXT WEEK
NEW ON PARAMOUNT+ OCTOBER 21ST!!
Inside Amy Schumer Season 5 premiere
Amy Schumer presents her elevator pitch for why Colorado is the premier destination for a last-minute trip, and why you should at least keep it on your radar (uh, just in case…).
NEW ON HBOMAX OCTOBER 21ST!!
Mama's Boy Documentary
Mama's Boy is an HBO Original documentary that centers around the upbringing of Academy Award-winning screenwriter Dustin Lance Black and how his close relationship with his mother led to and inspired his activism. Coming to HBO Max October 18.
Year One: A Political Odyssey
On the frontlines in unprecedented times. #YearOne: A Political Odyssey, an original documentary that follows President Biden's inner circle through his first year in office during one of the most tumultuous periods in half a century, premieres October 19 on @hbomax.
The Fastest Woman On Earth Documentary
The Fastest Woman On Earth follows Jessi Combs' epic seven-year quest to break the land speed racing records. Stream the documentary on HBO Max on October 20.
NEW ON DISNEY+ OCTOBER 21ST!!
Disney "Hall of Villains" Halloween Special 🎃
Happy Halloween from Disney Channel! Super star host Meg Donnelly (ZOMBIES) takes you on a journey down a haunted hallway where behind every door awaits a villain-tastic surprise…
NEW ON NETFLIX OCTOBER 21ST!!
The Stranger
A small circle of seasoned undercover cops must pose as a vast and influential criminal network to catch a murderer who has evaded conviction for eight years.
The School For Good and Evil
Ordinary boys and girls are kidnapped from their homes and sent to The School for Good and Evil, where they are trained to be fairy tale heroes and villains, princesses and witches. Sophie, a beauty, is dumped into the School for Evil while her homely best friend Agatha is taken to the School for Good. Both girls find their fortunes reversed and are forced to confront the truth about their unexpected destinies.
Waffles + Mochi's Restaurant (Season 2)
The new season features familiar faces like Mrs. Obama and world-renowned chefs, home cooks, kids and celebrities from all over the globe who all share the same passion for food and fun!
Gabriel Iglesias: Stadium Fluffy
Gabriel Iglesias' new standup special STADIUM FLUFFY debuts globally October 18.
Unsolved Mysteries Volume 3
Are you ready to solve a mystery? The global phenomenon returns with nine new mysteries in Volume 3. Join the search and perhaps you may be able to help solve a mystery.
Notre Dame (Limited Series)
This limited series takes place during the night that Notre-Dame burned. It's about the destiny of men and women who have their own fire to put out. As the Paris firefighters try to stop the flames from spreading in the Cathedral, the show also follows characters being put through the wringer – they will have to fight each other, love each other, come across each other, hate each other, smile at or help each other – so that, in the end, they may have a chance to start all over again.
The Green Glove Gang
After a failed robbery, the elusive gang of three noble thieves: Zuza, Kinga and Alicja hides in a quiet nursing home. While the police are on their heels, the gang continues their activities at the center, giving its elderly residents a second youth.
28 Days Haunted
Four adventurous teams of paranormal investigators will be hand-picked and given the chance to participate in the most extreme Paranormal experiment of all time. If any of these teams can last 28 days in a terrifying, haunted location, they'll gain acclaim and recognition for being a part of the most important advancement in paranormal research in the last several decades.
From Scratch
Meet Amy and Lino – a love story for the ages. Inspired by the New York Times Best-Selling Memoir, From Scratch is coming October 21, only on Netflix.
NEW ON HULU OCTOBER 21ST!!
Matriarch
Afflicted with a mysterious disease after surviving an overdose, a woman returns to her childhood home to confront her personal demons but instead discovers a real one.
NEW ON PEACOCK OCTOBER 21ST!!
CHECK BACK NEXT WEEK
NEW ON APPLETV+ OCTOBER 21ST!!
Raymond & Ray
The story of two half-brothers who reunite at the funeral of their father.
NEW ON PRIME VIDEO OCTOBER 21ST!!
The Peripheral Season 1
KEEP READING