FOR THOSE OF YOU WHO HAVE YET TO SEE THE SCHOOL FOR GOOD AND EVIL, THIS IS A NON-SPOILER REVIEW.
When I saw the first teaser trailer for The School for Good and Evil… I'm not going to lie, I rolled my eyes and completely dismissed it. Something about it felt like it was a cheap knock-off trying way too hard. But, then more promotional material came out for it and I began to be intrigued, mostly because of the A-list cast and the fact that Paul Feig was directing. So, I went into this film with an open mind, knowing that it could either be actually pretty good or really, really bad.
A ROCKY START…
And after the first twenty minutes, I almost turned it off… because all of my worst fears I had about this movie were coming to fruition. Good & Evil starts off a complete and utter mess, jumping around from one exposition dump to the next, with cringe dialogue and awful special effects. All I could think was, "Here comes Netflix ruining another potentially great project." But, I decided to give it another fifteen minutes, before I turned it off for good… And Thank God I decided to wait.
WHEN DOES THE FILM START TO FIND ITS GROOVE?
Once our two leads are plopped into this magical realm and start their courses at The School for Good and Evil, Paul Feig's movie comes alive. I quickly became swept up in this fairy tale and could not get enough of it. It's honestly shocking to me how much the film improves after its first act… most notably with its special effects. Which went from looking like the SciFi Channel circa the year 2000 all the way to first-rate blockbuster-worthy, in the blink of an eye. Also, our two lead actresses, Sophia Anne Caruso and Sofia Wylie, seem to evolve from being a little awkward on screen to much more comfortable and compelling, as the film progresses.
HOW IS THE ENSEMBLE CAST?
There are so many things about this film that pleasantly surprised me. Starting with the A-list cast, from the great Cate Blanchett narrating, to Charlize Theron and Kerry Washington as the deans of the school, Laurence Fishburne as the headmaster to the enormous ensemble of young actors who fill the halls. Everyone in this film looks and feels like they are having the time of their life here. The veteran actors are chewing the scenery and the young performers are able to go toe-to-toe with them. It's very much like Harry Potter, obvious comparisons aside because nearly every actor is given their time to shine, besides a criminally underused Michelle Yeoh.
SOME OF THE BEST SET PIECES OF THE YEAR…
I also have to commend the filmmaking team for crafting some wildly creative and awe-inspiring set pieces here. From jack-o-lantern reaper attacks, tattoos coming alive and turning into fire birds, swirling blood spells, wish-fulfilling minnows and even a cheesy Wish Upon A Star-like scene set to Billy Eilish's "You Should See Me In A Crown"… The School For Good and Evil has so many memorable moments, that you will surely want to go back and revisit them. Notoriously known as the best-dressed man in Hollywood, co-writer and director Paul Fieg is able to showcase his impeccable taste in every frame of his movie. And elevate the material at every turn.
HOW DOES IT COMPARE TO HARRY POTTER?
Speaking of the material… While I think it cannot be denied that it's blatantly Harry Potter-inspired… I think this does an admirable job of setting itself apart. It's hard to explain, but there's something about the Harry Potter books and movies that gives you a feeling of exhilaration when the characters head off to Hogwarts. Well, I'm not going to say I got that same exact feeling here, but I certainly got something like it. And that is a sensation that is hard to reproduce. So, I would say that it takes and replicates the things that made the Potter universe so great… and then branches off and does its own thing from there.
THE PG-13 RATING HELPS…
What's more, I'm really glad that they went for a PG-13 rating, because it allows Good and Evil to have a harder edge when need be. Now, don't get me wrong, there's only some light cursing and violence here… nothing that will make parents' heads spin. But, that extra little bit of mature material goes a long way in distancing this from being just a Disney Channel Original-carbon copy. At its core though, it does have many of the same attributes as classic DCOM's like Halloweentown, Twitches, and Descendants… yet, in a good way. It's able to find the right balance of delivering everything that that age group would want, while also appealing to the demographic who grew up on those films when they were originally released.
DOES THE FILM HAVE ANY GOOD UNDERLYING MESSAGES?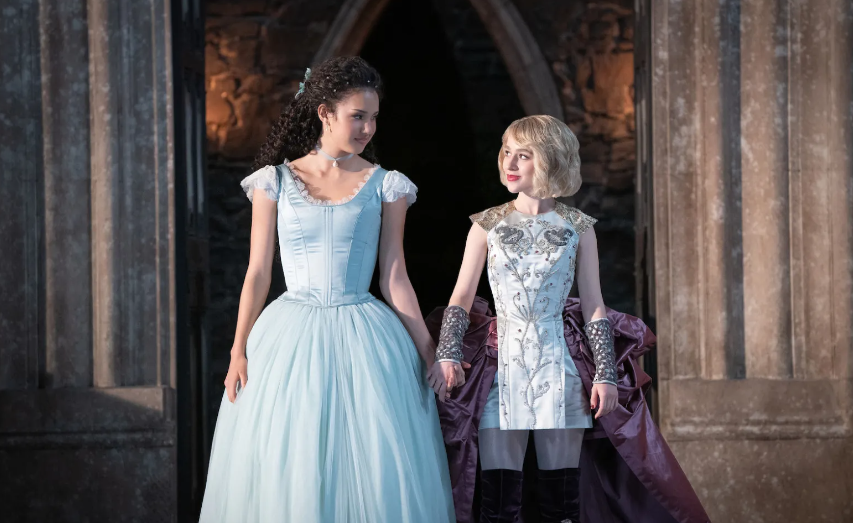 And to add a cherry on top, I really loved a lot of the film's underlying messages. Like how choosing empathy is one of the bravest things you can do and that, it is possible to rise above labels and not be defined by them. These ideas might not be anything new, but they are communicated here in a thoughtful way. And they make this movie feel like it has a greater purpose than simply being surface-level fluff.
IS THE MOVIE ABLE TO RISE ABOVE ITS ISSUES?
Is this movie way too long? Yes. At 2 and a half hours, though it does give it an epic quality, there are definitely moments you can feel the run-time. And is it cheesy? Absolutely. Even though most of the really terrible dialogue is just at the beginning, The School for Good and Evil continues to be over-the-top, melodramatic, and campy for its entire duration. But, I think one of the reasons this film works so well, and where many projects like this go wrong, is that it never takes itself too seriously. This movie knows what it is and what it's here to do… entertain its audience. And I must say, I was thoroughly entertained. So much so, that I can't wait to return to this world as soon as possible.
The School for Good and Evil is Streaming Now on Netflix.
For More Reviews, make sure to Stay Tuned to That Hashtag Show!
Keep Reading: