It seems that BEASTARS (AKA: Dark Zootopia: The Anime) is working on the 3rd and final season of the anime. Unfortunately, it seems that it will be quite a while before we actually get to see it.
The Last Season of Dark Zootopia?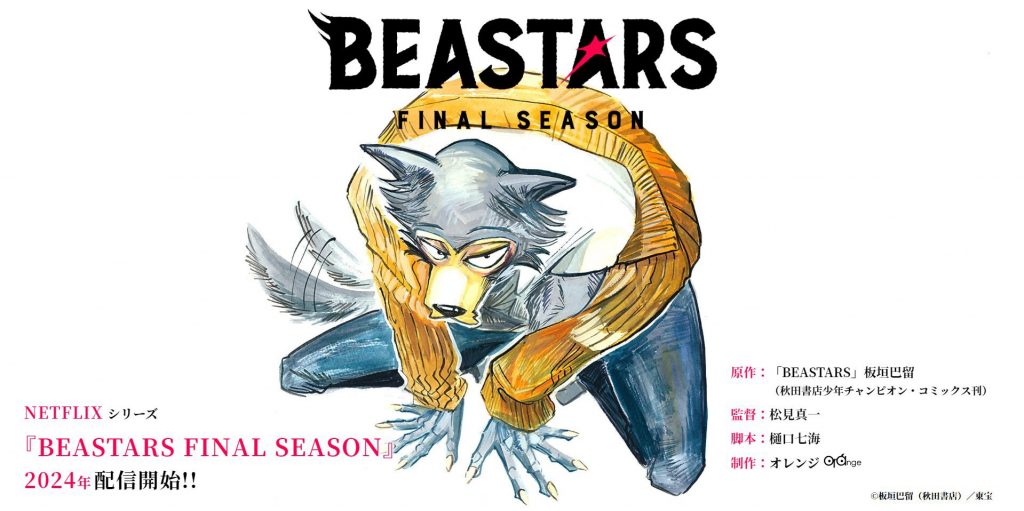 The official website for BEASTARS (in addition to the official Twitter account of Orange) just announced that the anime will return for a 3rd and final season. The announcement comes with that key visual above, showing our hero Legoshi as a quietly happy boy. What else do you call that serious and brooding expression combined with the furiously wagging tail? I guess he's excited about that last season as well.
Unfortunately, that key visual also gives us a release window for the anime. Why is it unfortunate? Well, according to that key visual, BEASTARS season 3 will make its debut sometime in 2024. That means it will be a while yet before we actually see the last season of this anime. Even worse: we still don't have an exact release date besides that vague year. Presumably, we'll get a more specific release date later as we get close to 2024. Tune back into THS at a much later date to find that out when we do.
BEASTARS: Details
BEASTARS is the anime adaptation of the fantasy drama coming-of-age manga of the same name by Paru Itagaki. Orange (Majestic Prince, Land of the Lustrous, Godzilla Singular Point) is the animation studio behind this anime. Shin'ichi Matsumi will return as the director for season 3, with Nanami Higuchi also returning to write the screenplay. Lastly, Netflix is licensing the anime for its international release.
As for what BEASTARS is about? Well, Netflix have an official synopsis for the anime on its page on the streaming service. Check it out below:
"In a world where beasts of all kinds coexist, a gentle wolf awakens to his own predatory urges as his school deals with a murder within its midst."
You can catch up on seasons 1 and 2 of BEASTARS only on Netflix. You know, because this anime is a Netflix exclusive. This also means that you'll need to pay up for a Netflix account to watch this anime.
Source: bst-animation.com, Twitter
KEEP READING