FOR THOSE OF YOU WHO HAVE YET TO SEE THE RINGS OF POWER, THIS IS A NON-SPOILER REVIEW.
Anyone that follows my channel/writing closely, knows that I am a huge Lord of the Rings fan.  The original Peter Jackson Trilogy are three of my favorite films of all time and I grew up reading the books religiously.  After the mediocre Hobbit movies, there was a part of me that thought it would be a very long time until we were able to visit Middle Earth again.  But, here we are, with Amazon Prime's prequel television series The Rings of Power… which has taken much of the lore from J.R.R. Tolkien's vast appendixes and expanded upon them.  Deemed the most expensive series ever made, with Amazon Prime reportedly spending $715 million on the series so far (which includes the massive $250 million they spent on the rights alone)… Was this show worth the investment?
WAS AMAZON'S INVESTMENT IN THIS SERIES WORTH IT?
100% it was. 
With HBO and Netflix stealing the hearts and minds of fantasy and sci-fi lovers this year with House of the Dragon and Stranger Things respectively… Amazon obviously needed a piece of the pie too.  I respect the hell out of the filmmakers for not just lazily putting something together to cash in quickly.  They have clearly put so much love and care into the creation of The Rings of Power… and it is apparent in every frame of these first two episodes. 
From the small, intricate details all the way to the most enormous of set pieces, you can tell that showrunners Patrick McKay and John D. Payne have crafted a series for the die-hard fans out there.  I truly believe, at least from what I have seen so far in these first two episodes, that this show would have brought Tolkien some real honest joy.
WHAT IS THE RINGS OF POWER ALL ABOUT?
Though we are still getting into the nitty-gritty of what this show will actually be about, it begins with Galadriel, thousands of years before Frodo's quest to Mordor. She is on the hunt to vanquish evil from the land… and while her High King is dead-set on announcing to the realm that all threats have been eradicated, she is not so quick to jump to those conclusions. We also follow an adventurous Harfoot girl named Nori who yearns to spread her wings from the simple life of her people, King Elrond and Prince Durin of the Dwarves, as well as an elven soldier named Arondir and a Bronwyn, a human healer trying to raise her precarious young son on her own.
HOW DOES THE SHOW HANDLE ALL OF THE CHARACTERS?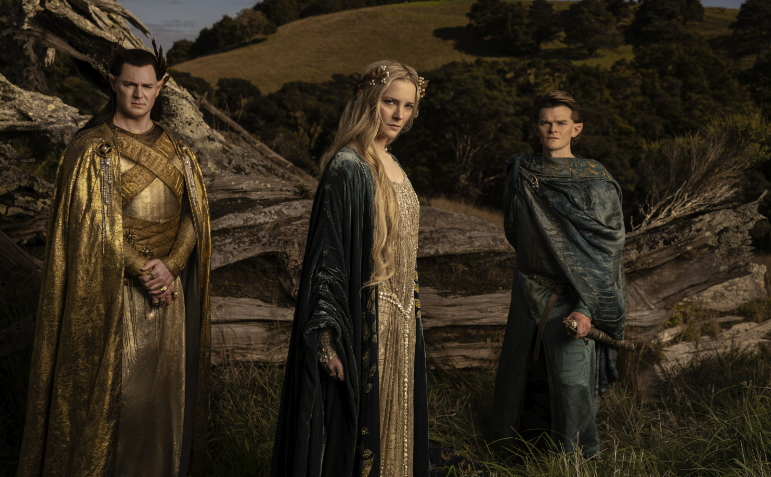 The ensemble is already vast and every couple of minutes, we get a new important character receiving their debut.  But, just like in Peter Jackson's films, each one of these players feel clearly defined and get a memorable introduction… so, I'm not feeling overwhelmed or bombarded by all of these plot lines and character arcs, yet at least.  The showrunners are doing a great job in both of these episodes by delegating time to each of the plot threads and allowing them to flourish, without overstaying their welcome.  It will be integral to the series' success that the writers don't get excessively overambitious by adding too many characters to their plate.  Especially, before they flesh out the ones they have already brought to the forefront first.
WHO ARE THE STAND-OUTS IN THE SHOW?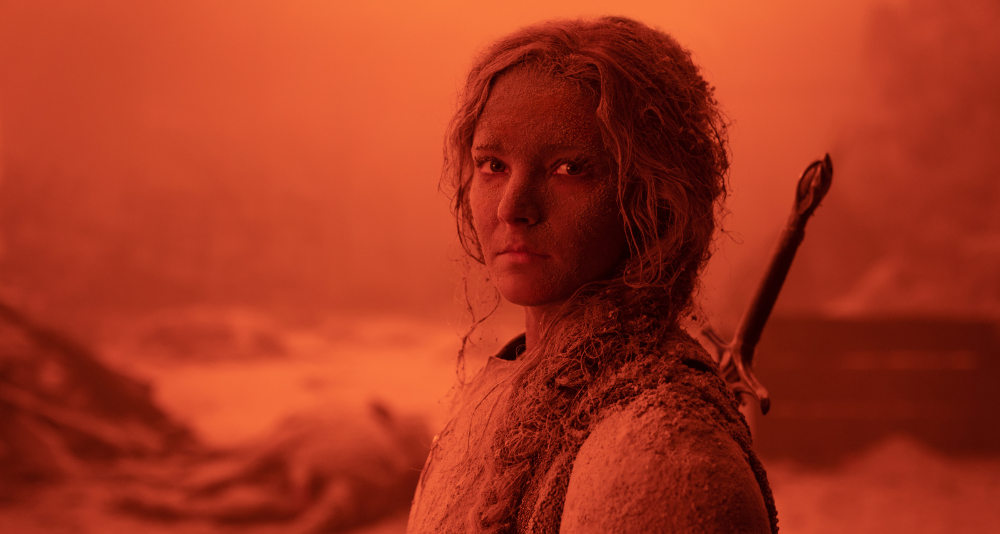 If I were to pick any stand-outs, which is difficult because there are many… I think the undeniable choice would be Morfydd Clark's Galadriel.  The young actress who burst out onto the scene as the title character in the horrific Saint Maude, proves here as well, that she is a force to be reckoned with.  I'm sure it wasn't easy following in the footsteps of the incredible Cate Blanchett, but she has already made the role her own.  By taking the mysterious and ethereal aspects of the character, but also making Galadriel a tough-as-nails bad-ass, as well. 
Out of the new characters, who I believe were created just for the show… Ismael Cruz Cordova as the elven soldier Arondir, has certainly piqued my interest.  His bond with one of the other characters, as well as him being displaced from his station and thrown into chaos, is proving to be the most gripping story arc for me, so far.  Also, I just have to give a shout-out to the orcs. Who have already provided a few horrific thrills and jump-out-of-your-seat moments… with this being just the beginning of the season, I can't wait to see what these nasty creatures will be up to next.
HOW IS THE PRODUCTION VALUE?
As for the production value of The Rings of Power… I don't think there has ever been anything made exclusively for television that looks and feels as gorgeous and epic, as this series does. Every penny obviously went to good use. From the make-up, costume, production and creature design, to the exemplary CGI effects, the breathtaking cinematography and on-location shooting, the goosebump-inducing score by Lord of the Rings' composer Howard Shore as well as, Bear McCreary…
All the way to the inspired art direction, which feels like the lovechild of Peter Jackson's vision of Middle Earth and the illustrations of Alan Lee and Tolkien, himself. All of it comes together to create such a cinematic experience… and I hope Amazon ends up doing more theatrical runs of these episodes in the future. Because all of the work put into this show really deserves to be seen on the big screen.
WHAT IS GOING TO KEEP AUDIENCES COMING BACK FOR MORE?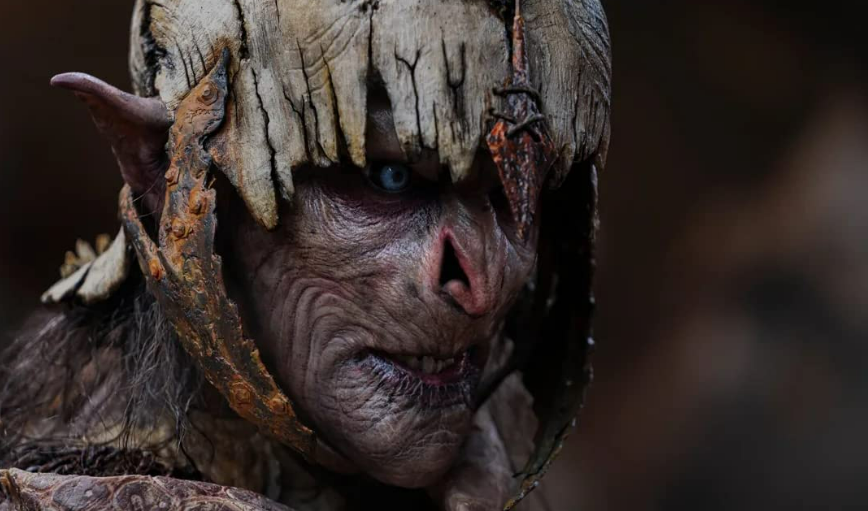 The one issue that I have with these first two hours, is that I am severely missing a hook to keep me coming back for more.  In The Lord of the Rings, Frodo's quest is put front and center; that's what keeps us invested in the entire saga.  While all of the other story arcs and characters contribute to the world-building and intrigue…The simple fish-out-of-water journey is the sturdy foundation of it all.  And with The Rings of Power, that foundation has not been built yet.  We have all of these compelling characters and a threat of evil looming… but, not much else tangible to grab onto.  If audiences are going to keep coming back week after week, there needs to be more mystery, more emotion, and a concise central motive for us to rally behind. 
BRING ON THE REST OF THE SEASON…!
With all of that being said, there are six more hours left to go of Season One.  Just the thought of getting to return to Middle Earth every Friday, for a month and a half… fills my giddy fanboy heart with glee.  I couldn't have asked for a better beginning to this series.  While people will probably start The Rings of Power conversation with how much damn money it cost to produce, just as I did with my review… I can't see them finishing that conversation, talking about anything other than how great it actually turned out.  
The Lord of the Rings: The Rings of Power Premieres on Amazon Prime on September 1st, 2022.
For more Reviews, make sure to Stay Tuned to That Hashtag Show!
Keep Reading: