FOR THOSE OF YOU WHO HAVE NOT YET SEEN SEASON TWO OF ONLY MURDERS IN THE BUILDING, THIS IS A NON-SPOILER REVIEW. [HOWEVER, MINOR SPOILERS OF SEASON 1 AHEAD]
Only Murders in the Building Season One proved to be one of the most pleasant surprises of 2021. Re-teaming comedy legends and dear friends Steve Martin and Martin Short, throwing in pop icon Selena Gomez and taking clear advantage of the true-crime phenomenon we are experiencing… the showrunners crafted an edge-of-your-seat, hilarious, and deliciously sweet little show, that really took the world by storm. Hulu, instantly realizing that they had a mega-hit on their hands, rushed to greenlight a second season… and here we are, not even a year later with Charles, Oliver, and Mabel's return to our screens. And even though I think the writers could have used a little more time to tighten up the story in Season Two, Only Murders In the Building skips its sophomore slump, for another joyously entertaining mystery.
Only Murders in the Building – WHAT IS THIS SEASON ALL ABOUT?
Without divulging any spoilers… our showrunners throw us right back where we left off. With our podcasting trio being questioned for the murder of the uptight president of their apartment building, Bunny Folger. Though they are released due to a lack of evidence, their every move is being watched. And they have been warned not to continue with their beloved podcast by the authorities. But, a copycat project is being released. One that is attempting to smear their names, so they decide to do what is necessary to clear them.
In the eight episodes (out of ten) that were released to critics, we see our protagonists deal with red herrings, an art heist, hidden passageways, a bevy of celebrity cameos, secret agendas, vendettas, voyeurism, and a ridiculous amount of dips. Though it might feel like a whole lot of the same, that's not necessarily a bad thing, because just as one of our cameos says in the first episode "there's something cozy about Only Murders in the Building". That feeling of familiarity feels comfortable and makes this show a breezy watch, but there are certainly enough new, fresh ideas here to keep you intrigued.
IS THIS SEASON AS MESSY AS THE CRITICS ARE SAYING?
A lot of critics have been saying that this new season feels very messy. And though I don't disagree with them, I also felt that way about the first season. If anything, the mystery of who killed Bunny feels more focused and clear. Like the writers had actually planned every little piece of the puzzle and how each piece would come together. Though I do feel like the mystery this time around is mildly less suspenseful and thrilling, than the one we got before… with the constant threat of our heroes being implicated by the police, I found it to still be gripping, nonetheless.
What feels a little more haphazard to me, are all of the little subplots and story threads that get brought up in one episode, only to feel like the writers have forgotten about them in the next. For example, all three of our protagonists have future endeavors that seem important at the beginning. But, they instantly get sidelined for the main mystery at hand. I also feel like the showrunners are doing their best to bring back fan-favorite supporting players from the first season, but with all of the new characters coming in to play… sometimes Only Murders can feel cluttered and those old characters neglected. Now, once again, Hulu only provided eight out of the ten episodes of the season (to make sure the ending doesn't get spoiled)… So, hopefully, these loose story threads get cleared up in those final two installments.
HOW ARE MARTIN, SHORT, AND GOMEZ THIS TIME AROUND?
Steve Martin and Martin Short continue to be sublime in this series, their brilliant banter with one another is just as knee-slapping hilarious as it was in the first season, or even more so. Short, in particular, seems to be completely in his element, as his one-liners, ridiculous similes, and facial expressions all had me howling with laughter from the get-go.
I will say that Selena Gomez's performance is definitely an acquired taste… As I had a lot of peers who thought she was awful in the first season. I wholeheartedly disagree with them. Though it did take me a couple of episodes to warm up to her dead-pan delivery, both times around. Where you can really see her performance come through, is when the three of these actors are performing together… their chemistry is on fire, and you can feel their adoration for one another in every scene that they share. This truly makes me excited to see where this series goes… I feel like Only Murders could have a very successful and extended run, off of their chemistry alone.
DOES THE META-COMEDY WORK?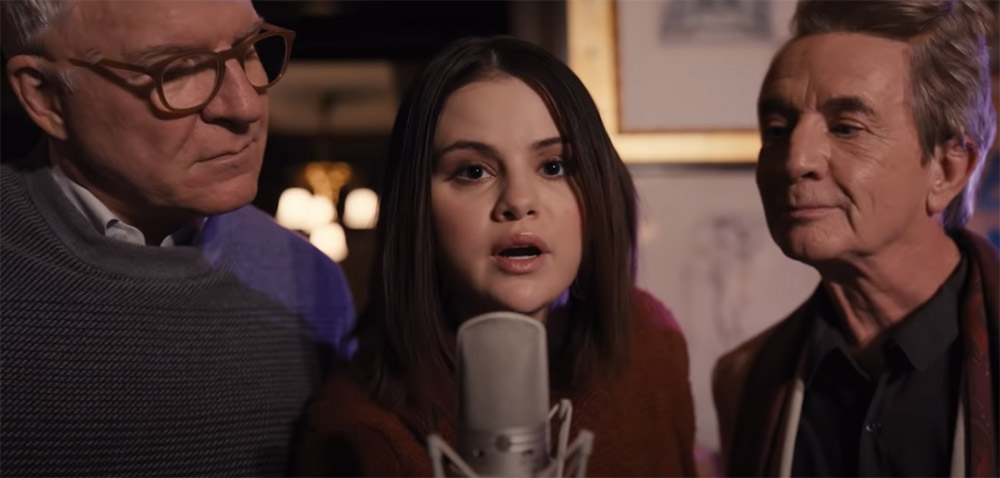 I also found that the abundance of meta-humor in this season worked in the show's favor. Through the presence of their podcast… There's talk about how second seasons do usually have sophomore slumps and a lack of material, and how creators can often sell out by allowing their work to be replicated or adapted into, say a "series on a major streaming platform". All of this meta-comedy allows the show to poke fun at itself and at a society that ingests so much content. All the while forgiving some of this season's minor missteps. It's yet more proof that the writers of Only Murders are completely self-aware. And know exactly what they are doing.
HOW DOES THIS SEASON COMPARE TO THE FIRST?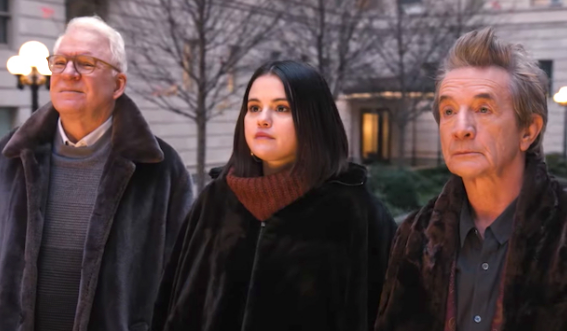 So, is this season better than, just as good or worse than the first? For me, I'm going with just as good… and that is extremely high praise, as the show ranked in my Top 5 Television Series of last year. Though I do think for Round 3, the showrunners are going to have to really mix things up to keep this series from going stale… I was so thrilled to return to the Arconia to re-visit all of these delightful characters and to once again, plunge myself into another spine-tingling mystery. This is definitely a series that I will keep coming back for more of… As long as Gomez, Short and Martin are along for the ride too.
Only Murders in the Building Season 2 premieres its first two episodes on Hulu June 28th, 2022.
For more Reviews, make sure to Stay Tuned to That Hashtag Show!