After all of the heavy drama and tragedy that marked Loid's backstory in the previous chapters of Spy x Family, we could all use a fluffy break. And what better fluff could there be than fluff involving the Forgers' fluffy family dog: Bond?
Spy x Family Ch. 62.4: Details
Spy x Family Ch. 62.4 is the latest chapter of the manga by Tatsuya Endo. Unlike the 3 previous chapters of this manga (you can read reviews for Ch. 62.1, Ch. 62.2, and Ch. 62.3 here), this doesn't continue Loid's story arc. Rather, it's a self-contained one-shot chapter with its own independent storyline as a break from the drama and tragedy of said story arc.
Spy x Family Ch. 62.4 released on May 29, 2022. You can read it for free on Shonen Jump on Viz Media. This chapter will remain free for 2 chapters after this one. When the third chapter after this one released, this chapter will go into Shonen Jump's vault, and thus you will need a paid subscription to read it.
Spy x Family also now has an anime adaptation. You can watch it exclusively on Crunchyroll. Bear in mind though that all episodes past Ep. 3 require a premium account to view, so you need to shell out some cash for that. Fortunately, Ep. 1-3 are still free with ads despite Crunchyroll's deadline of May 31, 2022 as of this writing.
Warning: spoilers for Spy x Family Ch. 62.4 below. If you want to watch the doggy romance for yourself, stop here, and come back once you've returned the caterpillar. It makes sense in context.
Spy x Family Ch. 62.4: Plot Summary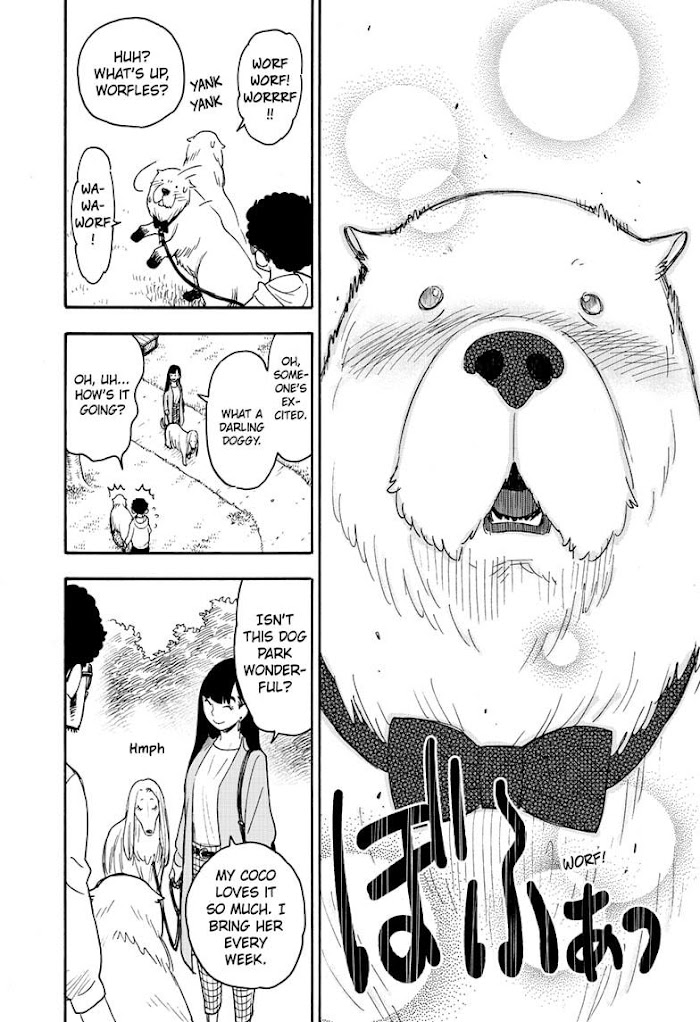 Spy x Family Ch. 62.4 starts us off with Franky taking the Forgers' family dog Bond out for a nice stroll in a nearby park. Then everything changes when Bond spies a pretty lady dog, and Franky spies her equally as pretty owner. From that moment on, man and dog come to an agreement, and hatch a plan to woo their respective love interests.
The result is that the next week, after the duo convinces Yor to let Franky take Bond out for a walk instead, Bond gets to spend a day alone with the lady dog (whose name is Coco), while Franky is doing the same with the Coco's owner in the background. Bond tries to impress her by running over a wooden dog bridge thing (I have no idea what it's actually called), smoothing down his fur by dunking himself in a fountain in an attempt to emulate Loid's slicked-back hair look, and giving her a romantic present. All of those plans fail worse and worse. The present, which is a swallowtail butterfly caterpillar from the looks of it, is the final straw for Coco. She bats the caterpillar right back in Bond's face, ruining his adorably romantic plans, and runs back to her owner for comfort.
Said owner had been busy being weirded out by Franky, and then creeped out by a sudden declaration of love from him. With a slap to Franky, the owner decides to go home with her doggy, and find a new dog park. One that does not contain a creep and his weird dog. Thus, man and dog went home thoroughly defeated, and a "bond" was forged between them. Thus ends Spy x Family Ch. 62.4.
Spy x Family Ch. 62.4: The Good
Spy x Family Ch. 62.4 is the fluffy break we need from the heavy melodrama and tragedy of Loid's backstory. Sure, the plot isn't as heavy as Loid's backstory, but it's still a great story that actually develops both Bond and Franky as characters. Both of them are desperate for romance, and Franky even gives Bond advice for what he thinks would work on a lady dog. Granted, the advice turned out to be worse than useless, but it was still advice Franky gave from his heart. It does deserve…something, at least.
The only difference is how adorably innocent Bond is versus how sleazy Franky comes off as. Seriously, the background events going on panel by panel in which Franky is trying very unsuccessfully to romance Coco's owner is as hilarious as it is cringeworthy. Whereas Bond's attempts at romance come off as pathetically adorable. Tatsuya Endo really did a great job depicting both Bond and Franky here, and I do hope for more of them later. Especially since we never did see how Franky reconnected with Loid following his escape.
Spy x Family Ch. 62.4: The Bad
My only complaint about Spy x Family Ch. 62.4 is how short it is. It fits the one-shot nature of this mini-story, but I wish there could've been more fluff to make up for Loid's backstory arc. Still, Tatsuya Endo will no doubt have more fluff incoming in the next chapter, so this is a minor complaint from me. Great job, Endo-sensei. Keep it up!
Source: Viz Media