What a week for Star Wars fans. Not only did we get a new trailer for the upcoming Obi-Wan Kenobi series on Disney+, but we also had some amazing items revealed as well. Well, there is another item that was revealed today that combines my two favorite things, Star Wars and Breakfast. Kellogg's has announced a new Frosted Flakes Obi-Wan Kenobi cereal. This cereal will hit shelves this July. You can check out the official details below.
Kellogg's Frosted Flakes Obi-Wan Kenobi Cereal
Kellogg's Frosted Flakes® has collaborated with Lucasfilm Ltd. to celebrate the highly anticipated new Star WarsTM limited series, Obi-Wan Kenobi only on Disney+ starting May 27* by bringing both cereal and Star Wars fans a new way to embrace their inner light or dark side: Breakfast. Grab your lightsaber toys — and your spoons — because this spring we're bringing Star Wars fun to the breakfast table with NEW Kellogg's Frosted Flakes® Obi-Wan KenobiTM cereal.
"For decades, Star Wars has united fans across generations for movie nights and we look forward to doing the same at the breakfast table with the release of our new Kellogg's Frosted Flakes Obi-Wan Kenobi cereal," said Sadie Garcia, Director of Brand Marketing at Kellogg All Family Cereal.
This masterful combination of dark and light pairs the rich, chocolatey flavor of Kellogg's Frosted Flakes® Chocolate with the sweet taste of original Kellogg's Frosted Flakes. It's the perfect way to enjoy both fan-favorites in one bowl. The limited-edition Star Wars packaging even features Tony the Tiger® sporting his best Obi-Wan Kenobi and Darth VaderTM attire in honor of the upcoming series.
SEE ALSO: OBI-WAN KENOBI FORCE FX ELITE LIGHTSABER REVEALED BY HASBRO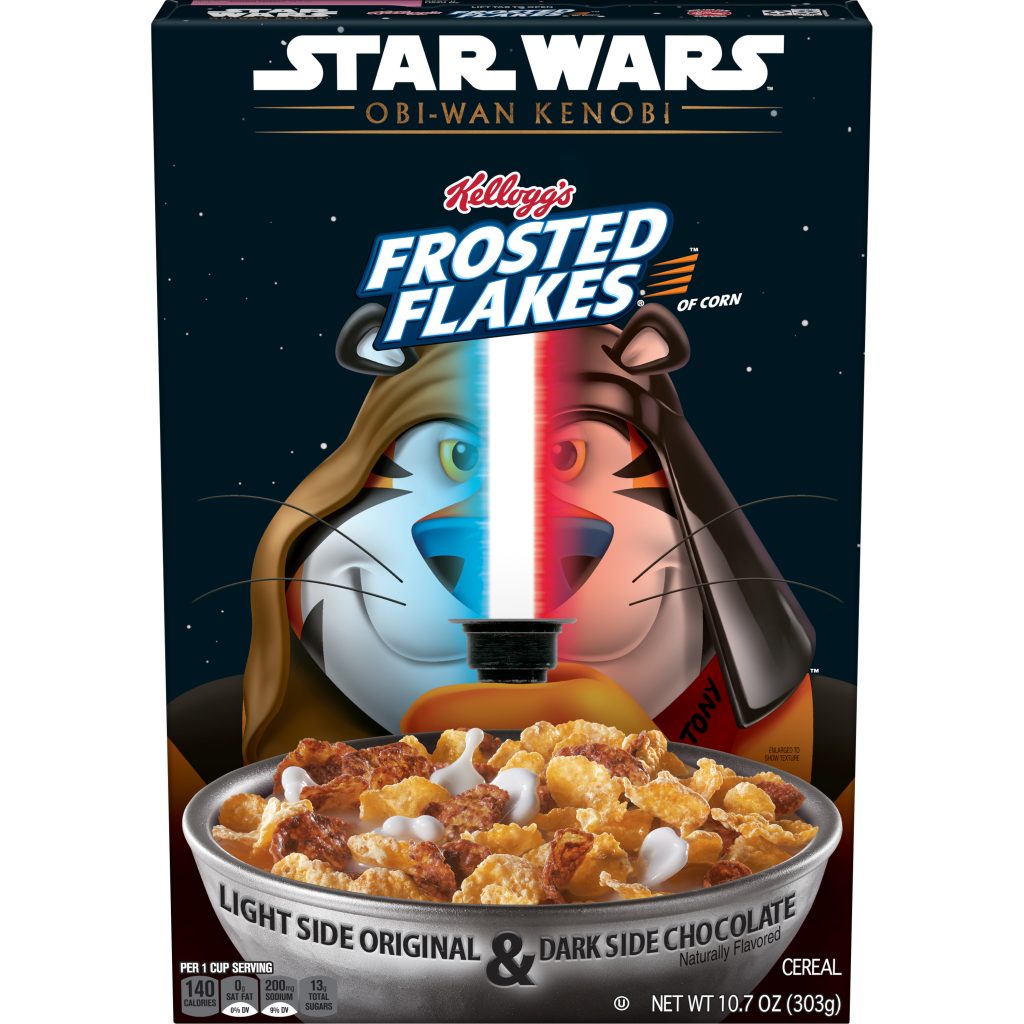 Where To Find Your Box Of Kellogg's Frosted Flakes Obi-Wan Kenobi cereal
Kellogg's Frosted Flakes Obi-Wan Kenobi cereal will be available at retailers nationwide starting in July for a suggested retail price of $4.29 for a 10.7oz box and $5.29 for a 17.1oz box.
In addition, fans can visit Walmart.com to get their hands on an exclusive Star Wars and Obi-Wan Kenobi-inspired mystery box of Kellogg's Frosted Flakes. These boxes will feature special packaging; with one side representing the light side and the other representing the dark side of the force. The fun and mysterious part? Only when fans pour a bowl of the cereal will they discover if they are destined to join the Force or give in to the dark side. It all comes down to what's in their bowl — Kellogg's Frosted Flakes
or Kellogg's Frosted Flakes Chocolate. These special boxes will be available only at Walmart.com starting in June.
SEE ALSO: EWAN MCGREGOR IS OPEN TO MORE OBI-WAN KENOBI APPEARANCES
We Want To Hear From You
Are you excited about the new Kellogg's Frosted Flakes Obi-Wan Kenobi cereal? Is this a must-have for your breakfast? Also, what were your thoughts on the new Obi-Wan Kenobi trailer?
You can tell us your thoughts by leaving a comment below or hitting me up at starwarsnerd574. You can also join me at the Midwest Star Wars Fanatics on Facebook to chat about the Obi-Wan series. Also, you can stay up to date on all the Star Wars news by following us at ThatHashtagShow.com. More importantly, be safe, I can't wait to see you all at Celebration 2022.
Source: Kellogg's
SEE ALSO: