Can't get enough of Denis Villenueve's 2021 film adaptation of Dune? Well, don't worry. BOOM! Studios has you covered there with a brand new comic book series called Dune: The Waters of Kanly. Even better, it stars the musical veteran Gurney Halleck and his (mis)adventures following the fall of House Atreides.
The (Mis)Adventures of Gurney Halleck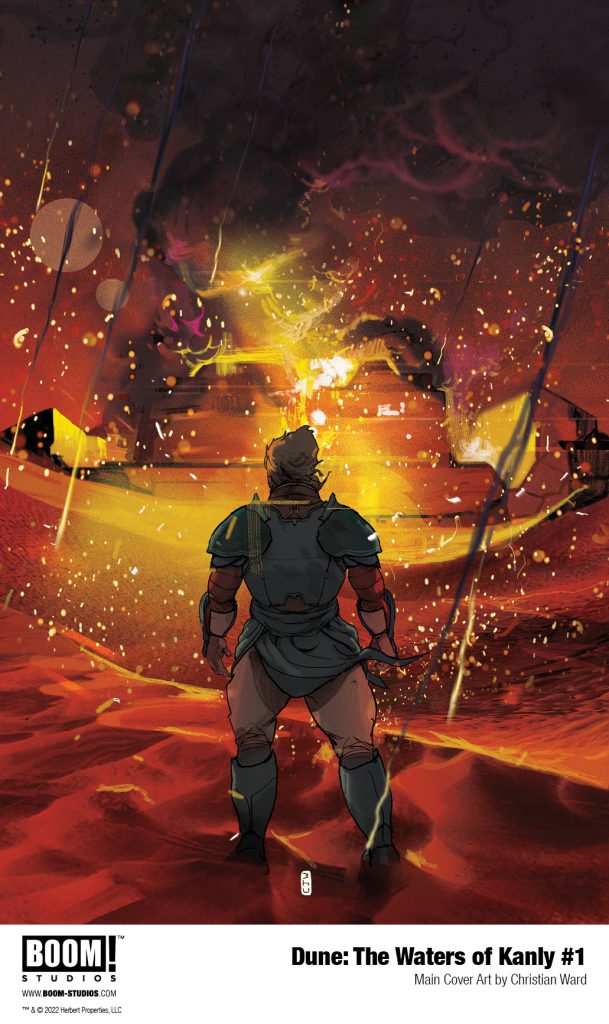 BOOM! Studios is proud to unveil Dune: The Waters of Kanly #1. This will be the first of a new 4-part comic book series set in the world of Frank Herbert's award-winning sci-fi novel series taking place on the desert world of Arrakis.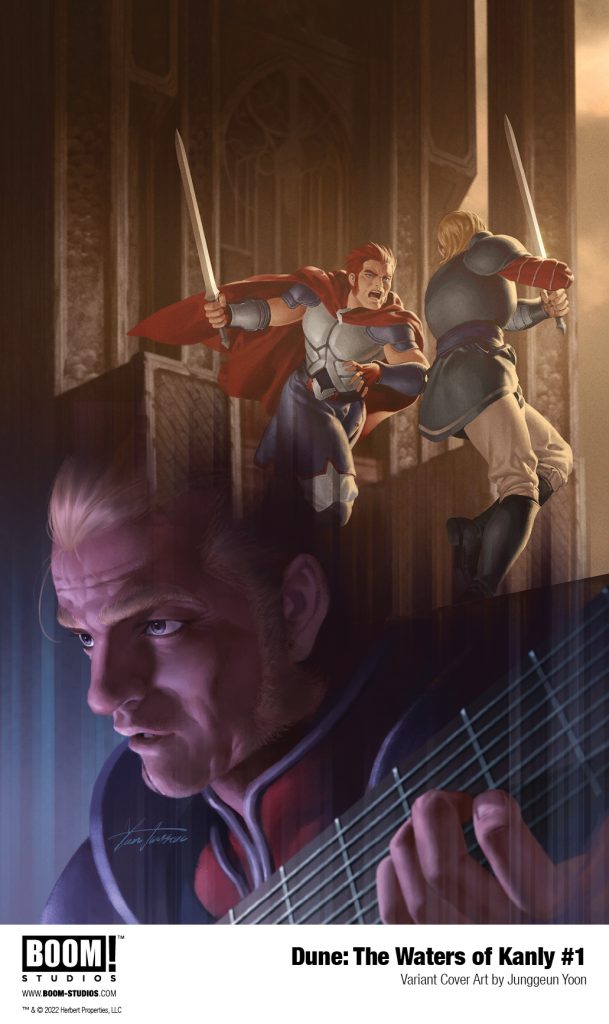 Brian Herbert, eldest son of Frank Herbert himself, will write for Dune: The Waters of Kanly along with Kevin J. Anderson. The duo has worked together on many Dune novels, so this will effectively be an official comic book adaptation. Francesco Mortarino (Power Rangers) will be the artist behind this comic book series, with Raúl Angulo (Go Go Power Rangers) as the colorist and Ed Dukeshire (Once & Future) as the letterer. The comic book series will also feature Christian Ward (Something is Killing the Children) as the main cover artist, with Junggeun Yoon (Magic), In Hyuk Lee (Amazing Spider-man), and Massimo Carnevale (The Marvels, Y: The Last Man) responsible for the variant covers.
Dune: The Waters of Kanly #1 will go on sale on May 4, 2022. You can preorder it at your local comic book shop. If you're fine with the digital version though, then you can preorder it from content providers like comiXology, iBooks, Google Play, and Kindle. Sadly, none of these digital outlets have it available at the time of this writing. Tune in later to find out when that will be.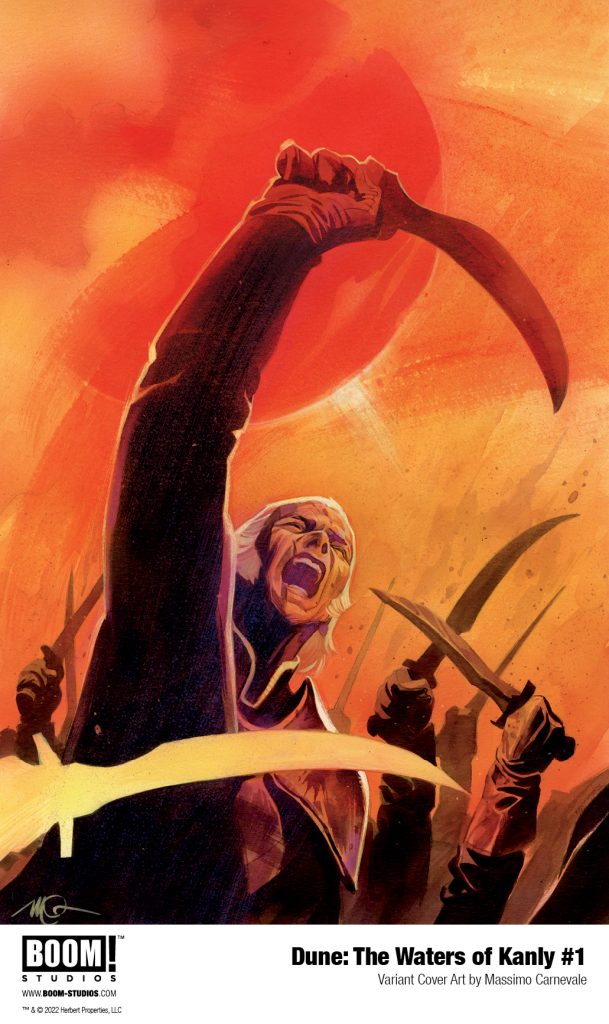 Dune: The Waters of Kanly ~ Plot Details
So what's Dune: The Waters of Kanly about? Well, this comic book series will depict Gurney Halleck's adventures following the fall of House Atreides to House Harkonnen. Yes, for those of you wondering about the Deni Villenueve version, it means that Gurney (played by Josh Brolin) lives, and we might get to see that in the next Dune film.
The official synopsis of Dune: The Waters of Kanly from BOOM! Studios gives us a bit more information about it. Check it out below:
"Go deeper into the Dune universe with this lore-expanding story set during the events of the Frank Herbert classic! In the aftermath of the battle of Arrakeen, legendary House Atreides warmaster Gurney Halleck takes refuge with spice smugglers, vowing revenge against the Harkonnens no matter the cost."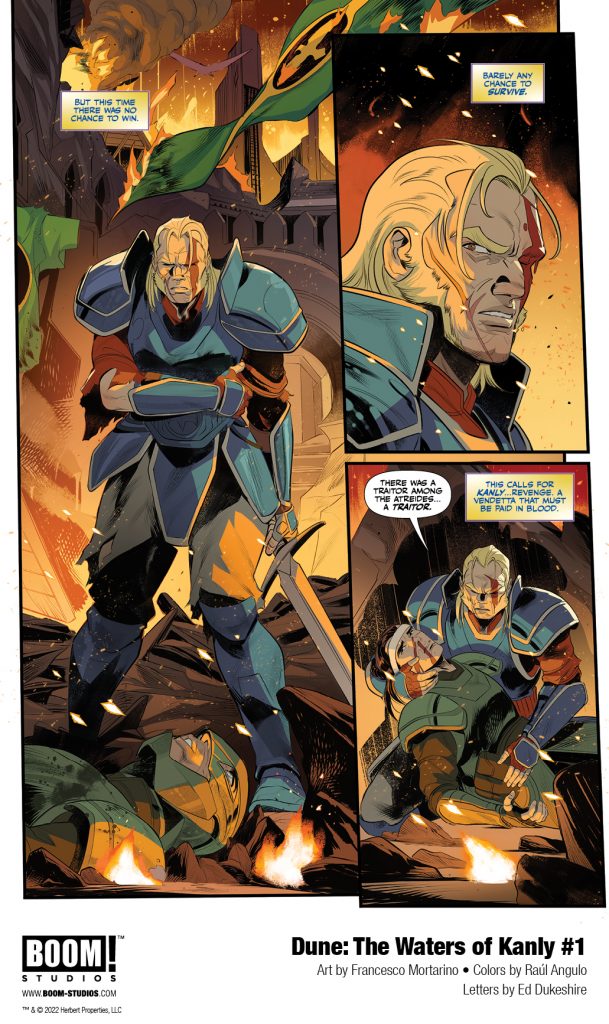 BOOM! Studios also has these preview pages of Dune: The Waters of Kanly #1 for us to enjoy today. So enjoy away!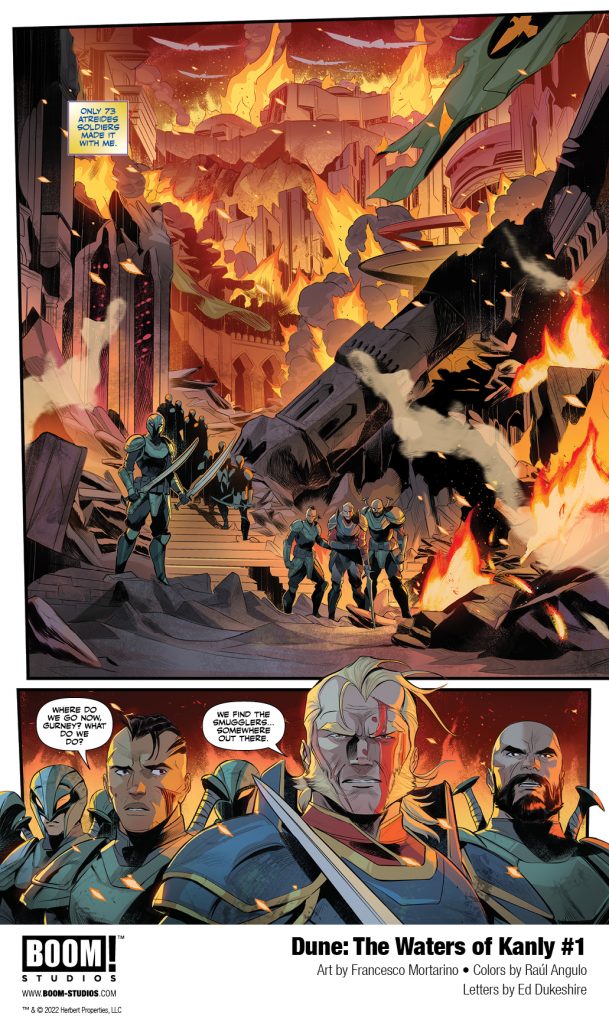 Source: BOOM! Studios