We don't know much about Jordan Peele's next horror film. But so far, it looks to live up to its name: Nope. 
The film revealed a new poster today. Similar to the previously released one, it showcases an ominous cloud in a deep blue and black color scheme. But this poster shows a horse lifted into the air amid the cloudy sky. Floating around the horse you can spot different objects, from vaguely creepy-looking dolls to Icee cups.
Is this a case of alien abduction? A supernatural whirlwind of weather? A horse god coming into its powers? Who knows! We're being left in suspense with this one. 
You can check out the new poster for Nope yourself below.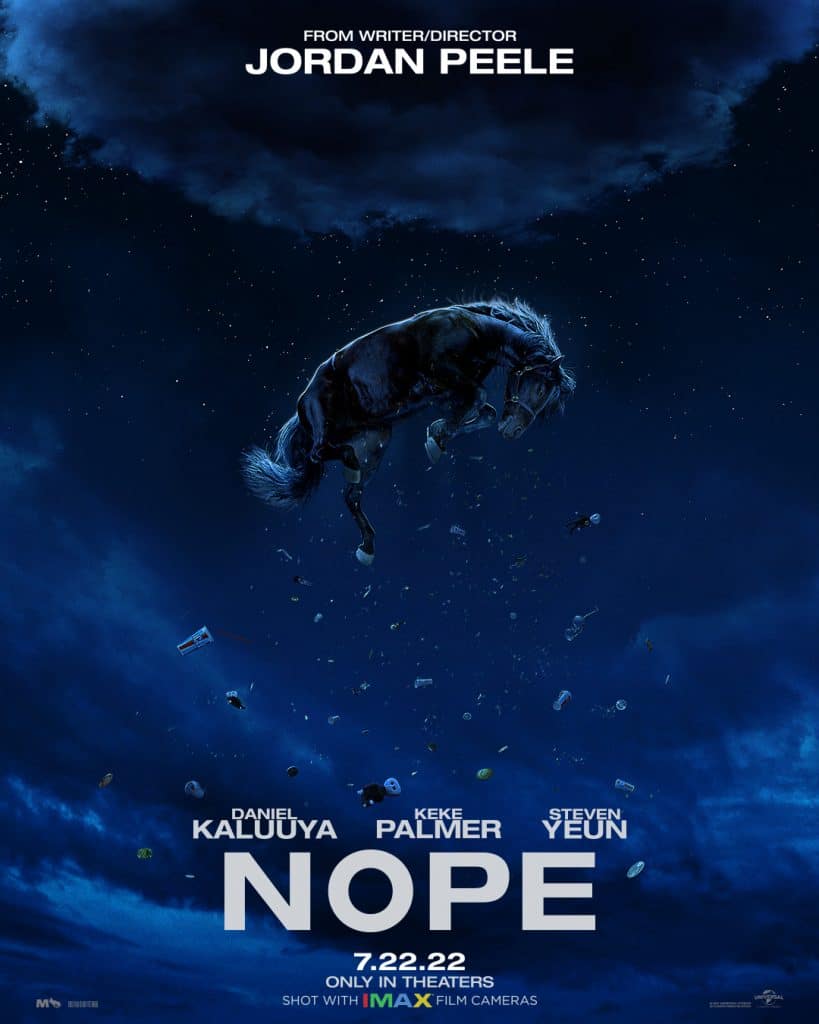 Oscar winner Peele previously released horror hits Get Out and Us. Nope reunites Peele with Get Out star Daniel Kaluuya, and tells the story of residents in a lonely gulch of inland California who bear witness to an uncanny and chilling discovery. The "horror epic" also stars Keke Palmer, Steven Yeun, Michael Wincott, and Brandon Perea.
Peele wrote and directed the film, which he produces under Monkeypaw Productions alongside Ian Cooper.
The poster reveal follows the official trailer debut for the film, which arrived on Super Bowl Sunday. The clip didn't reveal too much about the movie, but you can still get more of a feel for what to expect by watching it. If you missed the trailer or just want to revisit it, check it out here.
Nope arrives in theaters July 22.
So, does this poster have you thinking about what Nope could have in store for us? Let us know in the comments below.
Meanwhile, check back to THS for more updates.
Keep Reading: