IF YOU HAVE NOT YET SEEN THE WHITE LOTUS, THIS IS A NON-SPOILER REVIEW.
The White Lotus is helmed by Mike White, who has had one very fascinating career. He has written comedies such as School of Rock and Nacho Libre, indie darlings like The Good Girl and Beatriz at Dinner, created another HBO series, the Laura Dern-led Enlightened… and on the unfortunate end of things, co-written Pitch Perfect 3 and The Emoji Movie. So, to say Mike White's filmography is all over the place, is putting it lightly. But, when he is in full control of his craft, he is able to create such keenly observed and uncomfortably resonant comedy. And with The White Lotus, he has never been better.
WHAT IS THE SERIES ALL ABOUT?
The series follows a group of highly privileged and toxic individuals on their vacation in Hawaii, at what has been named the island's most romantic resort. While there, these guests and the employees at the resort's lives are intertwined, as they battle their innermost demons and unscrupulous desires, which all ends in murder.
WHAT IS THE SET-UP FOR THE WHITE LOTUS?
One word that I could not get out of my head as I dove headfirst into these six episodes was: toxic. Nearly every single one of these characters in The White Lotus are so poisonous that any action that they make, or word that they spew, could possibly make you sick. White's prerogative is never to make you feel compassion for these people or necessarily, to even enjoy their exploits… it is to peel back their layers one by one, to discover how they have become this way.
Jennifer Coolidge's Tanya McQuoid says multiple times throughout this show that she is an onion, and when meeting a new suitor, all she wants to do is immediately peel back all of her layers and show him what is truly at her center. The resort location is almost a catalyst for all of these characters to unmask themselves from their "real-life" facades. With this set-up, White has taken the term "You only see people's true colors after you've traveled with them" and ran with it.
HOW IS THE ENSEMBLE CAST?
The who's-who of cast members in The White Lotus (Alexendra Daddario, Jake Lacy, Jennifer Coolidge, Murray Bartlett, Natasha Rothwell, Sydney Sweeney, Brittany O'Grady, Fred Hechinger, Connie Britton, Steve Zahn and Molly Shannon) form one of the best ensembles I have seen in television. The cast continue, throughout the six episodes, to one-up themselves time and time again. Providing small, but rewarding gifts through their performances in every scene that they are in. White also allows them this luxury, by giving nearly all of his cast, time to develop their characters so they can shine. It would be a crime to single any one of them out here, as they are all extraordinary.
HOW DIFFICULT A WATCH, IS IT?
The White Lotus tackles extremely difficult and taboo topics of discussion. It's all done in such a frank way, that it will be very off-putting for many viewers. The way this series plays out is so uncomfortable and anxiety-ridden, that you will surely squirm throughout its runtime. In every episode, there are scenes at the nightly dinner service that boil up with so much tension that it feels as if you were watching a thriller. All of this is elevated by the remarkably unnerving tribal score by Cristobal Tapia de Veer. There were times I wanted to turn this show off and run for the hills… but, at the same time, it's like watching a car crash. You can't look away.
WHAT CAN YOU TAKE AWAY FROM THE WHITE LOTUS?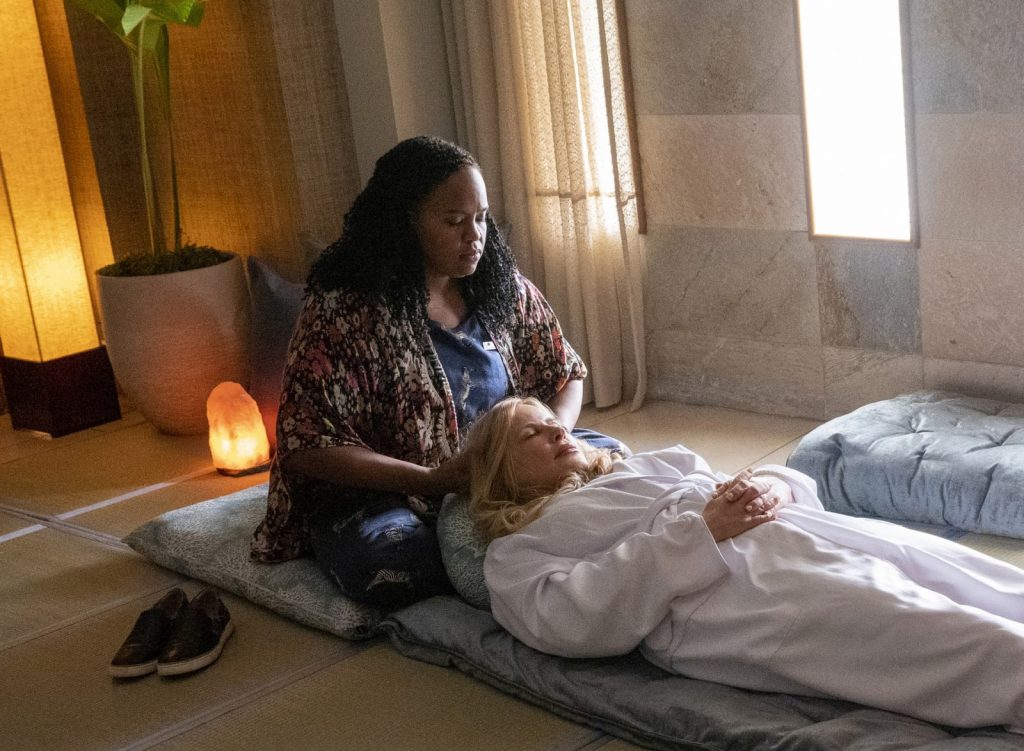 Audiences will also be disgusted by the behavior of some of these characters. There are many problematic issues that The White Lotus tackles, that will upset audience's who look at this show at face-value. White is never here to say these things are right, or that this is how things always are. He is here to provide us with characters and situations that will spark important conversations. And give us laughter that is so uncomfortable, because some of it rings far truer than we'd like to admit. But above all else, the creator is begging his audience to take a good, hard look at our inner selves… to discover if we actually like what we see there.
And by the end of the series… somehow, someway creator Mike White has found the heart at the core of this rotten onion.
The White Lotus will premiere on HBO Max Sunday, July 11th… with new episodes weekly.
For more Rants, Reviews and Ramblings, make sure to stay tuned to That Hashtag Show!