FOR THOSE OF YOU WHO HAVE NOT YET SEEN THE FOREVER PURGE, THIS IS A NON-SPOILER REVIEW
The Purge franchise has always been a bit of an anomaly for me.  The first film that started it all, had a fantastic concept, but never put it to good use.  And that is widely considered to be one of the weakest of the installments, if not the worst.  Then, for the sequel, James DeMonaco took people's advice and opened up this world to see what happened on the outside, during the purge.  And he hired Frank Grillo.  Thus providing us a much more satisfying, B-Movie style action-thriller in Anarchy and then in Election Year.  DeMonaco then took a back seat and just wrote the prequel film, The First Purge, which ended up being a lackluster experiment, in my opinion.  And then there's also a television series too, but for some reason I feel like that series was completely ignored, even by longtime fans.
So, now we have this supposed final installment in a franchise that has been known to be wildly inconsistent?  So, how does it stack up to the others?  Unfortunately, The Forever Purge, at least for me, is probably right smack dab in the middle of this series.  It's no where near as good as Anarchy and Election Year, but I think its superior in, at least, quality to the original and The First Purge.
WHAT IS THE FOREVER PURGE ALL ABOUT?
The film follows a Mexican couple who are taking refuge at a ranch in the United States. They are living a normal life until The Purge goes into action and when the twelve hours are up, something that has never happened before, takes place. The purgers don't stop purging. The couple, the seemingly racist rancher who employs them and the rest of his family, including his pregnant wife; set out for safety. The president of Mexico has opened up their borders for people to escape the U.S. and this "Ever After Purge", but can they get there in time?
HOW ARE THE PREVIOUS INSTALLMENTS SIMILIAR TO THIS?
One thing that you can always expect from a Purge movie is that there is going to be a lot of on-the-nose social commentary.  Which has never really been a problem for me and is what has actually made these films stand out, from the rest of the genre.  You can also expect lots of really creepy, creative masks being worn by purgers, brutal B-movie action, and some cheesy, cringe-worthy dialogue.  And all of those things are alive and well in The Forever Purge.
IS THE FOREVER PURGE IN LINE WITH WHAT THE TRAILER PROMISED?
What I wasn't expecting, after the trailer that dropped a month ago, was for this film to end up being so run-of-the-mill and dare I say it, generic. The trailer made this look to be an outrageous, bonkers, Mad Max-like thrill-ride… which could have been amazing, or really terrible. But, I definitely did not expect this to be just, simply, more of the same. Which has ended up happening, and I think that's even more of a disappointment. The only difference of course, is that now most of the action takes place during the daylight. Which I think has really taken away from the atmosphere and tension that the other installments had.
WHAT WORKS IN THE FILM?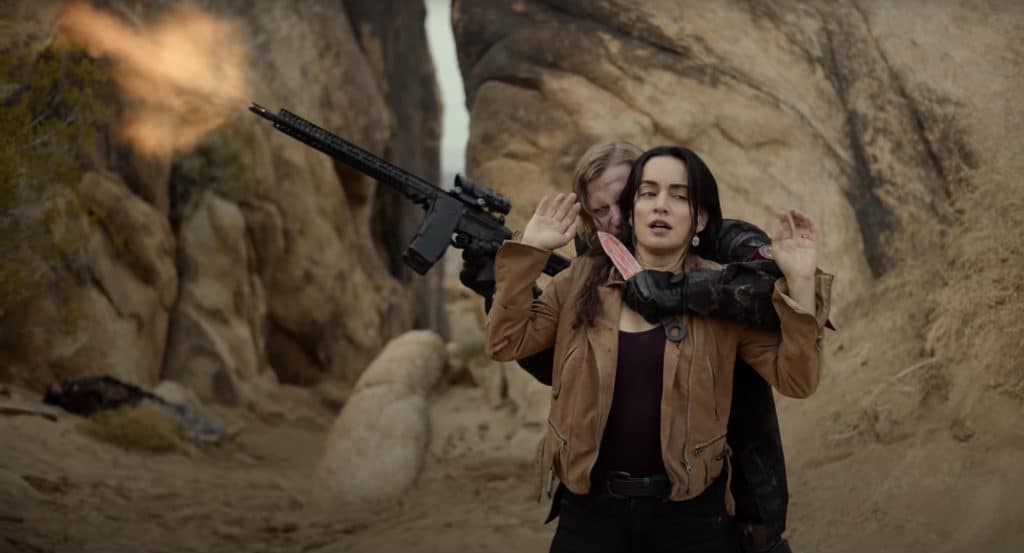 One thing that The Forever Purge does have going for it, are the capable performers.  I do think that Ana de la Reguera, who was last seen in Army of the Dead, as Adela and Tenoch Huerta, as her husband, make two compelling lead protagonists.  Their backstory about running from the cartel and her fighting off drug lords in Mexico is quite fascinating, but I do wish that they had explored that in much more detail.  But, as great as they are, I can't help, but feel like this franchise was bolstered so much by Frank Grillo.  And his presence is missed greatly.
DO WE GET A SATISFYING CONCLUSION?
As the film came to a close, I couldn't help, but feel like the filmmakers, in no way, ended this whole franchise in a satisfactory way. Which is a real bummer because, once again, this is supposed to be the finale. But, I'm sure if The Forever Purge makes any kind of decent money at the box office… it won't be long until a sixth is announced. And if that is the case… I hope they actually give us something different.
The Forever Purge will be In Theaters Friday, July 2nd.
What are your thoughts on The Forever Purge? Are you a fan of the franchise?
For more Rants, Reviews and Ramblings make sure to stay tuned to That Hashtag Show!